Thu 23 May, 2013 04:16 pm
At the suggestion of cicerone impostor, I'm starting this thread as a gathering and meeting place for old farts ... like me. There is no valid definition for an 'old fart,' so if you feel you are one and belong here, welcome! If you're just a young sprout, i.e. under the ago of, oh, at least 50-plus, feel free to browse but it's doubtful you'd have much to contribute.

To start the conversation going, consider these snippets of wisdom:

Your kids are becoming like you...... But your grandchildren are perfect!
Going out is good.. Coming home is better!
You forget names.... But it's OK because other people forgot they even knew you!!!
You realize you're never going to be really good at anything.... especially golf.
The things you used to care to do, you no longer care to do, but you really do care that you don't care to do them anymore.
You sleep better on a lounge chair with the TV blaring than in bed.It's called "pre-sleep".
You miss the days when everything worked with just an "ON" and "OFF"
switch..
You tend to use more 4 letter words ... "what?"..."when?"...
What used to be freckles are now liver spots.
Everybody whispers.
It now takes you all night to do what you used to do all night.
But Old is good in some things: Old Songs, Old movies, and best of all, OLD FRIENDS!!
@Lustig Andrei,

Good start! I like this line best;
Quote:
You forget names.... But it's OK because other people forgot they even knew you!!!
In all my travels, I meet up with some regulars, and I can't even remember their names. Lucky for me, my roommate has a perfect memory for names, so I ask him. He owns a realty company in Baja California, but he's actually a transplant from Canada and Italy.
This cartoon was posted in my Old Age thread, but it definitely belongs here.
@cicerone imposter,

Welcome to the Old Farts' hangout, Tak. We've met in the flesh, of course, but, y'know something? I can't imagine your face very clearly. If we ran into each other unexpectedly, I think I'd recognize you right off, but ...who knows?
@edgarblythe,

@Lustig Andrei,

Your children have children - Perfect Revenge.
Will Rogers:

ABOUT GROWING OLDER............

First, Eventually you will reach a point when you stop lying about your age and start bragging about it.

Second, The older we get, the fewer things seem worth waiting in line for

Third, Some people try to turn back their odometers. Not me, I want people to know "why" I look this way. I've traveled a long way and some of the roads weren't paved.

Fourth, When you are dissatisfied and would like to go back to youth, think of Algebra.

Fifth, You know you are getting old when every thing either dries up or leaks.

Sixth, I don't know how I got over the hill without getting to the top.

Seventh, One of the many things no one tells you about aging is that it is such a nice change from being young.

Eighth, One must wait until evening to see how splendid the day has been.

Ninth, Being young is beautiful, but being old is comfortable.

Tenth, Long ago when men cursed and beat the ground with sticks, it was called witchcraft. Today it's called golf.

And finally, If you don't learn to laugh at trouble, you won't have anything to laugh at when you are old.
@edgarblythe,

Thank you for that, edgar. Lends a little class to he thread.
I'm already a card-carrying member
@firefly,

We now call it "senility."
And, if you don't have some, you're not an old fart.
@firefly,

Welcome to the Old Farts' hangout, firefly, even if you don't actually have the necessary credentials. In your case, we'll overlook that.
Droll.
Or was that -

drool?
@Lustig Andrei,

Thanks, LA, you're a real sport.
I brought you a hat as a small token of my appeciation.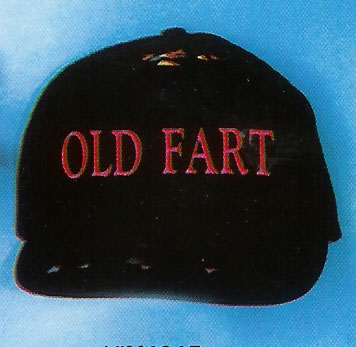 Good morning. Best possible start to a day. My eyes opened and the old blood was still circulating. Woo-hoo. Time for breakfast.
@edgarblythe,

Quote:
Second, The older we get, the fewer things seem worth waiting in line for
Will Rogers! I love him!
I suppose that makes me eligible for old fartdom....
@edgarblythe,

For the first time ever someone I knew from uni didn't recognise me.
Usually they recognise me, but I often can't tell who they are.
Clearly my face has sagged to that critical point.
Bob Dylan is 72 today. I think that qualifies him as an old fart.


Our nice and her friend are staying a couple of days with us, taking a break from university.

What seems to me as if it was yesterday happened years before they were born.
Good morning, everybody.

<Stretches, yawns shamelessly>

There's a three-day weekend coming up and I have absolutely no idea how I'll ffill it. Ahhh, the joy of not knowing what to do next!