Sat 12 Nov, 2011 03:54 am
The subject of racism has come up in several threads lately, all of them political discussions. There is a crowd of "shocked and appalled" posters who deny that racism among white Ámericans exists or is common.

Well, i'm shocked and appalled that these people are not sufficiently honest to acknowledge the truth. Racism is still pervasive amond white Americans. Maybe these folks live in a cocoon. Maybe they don't get out much. All my life i've eaten in diners, frequented pool halls and in my younger days frequented taverns. When there are no "people of color" around, white Americans are commonly and casually racist.

People complain about "welfare cheaters" and "welfare queens," and the either covert or overt implication is that they are urban blacks. If one does a very little fact checking, they'll learn that the overwhelming majority of recipients of public assistance are white, and largely are from small towns or rual areas. I guess they think white country folk would never cheat on public assistance.

Native speakers of Spanish are another favorite target. For white, racist Americans, they are all "Mexicans." I guess it doesn't occur to them, or they don't care that Spanish-speaking immigrants come from several different Latin American countries. In Hilliard, Ohio, where i lived for many years, one would commonly hear complaints about Hispanic employees, especially in fast food joints. In Hilliard, fast food employers couldn't get high school students of any description to work for the eight to ten dollars an hour being paid. Small wonder that the majority of the employees (including lower level management employees) at Micky Dee's or Wendy's or Burger King were native speakers of Spanish. I worked as a free-lance small business manager, and i know the ins and outs of employment recording and reporting requirements in Ohio. Anywhere in the United States, if you're following the rules, you have to complete a DoJ (Department of Justice) Form I9 ("I" for Immigration and Naturalization) for every new employee. That form requires two pieces of specified identification for American citizens, or the required documentation for an immigrant to show that the individual concerned is a legal resident with a right to work.

Some small employers could get away without completing the proper forms (but none that i ever advised). No national fast food chain is likely to take that risk, and they wouldn't get away with it in Ohio. For purposes of enforcing child support decrees, in Ohio all employers have ten days to submit a "new hire" form to the state. The fines for failure to comply are pretty hefty, and three failures in three months can get your business shut down. I have no doubt that every one of the native speakers of Spanish that i saw in those fast food places was a legal worker. But the locals in the diners and pool halls and taverns still bitched about them--so long as no "persons of color" were present.

White America is still very racist--they just won't own up to it.
@Setanta,

Unless there has been a change in the past four years, that I-9 (now a Homeland form) goes exactly nowhere. It's on file and available for audit, but it isn't sent anywhere. We had one for each and every employee, with attached photo copies of the relevant documents. Every year, we got notice from SS Administration that about fifteen of our employees had names that did not match the documents they presented. Who knows? Maybe SS Administration has a very high error rate, but approximately fifteen out of fifty employees is pretty close to 30%.
@roger,

You are missing the point Roger. There are a lot of Americans who have been called "illegal" simply by virtue of the color of their skin, and more than a few American citizens have been arrested for not having papers.
Of course the worst bigotry in the US right now is directed at Muslims (or people who white people think look Muslim).

@maxdancona,

I'm rather sure that it's a lot easier to identify a Muslim by looking at him than to tell apart .... let's say Hispanics and Native Indians. (The latter are all Latinos, I suppose)
@roger,

We experienced no such error rate. However, i think you missed the significance of Ohio's new hire reporting requirement. What it meant was that there was indeed someone who was keeing track, whether or not the Feds were asleep at the wheel.
Do you have anything to say about racism among white Americans? Perhaps that's something you don't want to discuss.
The point about the irrational bigoty against Muslims is a good one.
@Walter Hinteler,

Walter Hinteler wrote:
I'm rather sure that it's a lot easier to identify a Muslim by looking at him than to tell apart .... let's say Hispanics and Native Indians. (The latter are all Latinos, I suppose)
Aren't there any white or Chinese or First Nation Muslims?
The American's don't use the term "First Nation
s
" . . . that would be the folks in the house on the left, as one faces Europe.
I have tried to write a reply, but one did not come. It is my belief that setanta speaks the unvarnished truth. At the moment I have little to add.
@Setanta,

Setanta wrote:
The American's don't use the term "First Nation

s

" . . . that would be the folks in the house on the left, as one faces Europe.
I think I should have written "Native North American".
@Setanta,

The Native Americans to the right as one faces Europe are now called "illegals".
@Setanta,

one of the reasons I don't work at the bar any longer is that I had a tendency to just get up and walk away when the humour went to blacks, or gays, or...
(I was "one of them"...)
@Setanta,

Setanta wrote:

Perhaps that's something you don't want to discuss.

How smug. I chose to reply to one part of a multiple subject. Specifically, the part with which I am personally and objectively knowledgeable. Possibly your experience does not include oil & gas well servicing in a border state. Possibly your experience doesn't include companies with 80% + Latino makeup, and a 50% annual turnover.
Also, I notice that you did not choose to reply to everything in my own post. Could it be that you only assumed I-9s and subsequent Homeland Security forms were actually sent to INS and later to Homeland Security at the time we were both involved in the process.
You know no more about my experience than I do of yours. Our new hire reporting, for example, is involved with child support only. It is a process required in every state, but it is sent to state - not fed.
@roger,

How smug of you. I didn't assume the I9 was sent to anyone, we filed it, and that was that. It was just one part of a series of remarks demonstrating how very unlikely it was that the native Spanish speakers of central Ohio, employed in fast food restaurants, were the "Mexican wetbacks" described by the bigots. It's really immaterial to me to whom documents are sent--the point was only that there was no reason for fast food chains to employ illegals, and very good reason for them not do do so.
So, once again, i'd be interested to know if you have an opinion on racism among white Americans. Of course, you don't have to respond. You could just call names again.
The point of this thread is not employment forms, nor did i mention them for any other purpose than to show that the bigots are wrong. I wouldn't want to say that the majority of white Americans are bigots, i doubt that that is true--at least no more bigoted than any other group of people anywhere in the world. After all, people like Louis Farrakhan show that whites aren't the only bigots, nor that virulent racism is an exclusive problem of whites.

Bigots get away with their bigotry often because the others around them don't want to rock the social boat. I don't claim to be any hero of "anti-bigotry." I'm no more likely to rock the social boat by calling out a bigot, although i'll certainly tell them i don't intend to discuss their pet obsessions with them. But the bigots do tend to take the silence of those around them as tacit approval. That's a problem. There are some illegal immigrants in this country. There are some welfare cheaters. But you can't reasonably assume that all immigrants are illegal, or that all recipients of public assistance are cheaters, or black.

I am still interested in hearing people's experience of this phenomenon. If you don't think that it's a problem, i invite you to say so (you meaning anyone reading here).
@Setanta,

Ah. I was wondering why you brought in those forms and why you thought they had anything to do with legality if you knew they were simply added to company files.
Actually, I did understand the intent of the thread. It was for a bunch of white people to tell a bunch of stories proving white people are a bunch of bastards - except of course, the ones telling the stories.
Tacit approval. Now we're getting somewhere. Yeah, sometimes I've had to get up and leave that particular group. And sometimes you just have to tell someone you don't 'do' or appreciate racist jokes. Sorry, but no anecdotes to share with you.
@roger,

I don't care if you provide anecdotes, i wasn't looking for that; nor was this a bait thread to either burnish my reputation, or to bring disrepute to any other individuals. I am mostly interested in whether other white Americans think what i say is true, or if they disagree, and perhaps why they disagree.
Yes, tacit "approval" (the approval being in the mind of the bigot) is a big problem. I can't say, as i can't see into their minds--but i've often suspected that some bigots know they can "get away with it" in certain situations in which those around them are not likely to make a scene.
@Setanta,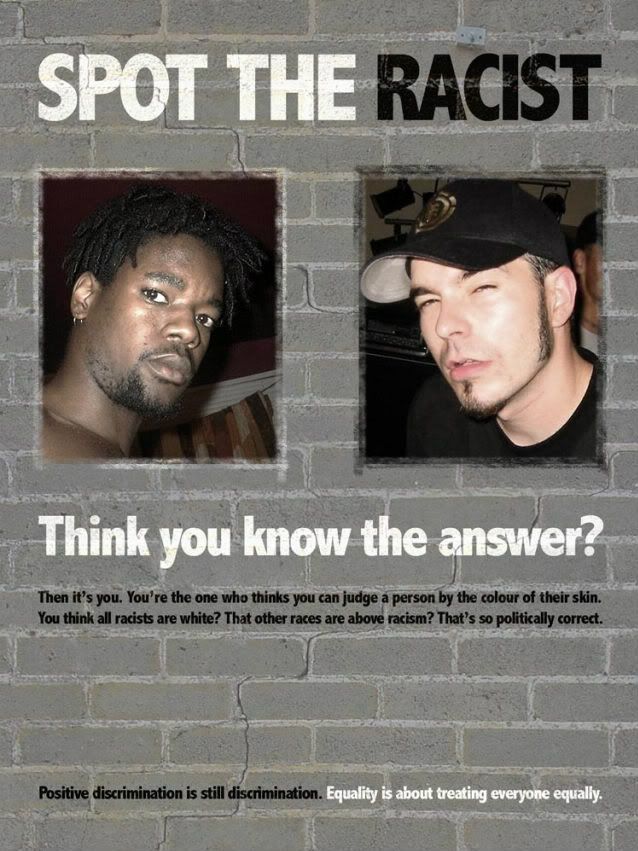 @Tabludama,

I agree with the general gist of that poster, but the the wording of the text at the bottom is a bit suspect.
Of course African-Americans are sometimes racist. But the term "positive racism" is a ridiculous term that I suspect is a dog whistle for something. The term "political correctness" is likewise too ill defined to be meaningful. Anything you don't like can be called "political correctness" these days.
When anyone calls Louis Farrakhan racist they have a point. It is ridiculous when people call Barack Obama racist.