That bald cypress grew so fast - I had a big chunk of coral leaning against it. Before I realized what it was doing, that tree wrapped around the coral enough I could not free it to get it back.
We had a misting of rain yesterday and a five minute light shower today. Weather jockey says that's it for the time being.
The lake is a big old mud puddle practically. We watched a woman pull about a three foot fish out with a net, today.
@edgarblythe,

Ed, you got me considering putting in a bald cypress...
I have a perfect spot. gotta see if the extension service still has cheap trees. they were pushing them last year...
@Rockhead,

I love the one in my yard. It has gotten really big since I moved here.
Edgar, have you seen any of the recent images from the drought affected areas of China?
A terrible state of affairs.
A child plays along a dried-up bottom of the Honghu Lake in Honghu City, central China's Hubei Province on 27 May 2011. China is suffering one of the worst drought in 50 years in provinces along the Yangtze River. Honghu Lake in central china has dwindled by a third in water surface and dropped down to less than 40 centimeters in its deepest place.
EPA/HOW HWEE YOUNG
http://www.monstersandcritics.com/science/features/article_1642054.php/China-Drought-Pictures?page=1
We got rain in the forecast. Next three days. Hope a good shower or two materializes out of it. The fig and the bald cypress are both stressed.
A few spitting clouds today, but nothing to be grateful about.
Today it rained. I awakened to a sputtering shower that quickly became a downpour. In the hours that followed, drenching, gentle drops quenched the appetites of the trees and grass and gave the ground a decent soaking. I hope it came in time to rescue the bald cypress, the fig and the trash tree with the huge leaves, which I planted to break the sun off the southwest corner of the house. I call it a trash tree, because no one else grows one. They don't appear to be good against a storm. But it will be more bushy than tall, I think. So, we are reprieved, for a time.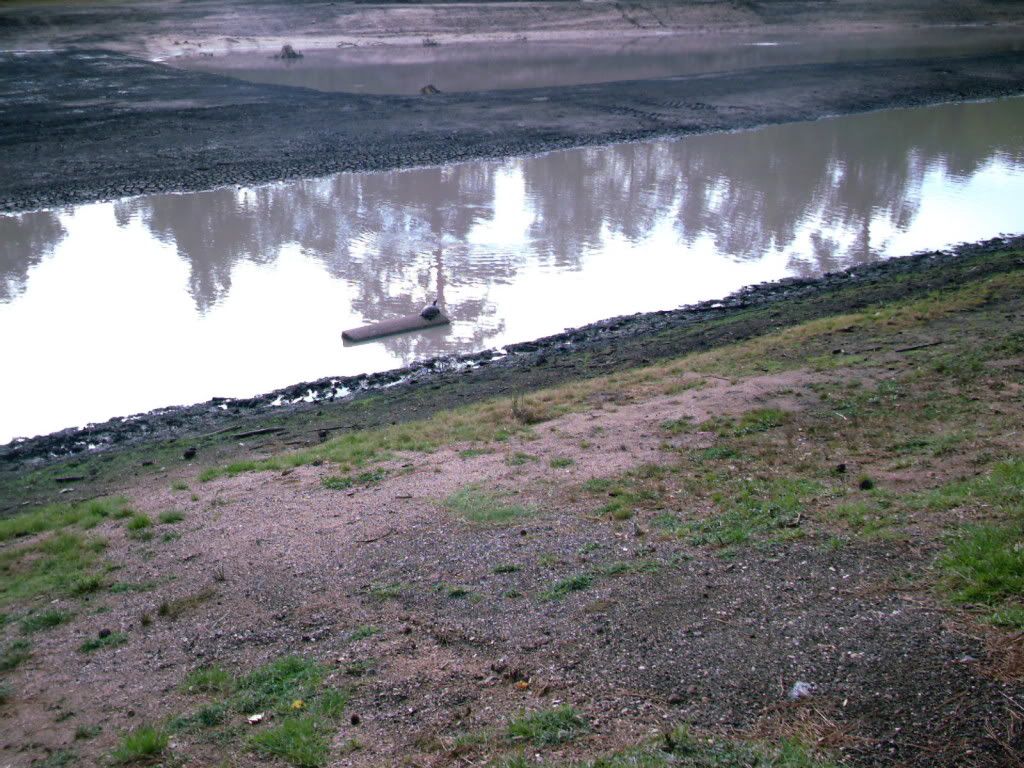 Last evening, as I watched a Ahnold movie with my new surround sound, a ferocious rain approached. Considering the thunder a part of the sound track, I remained oblivious, until a boomer cracked, seeming directly overhead. Punky the dog and I both jumped up. I ran to the driveway, to rescue some yard sale items. Mostly, I saved them. Then, a drenching rain fell. I don't know how much fell, but, the town of Spring, just up the road, got three inches out of it. I think we are about to survive the drought, with no trees majorly damaged and none lost. I wish to thank you all for showing concern. Those of you who offered me the great advice, I especially offer my gratitude. I think we may be done here. If not, I will let you know.
Hey there eb, long time no see. I'm glad to hear you got some rain last nite. We didn't get a drop here in the Galleria area. I'm ready for the rain (and fewer 99 degree days).
@mac11,

Hi, mac. Good to see your smiling face here. My daughter probably lives fairly near to you. She didn't get the rain, either. As for 99 degree days, well, it is early July -
The sidewalks in Albuquerque are getting sprinkled!! Boy does that rain and wet soil smell good.

It didn't last very long, but at least the sidewalks got sprinkled enough to make them wet.
@Butrflynet,

We had similar. There was a good deal of wind and thunder, but in the end, the only moisture we could tell came in the form of a light smattering on the windshield.
We often walk in Burroughs Park of an evening. A page or two back, I posted some pics of how dry the lake there has gotten. Today I came up with an idea why some of the geese and ducks we have been feeding are missing. I almost missed it. But my eyes caught just a glimpse of its head, before it settled in the mud-colored water. It was a small alligator. When my wife and I approached the water's edge, to have a better view, it swung around and its eyes poked out of the water, studying us. Occasionally, its nostrils broke the water surface for a few seconds. But it soon moved off and I lost track of it. Then I found a park attendant and let him know.

After we went around the lake, we came upon a four foot snake. It climbed up a pine tree to avoid us.

As we neared the parking area, we could see several animals by the road. When a car approached and stopped, they hurriedly vanished in the brush. I thought at first they were cats, but my wife said she saw a flat looking tail on one, that reminded her of a beaver. I think at that distance, she may have been mistaken. We will likely not learn what we saw out there.
@Butrflynet,

For about two minutes this afternoon, we had enough rain for it to puddle a moment on the sidewalks before they dried up again.
We're forecasted to have a gully washer tomorrow.