1. watering trees in a drought.
Drill a hole with a hand auger or post hole borer to a depth of about 500 mm at around the drip line (where water drips off the leaves) insert a plastic pipe into the hole. Fill the pipe with with water once a week.
2. take baths not showers and bucket the water out onto the garden after use. If you have no bath keep a bucket in the shower to catch water as you shower.
a portable hand basin where you wash hands will save you heaps of water. Fill the hand basin with water once a day and use the same water each time you wash.
3. set up diversion valves on your laundry and or shower bath vanity exits.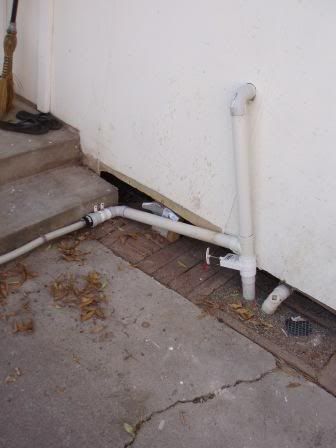 Any kind of container can be used to catch water from downpipes and rainwater guttering if it does happen to rain. It doesnt need to be a big barrel just a bucket will do.
One of the largest consumers of water is the toilet cistern. Depending on the size of the cistern a brick (or half a brick) in the cistern will save you a litre or so of water each flush.
Remember - If its yellow let it mellow, if its brown flush it down.
showering. get wet, turn the shower off, soap up all over, turn shower on. rinse off.