White Supremacists Are Broadcasting From INSIDE Trump Rallies
Last edited Wed Mar 2, 2016, 07:55 AM - Edit history (2)
James Edwards, a notorious white supremacist and radio talk show host, is promoting a recent interview with the son of Republican presidential front-runner Donald Trump that'll air on Saturday.
Edwards talked to the real estate mogul's eldest son and campaign surrogate, Donald Trump, Jr., for his "pro-white" radio show, "The Political Cesspool." Previous guests on the show have included Neo-Nazis, Holocaust deniers, and Ku Klux Klan leaders.
He heralded the 20-minute interview in a blog post that boasted about his access inside a Trump rally in Memphis, Tennessee, last Saturday, where Edwards was broadcasting his show live. He said Trump's campaign gave Edwards and his co-hosts full press credentials and "VIP" parking near the event.
"We're watching history in the making," Edwards said at the start of his three-hour broadcast from the press area of the Memphis Trump rally. "Donald Trump will be the first Republican nominee that I have ever voted for."
http://www.huffingtonpost.com/entry/white-supremacists-donald-trump-rallies_us_56d663cfe4b03260bf789a09
Some of the things said by the white nationalist show that the Trump campaign credentialed: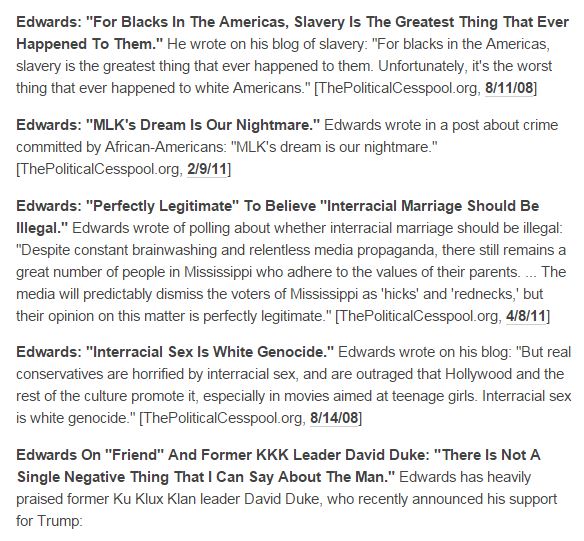 http://mm4a.org/1Qr2baY
http://www.theoccidentalobserver.net/2016/03/james-edwards-of-the-political-cesspool-at-a-donald-trump-rally-in-memphis/