@edgarblythe,

Listening, sad.
Not nicey sad.
Birds cause me to feel affection, as well as a connection with the distant past, considering they evolved from dinosaurs. They have a non mammalian intelligence that intrigues me.
@edgarblythe,

edgarblythe wrote:

Birds cause me to feel affection, as well as a connection with the distant past, considering they evolved from dinosaurs. They have a non mammalian intelligence that intrigues me.

I like that...it's true of many people.
@edgarblythe,

I wonder why humans enjoy birds so much! I just put a bird feeder in my back yard about a month ago.
On my second trip to Africa, our driver-guides were very good in pointing out the different birds we saw. A professor from Cal Poly bought me a bird book when he took the last one at one of our camps in Nairobi.
I took this on my first African safari in Tanzania; one of my favorites.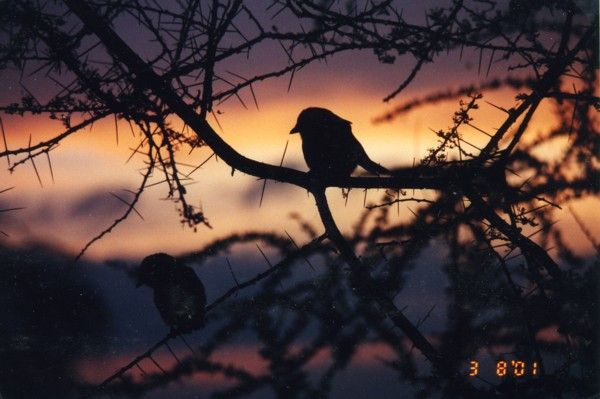 Hope you have a maintenance-free holiday tomorrow, Edgar. We're having dinner with Diane so I will transmit a warm hug to her on your behalf.
@Butrflynet,

I appreciate that. I will have to take emergency calls , if they come in. Happy Thanksgiving.
The boss commented to me today that I have been getting every single work order finished in half a day. The lead man who just quit could not ever finish them all in eight hours. It does not make my work that exceptional. It merely accentuates the man's poor work habits. Now we have to work on the make ready man. He should be able to do two make readies in a week, but he is taking two and three weeks each. I had to hump to help him get one finished today and it still will need some more work after the new resident moves in. This after our guy spent longer on the apartment than I have ever seen anybody do. Ah to be thirty again.
After ten PM last night, a joker from Illinois kept calling my phone. Since I don't have any dealings I am aware of, from that state, I let it ring. Then a voicemail followed, each time. I could not understand what the voicemail said and deleted. A google search lead to a dead end, unless I wanted to spend money to track it down. The last time the phone rang and a message was added, I checked to see if I would be able to understand the message, and it turned out to be our answering service. Well, I tried to call the answering service and find out the problem, but kept being lead to voicemail. After another five plus minutes, I finally got through. By then they had contacted the other guy and he went. Life is good?
The season opener of The Mentalist played tonight. We'll see how it goes, with him romancing his former boss and no more Red John. Last season they spent lots of time in places like Corpus Christi and they were in Austin tonight. Not many shows play from Texas. In one segment this evening a Texas secessionist tried to engage Cho in a discussion of US government supposed transgressions. Cho wasn't having it, of course. Might be an interesting final season.
They are finally filling our potholes. It was beginning to feel like some Atari game, trying to dodge those suckers. Somebody must have paid their Homeowners Association fees this month.
@edgarblythe,

Just in time for the freeze/thaw cycle to destroy the patch jobs. The timing couldn't be much worse.
@Butrflynet,

Ours never last long anyway, even in summer. A patch job is just a futile act, taken to stave off the expense of a paving job.
TGIF. I write that with all my heart. Today was a busy one. It seems that ten minutes before my quitting time is when residents like to call in tough work orders. No malevolence on their part. It just coincidentally happens like that. Oh, well. We ate at Carl's Jr and I feel a little better now.
@edgarblythe,

I feel for you...I bet the job never ends....if they'd get to know you they'd keep busy with something else ;-)....
Still waiting on the company to hire a lead man. The next several days should be a challenge. My help is going on vacation. So, I will have to take after hours emergency calls.

My friend (I wrote about him some time back) who used to give me some colloidal silver whenever I needed a bottle has died. He had a stroke a few years back and ultimately went to a nursing home. He was the sort of person I had affection for, but had little in common, for the most part. We chatted on minor, meaningless topics, in general. He was passionate about his silver. I promised to visit him in the nursing home, but, to my shame, didn't get over there. There was always something to stop me from getting out there. His burial took place somewhere around Dallas.
Sitting here listing current food and health practices.
1. In 3rd week of consuming pureed asparagus, four tablespoons twice a day.
2. close to a continuous year taking Amazon Tonic 3
3. putting activated MMS in and around eyes multiple times per day.
4. daily intake of nuts, berries, flax, acidophilus, saw palmetto, H3O, colloidal silver, raw honey
Other things used regularly, but not daily
1. Genesis sprouted bread
2. garlic
3. butter
4. coconut oil
5. moringa leaves

There is more, but I can't recall off the top of my head. I take so many extras that it is sometimes hard to fit in a meal.
Quite a day. Last night I had to pronounce the demise of a refrigerator. Today, after doing my regular work, the new one came in. I brought the old one down the stairs, but that was as far as I could take it. We had to call help from another property to get the new one up there. As I connected the ice maker, a call came in to fix an A/C. Got 9 1/2 hours today.

Got a nice piece of tempered glass from a piece of furniture today. Perfect size to make an artist's light box. Gonna make me one soon. It will be helpful making sign letters for the day care where mrs edgarblythe works. Plus other projects of course.
After my complaining that the postal carrier was not notifying me when a sign for package comes in, my last such package was dumped by the gate. I ascribe to it the result of pressure of the glut of holiday mail. They are likely told to move it in any way possible.