I only have a few photos scanned, and don't have access to many photos from my loved houses just this minute...
so this will be spare for now.
Here's a photo of Pacco that shows some of my worldly goods and the room behind it.
The fireplace works; the tile you see is not original, the original being on the floor in front of fireplace. The credenza is my mother's, used to have legs - she and my father teamed to cut them off. I have added to the brutalisation by messing up the lacquer varnish.
The heating device you see works - I had it redone at great untold dollars in despair at the bills I walked into when buying the place. Now it's all efficient, and works in part through this old system.
The rug is a cheapo from a catalog. Whole new set of colors if you turn it over.
The lamp turns on if you touch the glass shade, how cool is that?
The dust? how can I care about dust with a corgi.
The corgi didn't cost much but has infinite value.
The chair was $60. dollars from a local schlocky used furniture place that I loved. Salmon velvet, give me a break.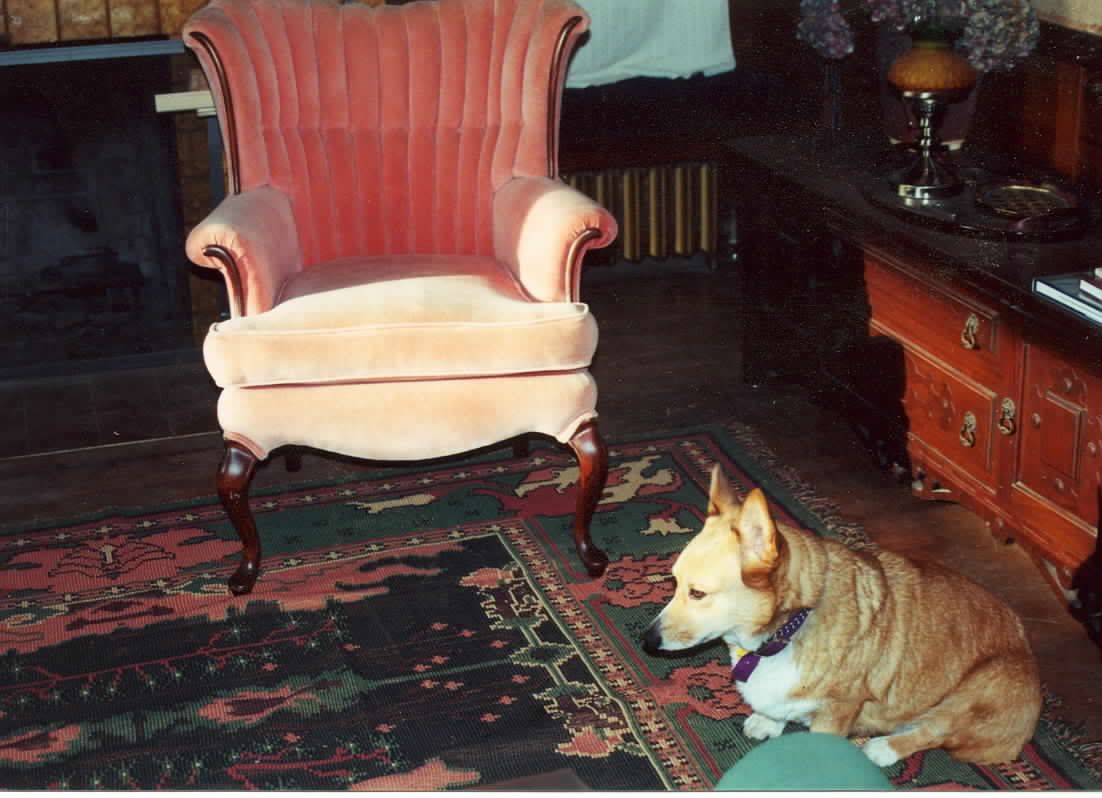 and here is a series from the murphy bedroom/potential art book library
Ta da, the door...
and the wainscotting - redwood frame around eucalyptus veneer.
The crud on the walls is wallpaper paste. Preservations will be after my hide, but it all depressed me.
Love the coved ceilings. My arch historian friend tells me that this puts the house into partial colonial revival. What do I know. Fixtures original.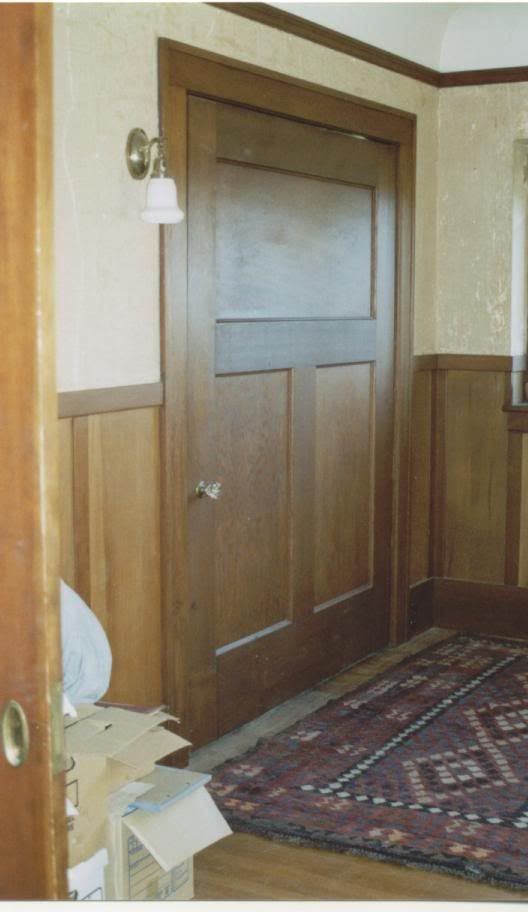 Cheapo mattress of the not that thick sort, from McMahon's, the last one they had at the time. People RAVE about how wonderfully they slept here... I think it's the springs..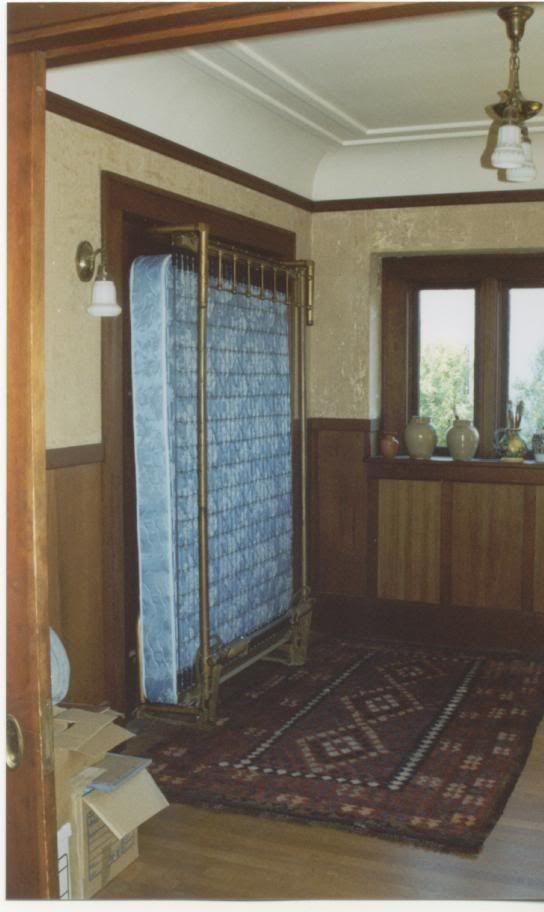 Well, so there is a closet behind, into which this door twirls, and there is room for a whole set of about 13" deep new redwood shelving (read dollars)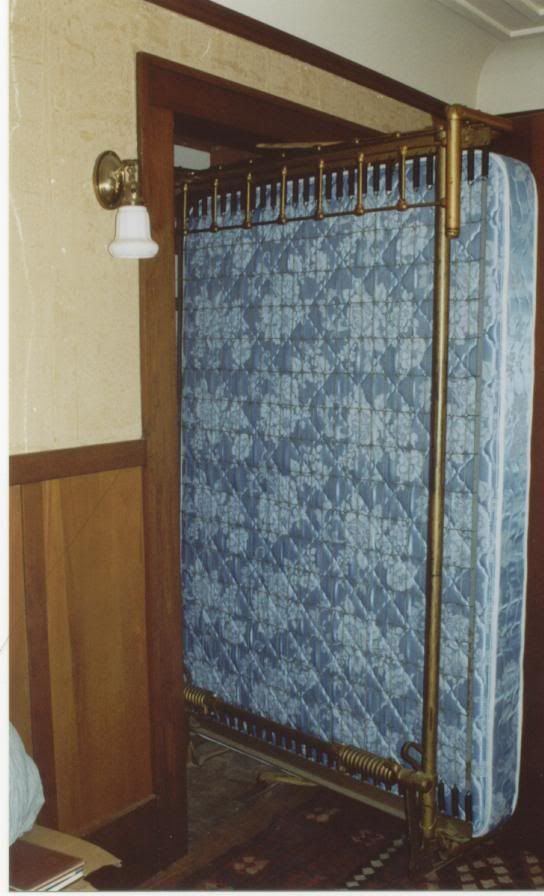 There they are, waiting for varnish. I don't know what that line is - it isn't present in real life.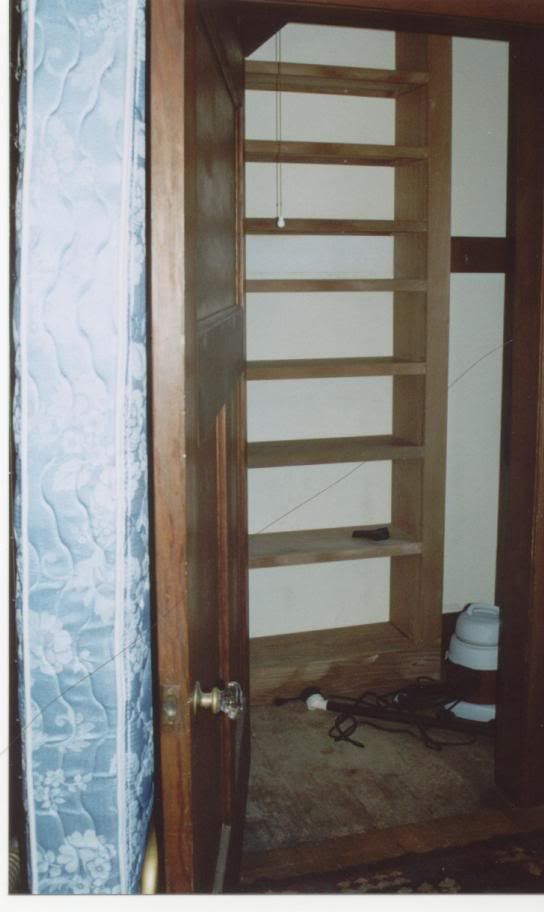 a hint at how this razmatazz attaches -