I've got a small Black & Decker fluorescent work light over my workbench. Recently, the spring-loaded On-Off switch for the light failed. Since the light is already plugged into a surge-protected outlet strip and since I know the light itself still works - I figured I might as well by-pass the switch, and just control the light from the outlet strip switch.
Given the visually convoluted nature of the spring-loaded switch, now I'm have trouble figuring out how to bridge across the switch contacts - so that the lighting circuit is controlled by the outlet strip switch. Here are images of the contact view and the obverse wiring view of the failed switch.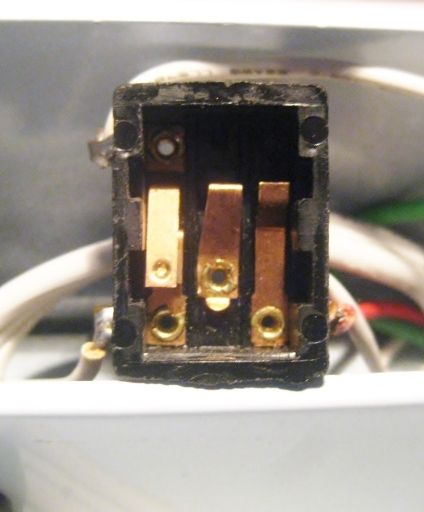 Looking at the wiring image, the two white wires on the left-hand side both run to the left and right side contacts on the fluorescent light fixture, respectively. A second white wire also connects to the contacts on either end of the fluorescent light fixture. The center white wire, comes directly from the ballast, which in turn draws power from a separate plug-in outlet built into the fixture. The red wire leads directly to the other contact on the plug-in outlet.
Usually I'm pretty good at this kind of thing, but the spring-loaded switch has (had) some sort of set of contacts on a rotating plastic component, which I assume make a series of connections, when the switch is depressed, but there's almost too many moving parts for me to follow on this one. In the contact view, when the On-Off switch is actuated, as far as I can tell - the left-side contact actually depresses and closes with a second contact located directly beneath it - which would send current to both white wires that lead to either ends of the light fixture. By that logic, it would suggest that soldering the three white wire contacts is the first step, as that will complete the circuit and link the white wires to each end of the light fixture. After that, I'm hazy. Folks here are always pretty good at providing help/guidance. I'll hold off on heating up the soldering iron until I glean some feedback from some of the regular electrical/home improvement Jedi-masters. Thanks!