Tue 19 Feb, 2019 05:12 pm
Klobuchar's 2/18 CNN Townhall Event


She's mean, like John McCain.
Klobuchar's positions:
http://www.ontheissues.org/Senate/Amy_Klobuchar.htm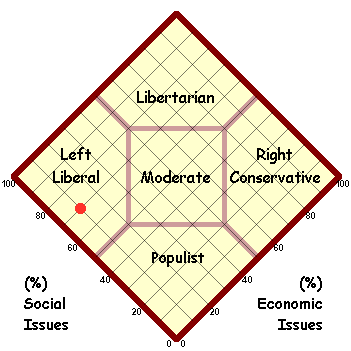 If Klobuchar remains the only semi-moderate candidate in the primary field, I think that would benefit her. Having so many progressives could split the vote among them and voters who like the pragmatic approach of Klobuchar (and her straight talking mannerisms) could end up being a majority over any individual progressive candidate.

If more moderates enter the race, she wouldn't stand out among the crowd I fear. Although debates could change all of that.

Should be a fun primary.
@maporsche,

If you want moderate,
Julian Castro
is your guy.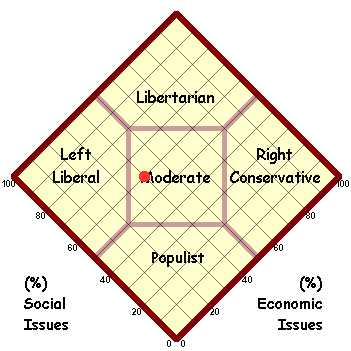 @engineer,

I'm not looking for the "most-moderate" candidate. But thanks for the charts.
And I've already pledged to support any candidate on the Democratic ticket. If that's Castro, then great. If it's Klobuchar, then great. If it's Bernie, then great.
@maporsche,

Quote:

And I've already pledged to support any candidate on the Democratic ticket. If that's Castro, then great. If it's Klobuchar, then great. If it's Bernie, then great.
This is the attitude that got us Hillary Clinton (and lead to Trump).
This time, I will not make this pledge. I do think that Klobuchar seems acceptable at this point, there is at least one Democratic candidate for whom I will likely not vote in the general election.
If both parties keep getting more and more extreme, at some point people have to decide to stop voting for them.
I don't know much about her at this point. Here is something from
Bill Maher

The Huffington Post has been raining on Amy Klobuchar's presidential announcement with a series of stories about how she mistreats her staff. And Senator Klobuchar should thank them. Because here's what might separate Klobuchar from some of the other Democrats — she might appear tough enough to do the job.

I think Democrats lose a lot of people in the middle because they appear too soft to run a Little League team, much less a superpower. They're the "we feel bad for you" party. And yet, most people understand that no organization runs well without a strong manager at the top. Bill Belichick doesn't have all of those rings because he tells players "Nice try, buddy. You'll get 'em next time!" when they blow an assignment. He cuts them. Whether you're running a small business, a design team, or a concert choir, the results are better when the person at the top runs a tight ship and doesn't make excuses.

When voters in the Midwest, many of whom who bust their asses to scrape a living together, hear that Amy Klobuchar is tough on her staff, I bet they say, "Good. Finally, a Democrat who doesn't think the job of governing is about excusing bad behavior, apologizing, and shaming." So you go, Amy Klobuchar. Own it. Here's your new slogan: "Amy Klobuchar: A woman who isn't afraid to kick somebody's ass."
Bill Maher's reasoning goes from bad to worse.
The ability and proclivity to abuse staff is not spinnable to a good thing. It smacks of elitism and entitlement, and it is disgusting.
'What is indisputable, however, is that Klobuchar's office consistently has one of the highest rates of staff turnover in the Senate. Klobuchar's rate of turnover ranked No. 1 in an analysis of all Senate staff salaries between 2001 and 2016, conducted by LegiStorm, a widely used database of congressional staff salaries. (Klobuchar was sworn into office in 2007.) She's now third, behind Maryland Democrat Chris Van Hollen and Louisiana Republican John Kennedy. '
https://www.huffingtonpost.com/entry/amy-klobuchar-abuse-staff-2020_us_5c5a1cb1e4b0871047588649
Given the current highest turnover rate ever going on in the WH now... it may not be good to follow that with someone that grinds through staff also.
@Brand X,

Tulsi Gabbard has a higher turnover rating. I don't recall anyone getting upset over that.
I don't think this will be an issue for her.
I also don't think her White House would have the same turnover problems of the current one.
For what reasons did Gabbard's staff leave? Klobuchar seems to have quite a pattern.
'Senator Amy Klobuchar was hungry, forkless and losing patience.
An aide, joining her on a trip to South Carolina in 2008, had procured a salad for his boss while hauling their bags through an airport terminal. But once onboard, he delivered the grim news: He had fumbled the plastic eating utensils before reaching the gate, and the crew did not have any forks on such a short flight.
What happened next was typical: Ms. Klobuchar berated her aide instantly for the slip-up. What happened after that was not: She pulled a comb from her bag and began eating the salad with it, according to four people familiar with the episode.
Then she handed the comb to her staff member with a directive: Clean it.'
https://www.nytimes.com/2019/02/22/us/politics/amy-klobuchar-staff.html
@Brand X,

I read this. I'm still not concerned. One of the points i the article is that she wasn't happy with the people writing her twitter feed,
and she told them so...over email
....the horror.
I'm not looking to date Klobuchar. I'm looking to see if she's capable of the most difficult and demanding job in the country. Being a hard ass or a difficult boss is not a disqualifier IMO (and may even be preferable).
Well her former staff seems to have their own #metoo movement going, so we'll see where it leads.

Much of her success is going to be based on the people she has working for her if elected but some potentials are afraid of touching that electric fence.
@Brand X,

I get it, but there is a huge difference between being a demanding boss and even getting angry at employees and what is happening with the president and his staff today. There is no reason to think a Klobuchar presidency would have any difficulty getting the appropriate staff and there's no worry of her attacking her employees in the media or fitting them on Twitter.
Working in the White House won't be easy and mistakes shouldn't be tolerated. Mistakes will happen, but the expectations should be clear and the punishment swift.
@maporsche,

I don't buy that she is simply demanding, this goes to her temperament and whether that characteristic of hers would be a red flag under a much bigger and hotter spotlight as president.
@Brand X,

A much better indicator would be to look at her record of governing and how she has performed in the Senate.
@Brand X,

Brand X wrote:

Well her former staff seems to have their own #metoo movement going, so we'll see where it leads.
Exactly what do you mean by that?
Because I think you think it means something totally different.
I would be more interested to know her stance on Medicare for all and does she take ungodly sums of bribe money from corporations.