@coldjoint,

Quote:
Anything on Biden getting a pass or did I miss the end of the "me too" movement?
Joe is the MSM's Great Grey Hope, if he can stave off the dementia for a few more months.
It may also be an act, so if he does hit the witness box as a perp, he can just start dribbling, and maybe shed a tear or two, and forget his name and ****.
Quote:
Devin Nunes: GOP investigators 'laser-focused' on information CIA gave to FBI in 2016
A lot happening the MSM refuses to mention, or barely mentions.
https://www.washingtonexaminer.com/news/devin-nunes-gop-investigators-laser-focused-on-information-cia-gave-to-fbi-in-2016
@coldjoint,

More evidence of the (possibly) biggest stitch-up in US history, when the DOJ/CIA/FBI/MSM collude to get their gal elected, and fail dismally.
An example of the attack dogs (not journalists) feeding false information to slander Trump anyway possible. She has lost all credibility. If I were NBC I would not use her anymore, she is damaging a severely damaged news source even more.

Why would people tolerate lies from any reporter?
Quote:
The 'Journalist' Who Blamed Trump for Someone Drinking Fish Tank Cleaner Strikes Again
Quote:
In short, the journalist who wrote this story up, who has a history of pushing fake news on this topic, didn't even confirm the cause of death. In fact, she has didn't even bother to speak to the doctors involved. Further, trying to connect this with Trump doesn't compute. The drug was prescribed by a doctor who's paid to make decisions like that. The President has nothing to do with it.

Never in a million years would I have guessed that the media would be so awful as to actively root against a drug that could possibly save lives. Yet, that's exactly what's happening and they are using stories like this to do it. That this is the same reporter who's already been caught once, yet she hasn't even been reprimanded, tells you all you need to know about NBC News' standards.
https://www.redstate.com/bonchie/2020/04/18/the-fish-tank-cleaner-journalist-strikes-again/
Well educated and thoughtful protesters. America's best, really.
She is a Pulitizer, Polk and Peabody award winning reporter.
@coldjoint,

Virtually every Obama official was in on this frame-up conspiracy, but Brennan is starting to stand out. His time aint long. Indictments in process.
Quote:
For the first time, the California congressman described in great detail the next steps of a broad congressional inquiry into possible misconduct during the Russia investigation, which he said includes scrutiny of three "dossiers" and questions about three Russian Americans

Nunes told Fox News on Sunday that "there's a bunch of questions" about three "phony documents" that Durham is examining that House Intelligence Committee Republicans are also investigating. One of them is the Steele dossier. The other two are the 2017 intelligence community assessment on Russian election interference and Mueller's report, which Nunes said is "filled with both lies and omissions."

"In 2016, we know from great work that Trey Gowdy did at the time ... that the CIA gave information over to the FBI in 2016. We now are laser-focused on that. We need to know: Exactly what did the CIA give to the FBI in 2016?"

Gowdy asserted Brennan was in more jeopardy than Comey for the use of an unverified dossier for the Trump-Russia investigation, after which Brennan said there was "ample evidence to justify what the FBI and the intelligence community did in the summer" of 2016.Nunes said.

DOJ Inspector General Michael Horowitz's report also showed Comey and then-FBI Deputy Director Andrew McCabe fought to include information from Steele's dossier in the January 2017 intelligence community assessment...

Republican Kentucky Sen. Rand Paul pinned the blame on Brennan, tweeting last year, "A high-level source tells me it was Brennan who insisted that the unverified and fake Steele dossier be included in the Intelligence Report."

U.S. Attorney John Durham is said to be increasingly focused on Brennan.
Well, goodness gracious.
Quote:
Americans at World Health Organization transmitted real-time information about coronavirus to Trump administration

More than a dozen U.S. researchers, physicians and public health experts, many of them from the Centers for Disease Control and Prevention, were working full time at the Geneva headquarters of the World Health Organization as the novel coronavirus emerged late last year and transmitted real-time information about its discovery and spread in China to the Trump administration, according to U.S. and international officials.

A number of CDC staff members are regularly detailed to work at the WHO in Geneva as part of a rotation that has operated for years. Senior Trump-appointed health officials also consulted regularly at the highest levels with the WHO as the crisis unfolded, the officials said.

The presence of so many U.S. officials undercuts President Trump's assertion that the WHO's failure to communicate the extent of the threat, born of a desire to protect China, is largely responsible for the rapid spread of the virus in the United States...
WP
Governors slam Trump's call to 'liberate' states where protesters object to coronavirus restrictions
William Cummings
USA TODAY

WASHINGTON – Democratic and Republican governors pushed back Sunday on President Donald Trump's tweets to "liberate" states where people protested social distancing measures enacted to slow the spread of the coronavirus.

"LIBERATE MINNESOTA!" the president exclaimed in one tweet. "LIBERATE MICHIGAN!" he cried in another. "LIBERATE VIRGINIA! and save your great 2nd Amendment. It is under siege!" he wrote in a third.

Gov. Jay Inslee, D-Wash. – who said Friday that Trump's "unhinged rantings and calls for people to 'liberate' states could also lead to violence" – told ABC News' "This Week" that Trump's tweets were "dangerous" because some might take them as encouragement to ignore stay-at-home orders and other measures intended to stop the spread of the virus, which has killed more than 40,000 Americans.

"I don't know any other way to characterize it," Inslee said, expressing disbelief at seeing the "president of the United States basically encourage insubordination" against laws "designed to protect people's health."

"It is dangerous because it can inspire people to ignore things that actually can save their lives," Inslee said.

Donald J. Trump
✔
@realDonaldTrump
LIBERATE VIRGINIA, and save your great 2nd Amendment. It is under siege!
11:25 AM - Apr 17, 2020

Protests flared up against the stay-at-home measures as angry residents in some states argued that restrictions were unnecessary or have gone on too long. Some reject the measures on ideological grounds; others decried their catastrophic economic consequences.

Republican Gov. Larry Hogan of Maryland, where one such protest took place, told CNN he understood "the frustration among the people that want to get things open right away."

"I'm frustrated also. I mean, I wish I had someone to protest to. But, look, we're doing everything we possibly can to reopen in a safe manner," Hogan said Sunday on "State of the Union."

Hogan – who has been critical of the president on other issues and considered a primary challenge against him – said he did not think it was "helpful" for Trump "to encourage demonstrations and encourage people to go against the president's own policy."

Gov. Mike DeWine, R-Ohio, said on "Meet the Press" that the only thing he asked of the protesters "is to observe social distancing."

"We're all big believers in the First Amendment. They were protesting against me yesterday, and that's just fine. They have every right to do that," DeWine said. "We are going to do what we think is right, what I think is right. And that is try to open this economy, but do it very, very carefully, so we don't get a lot of people killed."
I'm not sure of the origins of that odd symbol there but it is represented on both the Trump and Koch family coats of arms.
@blatham,

In the ancient Indian language of Sanskrit, swastika means "well-being". The symbol has been used by Hindus, Buddhists and Jains for millennia and is commonly assumed to be an Indian sign.
Early Western travellers to Asia were inspired by its positive and ancient associations and started using it back home. By the beginning of the 20th Century there was a huge fad for the swastika as a benign good luck symbol.
In his book The Swastika: Symbol Beyond Redemption? US graphic design writer Steven Heller shows how it was enthusiastically adopted in the West as an architectural motif, on advertising and product design.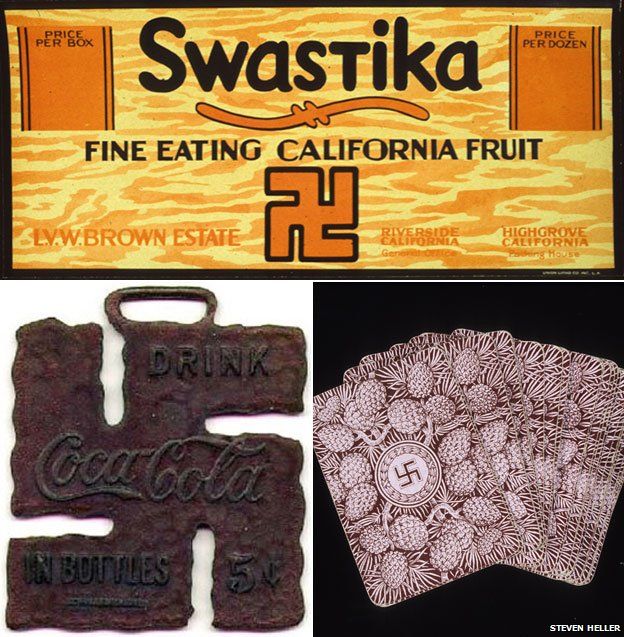 source
@coldjoint,

coldjoint wrote:
Anything on Biden getting a pass or did I miss the end of the "me too" movement?[/color]

As I recall, when it came to Cavanaugh's accusers, Joey-boy said that women must be believed, eh?
So, I figure there's no need to ask questions and that he will withdraw his candidacy any day now.
@blatham,

Leave it to a true divider and hater to post an anti-Semitic image. You surprised no one.
Lady arrives at subway entrance, sees police cordoning off the area and asks why. Police officer explains there's been a sarin gas attack down below with multiple deaths. Lady protests, says she has to get to her hair appointment. She demands entry, "This used to be a free country! I would rather die than give up my liberty!"
@layman,

Quote:
So, I figure there's no need to ask questions and that he will withdraw his candidacy any day now.
Which leaves them with Sanders.
Tells me all I need to know about the DNC, post HRC.
It's a curiosity that Evangelicals and other faith groups who wish to continue Sundays services as before, proclaiming that God will keep them safe, aren't now jumping in as volunteers on the coronavirus front lines. It would seem that their faith stance with it's protective benefits makes them the perfect persons to do this work. So it's a puzzle.
@blatham,

Quote:
It's a curiosity that Evangelicals and other faith groups who wish to continue Sundays services as before, proclaiming that God will keep them safe, aren't now jumping in as volunteers on the coronavirus front lines.
Because they already have. They, Franklin Grahams org. has built a hospital in Central Park.
Quote:
Franklin Graham's 'Samaritan's Purse' Builds Field Hospital in Central Park
That is one huge lie exposed. What else you got? I mean besides your hate for all people of faith but Muslims. You are just plain TOXIC.
https://www.breitbart.com/health/2020/03/30/franklin-grahams-samaritans-purse-builds-field-hospital-in-central-park/
@Builder,

Quote:
"Coca-Cola used it. Carlsberg used it on their beer bottles. The Boy Scouts adopted it and the Girls' Club of America called their magazine Swastika. They would even send out swastika badges to their young readers as a prize for selling copies of the magazine," he says.
Yummmmmm. That picture makes me want to guzzle half a bottle of coke, heavily cut with bourbon, of course.
@layman,

I had a homey who drank 10-12 tall glasses of vodka every day. But he would always insist that they had a "splash" of water, ya know?
2nd Amendment Notes:
Imagine for a moment these guys being offered a deal:
We will fully legalize these weapons across America guaranteeing that their mechanical operations and capabilities remain totally unchanged but in exchange for this we will enforce producers and sellers to produce them and market them only if they are bright Barbie pink in color.
I'm guessing they wouldn't take the deal. And why would that be?