@Roberta,

are you still at kinko's?
I need some copies...
@dlowan,

Deb, Didn't kill nuttin'. Now I'm laughing too hard. Weak.
BTW, I had the eggs florentine.
@Rockhead,

Glad to oblige, RH. But how can I get them to you? We'll have to wait for Thomas. He knows about stuff like that.
(Still laughing at BusGate.)
Was another fantastic meetup except Joe(gottago)Nation had to go somewhere. I hardly got to say a word to him, he and Alex were at it about guitars, blues, other music, the NY scene, etc., and then he up and bloody left. So... there I was stuck between a rock (Alex) and a hard place (Thomas), looking at Boida and Tsar... suddenly thought "Life can't get any better than this"...

Love Tsar, love Roberta, love JoeNation, like Thomas's directions (snicker)... will definitely come back here even if they don't have time for me next time.

Roberta has so many stories about NY, from her grandparents time on down, it's amazing, she should write a book. Really, Roberta, you should. Hey, what else ya got to do? (just kidding) - but really, how interesting it would be!

Alex got to play a bunch of $12000 guitars this week so he's a happy camper. He says they're way over-priced, btw, so ask him first before you buy one. Likely he has one in his massive collection.

More tomorrow when we get home, but overall, a fabulous trip with fantastic people. I could live there!!


Visitors
I hate it when people come to visit,
not at first mind you,
it sets in about the third day of their five day stay,
and then just sits on medium simmer.
There's never enough time
enough chairs
enough wine
enough
space
in this crowded place
of crowds of noise of pizza of taxis of museums of fried dumplings of meetups
to compare more than impressions.
What I want is for this city to shut up for a second
and let the visitors reel out spiel out their entire lives
each moment
to our little group's undivided attention.

we sit agape.

Joe(That never happens)Nation
@Joe Nation,

You need to update your pic - you're way better looking in real life than that.
You're a very interesting person and I wish we'd had more time to chat. Ditto with everyone else. That's just the way it goes, eh? Oot and aboot. There. That should make a few people happy.
@Mame,

PS Just so's you know, I never had a fried dumpling and now I'm really regretting it.
@Mame,

Oh and hey, nearly forgot - I witnessed a bust after I left Alex at the Museum of Natural History (and predicatbly, he only saw 1/2 a floor in 2 hours - yes, he was reading Islam texts - apparently very time-consuming) - it was on 72nd just east of Columbus and my new favourite bar, Malachy's. Two people were trying to steal something from the AT&T... cops everywhere, squealing cars, lights flashing, all very exciting (not). All the pedestrians lined up to watch the handcuffing and gossip was fast and furious. Fitting end to my stay, I thought
@Mame,

Visit us in Chicago sometime and you may also get to see crimebusting excitement!
@wandeljw,

Well, if life gives you lemons. . . .
@Mame,

Mame wrote:
You need to update your pic - you're way better looking in real life than that.
Well he certainly couldn't be any worse looking ...
@Mame,

Or you can come visit me in Michigan!!!
@shari6905,

Shari - I was going to welcome you to a2k, but I looked at your profile and see you've been around here seven years! (smiles)
Here are some photos:
The Group minus Roberta: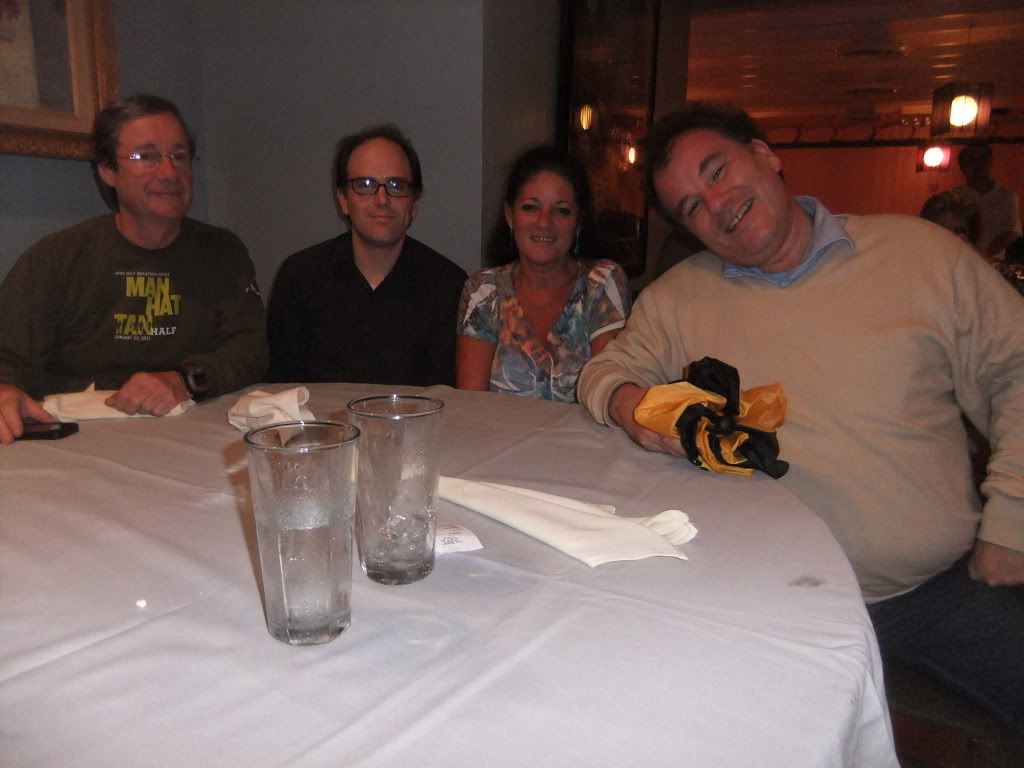 Times Square:
Everything's in Neon - even the Police Dept!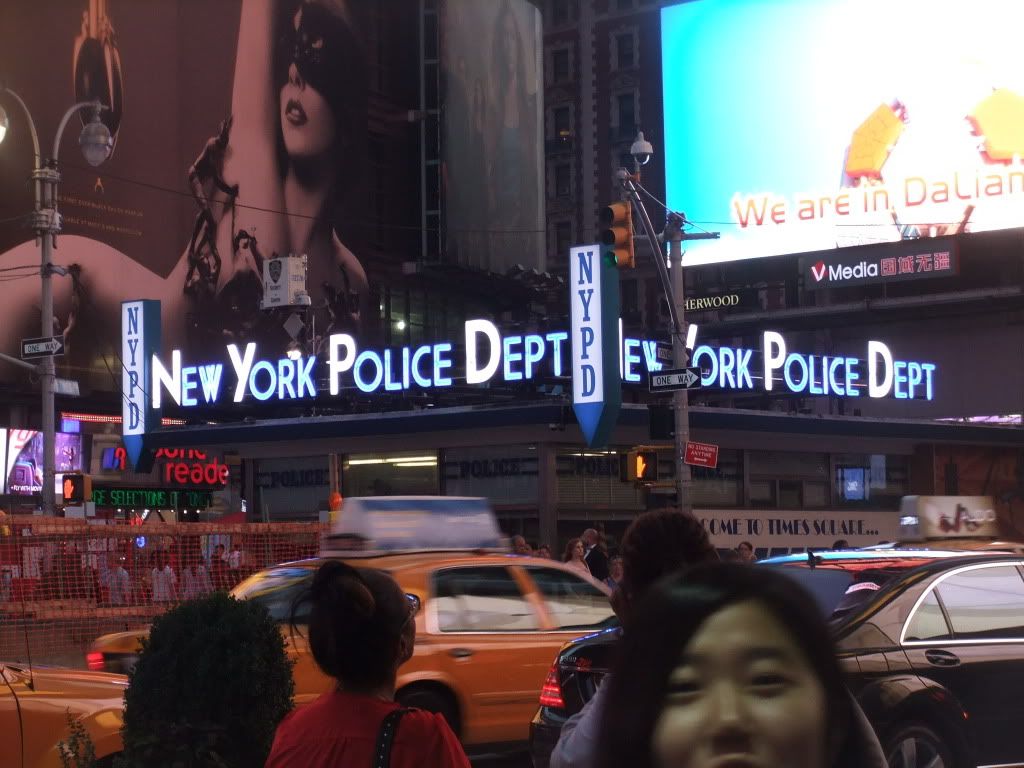 There are some strange people walking around: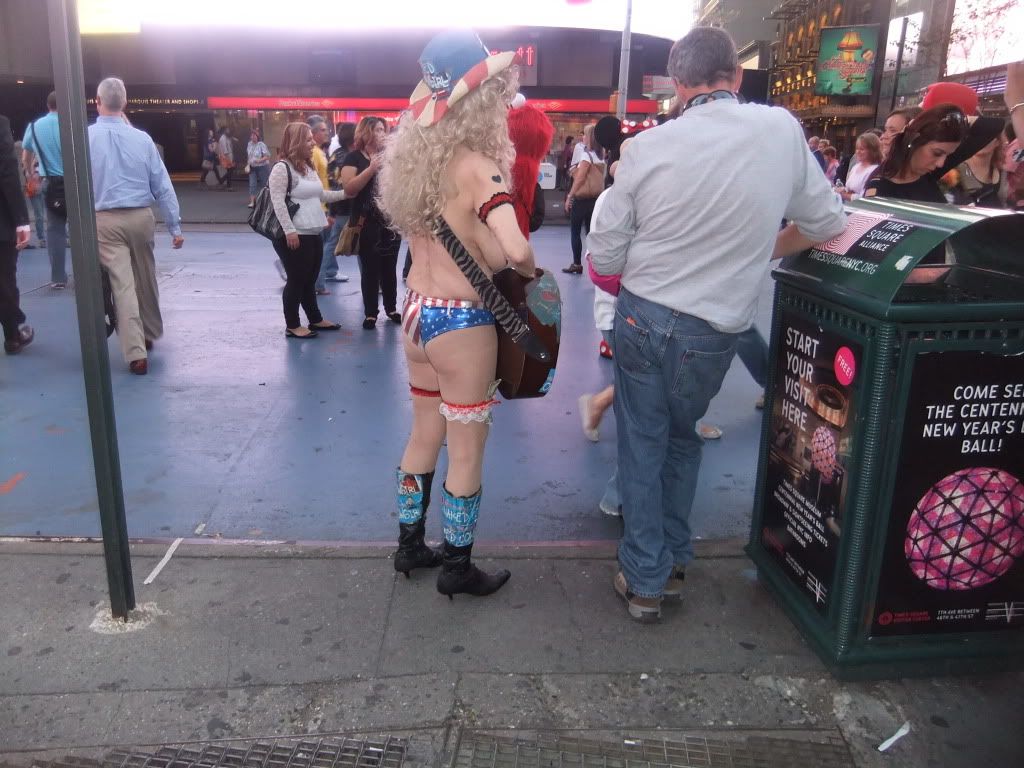 Who does he think he is - the Statue of Liberty?
Speaking of police, this is how they monitor us:
@Mame,

Thanks, Mame! (love that first one especially)
oboy, now I have to go down to Times Square and give the guy a dollar because you took his picture without paying him. (You didn't pay him, did you?)

They have ways of knowing who are the friends of those who do not pay.

Joe(shiver)Nation
@Mame,

The Gestapo States of America
@Joe Nation,

Eh, I threw some money in his box, whaddya think? And hey, come to think of it, is that you standing beside that "American Guitar-Playing Woman"? Looks like you from the back. Is she your sister?
@Mame,

She's my mum. It keeps her busy.
Joe(I have a better ass than either of the people in that picture.)Nation