@tsarstepan,

tsarstepan wrote:

I strongly disagree with you. I actually really like its near minimalist modern design.

coffee is supposed to be a comfort.
This cup makes me confused and frightened.
ok here's another example.
I had seen this brand of orange juice at the market, and without reading the brand name, just going by the picture, I thought "that's the cheap, lower quality store brand"
BTW, I'm not big on orange juice, so it wasn't like I was looking for "my" brand.
What I was seeing was Tropicana's new packaging.
The picture on the right just says bleech.
Back to coffee for a moment.
I'm kinda weird about how I drink my coffee. I absolutely don't like to drink coffee out of ceramic mug. Tea is a mug is fine, as are cold beverages in a glass.
There's just something not right feeling about my lips on a ceramic mug that's got coffee in it.
That said, a long time ago I found and purchased online a case of these cups...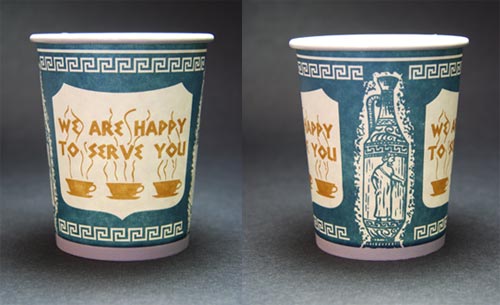 mmmm.....my morning cup never tasted so good. Don't worry, I would rinse it out and use a few times before recyling.
When I realized I was runny out, I couldn't find them immediately online. In a panic, I scoured the interweb for something, anything that wasn't ceramic.
Fortunately I found this...
Well, not this exactly, because I don't drink instant, and it wasn't a black & white photo. But, what is was, was Maxwell House blue paper cups, with the appropriate logo, and "good to the last drop" written on it.
I am enjoying the use of one right now, except that I've got some diet ginger ale in it.
My point being....
uh....
lessee.....
coffee tastes best in blue paper cups!
yeah, or one's that look nice, like SBC, and don't look like men's rooms signs.