Joe, of course, could be right. The similarities with the photograph he has posted are striking.
If it were a uniform of the Civil War era, it would almost certainly be Confederate. The rank insignia--a single star--is that of major in Confederate services. So, for example, the four collar insignia Joe has posted are for Confederate service and are, from left to right and top to bottom, Major, Captain, General officer (no distinction was made between grades of general officer in the insignia) and Colonel.
The hat would not be far-fetched for a militia uniform of the 1850s. The 2nd, 6th and 7th Wisconsin, one Indiana regiment and the 24th Michigan, all regiments of United States Volunteer Infantry, formed the first brigade, first division, first corps of the Army of the Potomac. They were known as the Iron Brigade in their own army, and the Confederates they faced commonly just referred to them as "them black hat fellers." That was because they continued to use the 1855 issue 0f militia uniform, which included a black "slouch" hat.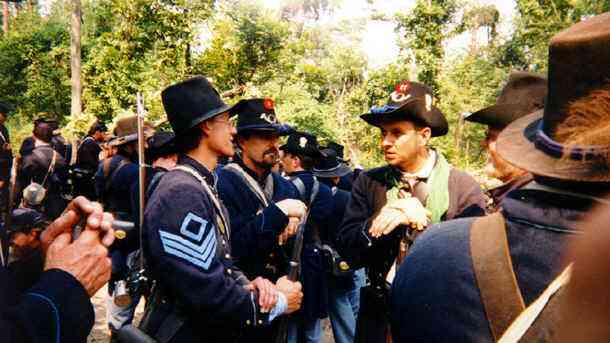 This image is of civil war re-enactors, wearing the uniform of the 2nd Wisconsin Regiment of United States Volunteer Infantry. They wear the 1855 issue militia uniform, with the exception of the hat badges, and that they no longer wear plumes in their hats. Many Confederate units went into service at the beginning of the war in their 1850s era militia uniforms. One South Carolina regiment simply walked up to and overran several batteries of Federal artillery at Bull Run because the gunners assumed they were Federal troops and did not fire on them. One Louisiana regiment at the battle of Shiloh was fired on repeatedly by other Confederate regiments (most had never been in battle before) because they were attired in their 1850s era militia uniforms.
********************************************************
On balance, i find Joe's argument persuasive. The only reservation i have is that i have not been able to find collar or hat insignia of the Bersaglieri such as is shown in that photograph.
I did find this collar insignia:
. . . which is similar. I have found this example of the hat with insignia most commonly:
. . . which does not resemble the photograph.
Quite a poser you've come up with for us here.