Fri 19 Feb, 2010 04:33 pm
Today, the 20th of February 2010, is the fifth anniversary of the death of a very dear, much loved A2Ker.

For those of you who joined A2K later & never knew him, his death (much too early!) broke all our hearts. We loved him.

Well, what was there not to love? He was intelligent, extremely talented, very funny, with so many strings to his bow. Apart from that, he was a terrifically prolific poster here, talking about everything from food (Paul was a great chef!), to music, to poetry, to life ... you name it!

Anyway this is not meant to be a sombre thread. Let's celebrate, talk, exchange Cav stories, post a few of his poems, throw in a few Cav recipes ... what ever you want would to say would be good.

Here's to you, Cav. When you were good you were fabulous!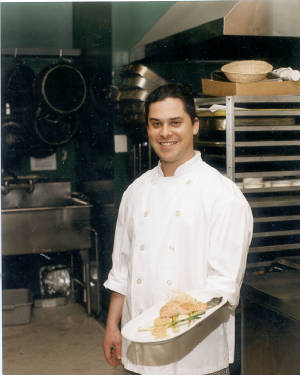 Cav talking about Cav in his A2K profile:
Quote:
I love my craft, and go into a serious shame spiral when things get slow. Thankfully, there are cool forums like this to interact with others and pass on my superior knowledge, muahaahaa....(don't do evil laugh terribly well, being in a service industry). Sometimes wacky, sometimes serious, just yer average dude in a white jacket...
Cav on Cav again. From a birthday thread:
Quote:
NOT that anyone should know, even though I announced it in the 'September Babies' thread, and I work alone all day in my dark apartment because I'm out of light bulbs and the city is sold out since the blackout (okay, I made that up).

Odd things about a Virgo like me:

Sun sign Virgo, Mercury in Virgo - Double Virgo, everything is all in my head, they are not really out to get me. Impeccable in my work, a constant worrier, I love things clean, neat and tidy, but I don't like touching dirty things, so my apartment is constantly in chaos.

Venus in Scorpio: Jealous tendencies, but tempered by my Virgo logic that tells me I'm being illogical. Also, good in bed.

Moon in Aries: Combined with Virgo Sun, makes me irritable and impatient with people who can't do their jobs well, yet leaves me vulnerable to not doing mine well either, due to temptation to have some fun once in a while.

I don't have my entire chart handy, but that's what I remember.

Send me some wishes already
Cav's A2K threads:
http://able2know.org/user/cavfancier/topics/
~
He was very dear to me, and even more admirable and companionable in person. I hope you will understand, however, that i don't want to post about him, other than this comment.
@Setanta,

That's fine. And perfectly understandable, Setanta.
The intention is to just let anyone say anything they want to here about Cav.
@msolga,

I think it's a real shame to have lost Cav's "eat ****" avatar.
I know we can't have the animated version these days, but it would be lovely if the original was there on Cav's frofile page. (I'm "following" him.) It was so much more Cav than this:
@msolga,

I only talked with him on line and I felt that Id love to hang out with him. He had an interesting view on so many things and he seemed never to take life too seriously. I forgot about his Ronald MacDonald with the "Eat ****" sign
Dearly missed.
@msolga,

I still have the photo of him, Setanta, and BoGoWo. His hair was long and curly.
@Letty,

WOuld the others mind if you posted it?
@Letty,

Oh please post it, Letty!
The one I posted was the only one I could find. (From his company's old promotional site.)
@msolga,

cav was one of the first people i interacted with here, not much but liked to talk music with him
he was also the first online death i'd experienced (but not the last unfortunately)
i still have his death announcement from the newspaper
@Letty,

I don't think I ever saw a photo of him. I only knew him from his posts. I would like to see a picture of him if Letty feels it is appropriate.
We were real close, but I never met him.
I still have his e mails.
My avatar for years was a caricature of a chef/clown...until the big A2k shake-up, when it got lost.
I got over the pain...but I'll never forget him.
@realjohnboy,

Letty needs a little help, folks. She doesn't know how to go about posting Cav's photograph here. She asked me (a Luddite) & I don't know how to, either ...
Anyone volunteering to help out, please?
Thank you.
I was relatively new when cav got sick that final time. First the flu and then the rapid slide downhill... He had recently tried out for a spot on the Food TV network for a competition show they were filming. He was looking forward to hearing back from them and the opportunity it would bring.

What I remember most about cav was the reaction of the folks who knew and loved him... and how his family came here for solace during his illness and after his death.
@msolga,

Cav was a poet, too! (But what wasn't he?
)
Quote:
Fresh falling snow,
each flake unique.

Those lucky
to cling to branches
join the elite order
of hoarfrost,

laughing at their brethren
below, trampled, shoveled,
driven over,
broken down,
salted
(what are we, caviar?)
until each individual
is crushed
into an unreconizable
brown slush.

An unexpected warm day
proves the equalizer.
http://able2know.org/topic/44105-1
Letty/Msolga -

is the photo on your computer, or do you need to scan it? Or is it on a cd that you can transfer it to your computer?

Once it is on your computer (me, I like to put one I want to send to a2k on my desktop, but it can just be somewhere in your files), you can add it to a transitional site such as imageshack or photobucket - they tell you how. Once it is on one of those transitional sites, they give you directions to bring it here to a2k. Generally, it involves obtaining or copying an URL that ends in jpg.

Others can walk you through this better than I can. It sounds complicated but is not that hard once you get used to it.
@msolga,

This is a quote of one of my favourite Cav threads (& there were quite a few!)

Let me analyze your A2K personality, free of charge!

We all lined up, of course. (What a line-up of old timers, here! Quite a few blasts from the past! )

This was Cav's first post analyzing the folk who volunteered:
Quote:
Hmm, it looks like this will be a busy morning. Who knew there was so much interest in this crap?

Let me consult the runes....

<casting runes>

<casts extra runes for the bunny>

littlek's love for boxers and vegetables indicates a latent maternal instinct. It also suggests that a big dumb boyfriend may be in her future. While she may not like the dumb part at first, she will delight in educating him with fascinating science articles and discoveries.

margo never lets her bad attitude or drinking get in the way of caring for her cat, so somewhere underneath the Aussie bluster lies a truly loving person. One day, she will take up the didgeridoo and become a hot ticket at the Sydney opera house.

Cinnesthesia's love for dark chocolate and cabernet sauvignon tells me that she is mistress of the dark senses. Well, that and the dare. In a past life, she was one of the most respected torturers during the Spanish Inquisition.

kickycan is the consummate example of the urban man: witty, smart, fun, and knows his way around New York. He has many interests and talents. Sadly he doesn't seem to have a talent for finding a girlfriend. That is of course, not his fault. They just haven't found HIM yet. (Women can be slow that way).

The bunny is also witty, smart and fun, and a fine debater. However, her tendency towards digressions and picking fights indicates an unbalanced soul, a dual personality so to speak. One day she will answer that burning question: "Inner peace, or wanna piece?"

Wiyaka, I'll do my best, but you being relatively new here, it mucks up the scam a bit. You are a 'man' of mystery and intrigue, with a clear sense of fun. I predict that you will one day organize a large A2K party.

ossobuco, the runes tell me that with your artistic talents, good taste, love of Italy and being educated by nuns will lead you to a calling. I see you heading up a movement to prevent the repainting of the Sistine Chapel from Michaelangelo to simple eggshell. You will succeed.

Walter is a fine gentleman indeed, and I know he is probably much louder and ruder in public. However, here at A2K he takes the higher road. I predict that he will be offered a post as mayor of the Black Forest, but he will turn it down.

Gautam is clearly a prince among men. He has a taste for the finer things in life, and is an expert cook. However, sometimes his dark side gets the better of him, and he starts looking at bums, when he should be checking out some upscale ass. Leave the bums to their lager, bad manners and scruffy demeanours.
http://able2know.org/topic/24678-1
Cav was a great person and an increasingly good poet. He had many other great qualities. I miss him too.
@edgarblythe,

Oh thank you, thank you, edgar!!!
Oh wow!
You've made my day.
@msolga,

That was a fun thread
Eva said
Quote:
Some psychic YOU are!!!
I wrote:
Quote:
Eva, ever thought about a career in psychic fraud detection? Well I just happen to run a school that has graduated thousand' of fraud-detecting professionals. If you'll just send $29.99 for the first course we'll have you in the workplace in no time.