Because cramming stuff under fingernails actually hurts.

Don't want to hurt anybody.

And, why don't you stop your insane, relentless torture of innocents and lose that whiney Banshee avatar.

She sings fone ect tick lee.

AARRRGGGG!
Is that you Setanta?....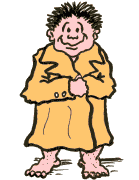 You are an evil, evil man . . .

If you're not careful, we'll resurrect the Fenians . . .
NewSoul wrote:
If it was just a book then why the guards flushed it in toilet ?

Why would they do that , you think ? If not to upset those detainees.

The Quran is the life of Muslims, the 1.5 billion Muslims in the world.

So if Christians don't care if the bible get flushed on toilet that means that they don't really care about its teachings.


There are more than 2.5 million Muslims who remember the Quran by Heart, does not that tell you something about how special the Quran is ?

Now, is it fair to do something to hurt others no matter what it is ? Don't you have Hearts ?

Michael
I can tell you one thing for sure - rote learning doesn't mean understanding. But it tells me heaps about Islam and I don't like what it tells me. No, it doesn't make the Qu'ran special because people are ordered to memorise it, it just tells me that people are ordered to memorise it.
I have a heart that's why brutal beheadings can have me in tears. Islam demands total obedience of its followers, it dictates that God has determined every single action every human ever made. No way would I ever subscribe to that idea. It's a mediaeval religion that can't deal with modern times. I don't mean to offend you but for me it's just another superstition, along with all the other ones.
Thank you. I actuially used to have quite a thing for Kirk when I was about 8.

He still has it! (It, and about 86 extra pounds, but what the hell...)

His passionate overacting turns me on.
Setanta wrote:
You are an evil, evil man . . .

If you're not careful, we'll resurrect the Fenians . . .
Oh no, not the
Fenians
Lash wrote:
Because cramming stuff under fingernails actually hurts.

Don't want to hurt anybody.


That is exactly my point!
Intrepid wrote:
Setanta wrote:

You are an evil, evil man . . .

If you're not careful, we'll resurrect the Fenians . . .

Oh no, not the

Fenians
And we have millions more, just like them, awaiting their marching orders . . .
They're on their own . . . if O'Neill and seven hundred Fenians could walk, by god, so can they . . . maybe they can hitchhike . . .

You ever see Canadian Bacon? Classic scene when Dan Ackeroyd (sp?) stops the truck and makes them translate all the insults into French . . .
Set,

pourriez vous répéter cela en français svp
Ils doivent se débrouiller . . . si O'Neill et les sept cents peuvaient aller à pied, par le bon Dieu, ils peuvent le faire eux-mêmes . . . peut-être qu'ils peuvent <<aller sur la pouce>> . . .

Avez-vous vu Canadian Bacon? Il y avait un scène classique ou Dan Ackeroyd a fait arrêter le camion, et leur a fait traduire tous les injures en français . . .
Goodfielder,

You have a very wrong idea about Islam.

I am going to try to simplify my arguments so you can get the points I am trying to make.

1- Can you go 80 miles per hour over the speed limit when you drive?

You could get a reckless driving ticket, go to jail or you could even have an accident and die. You could kill innocent people doing that. Also, many of us if not all have desires to drive fast. A speed limit sign is a reminder of the enforced Law.

Can you go over 250 miles per Hr?

Your car might blow up if you try. By doing that you could get killed and kill innocent people...etc. Also, many cars can't get that far because they are limited.


It has been proven that without enforcing Laws on people that the human life will be a none-sense and just like living in the Jungle. Without Democracy there will be Dictatorships that will spread all kind of injustice. Also, without acknowledging our limits we could get in trouble (see second example above), hurt ourselves and others. A Dictator is in fact someone that thinks that nobody can stop him from doings evil.

All God is asking for is to acknowledge him, to acknowledge that we are his creation that can do the best and work hard to accomplish things and hope for God to make it happen by praying 5 prayers a day of 2 minutes and asking him for help, nothing more nothing less and if it doesn't happen the way you want it to know for sure that God is preparing for you better than what you hope for. Worship, according to Islam, is a means for the purification of man's soul and his practical life, nothing else.

The Quran is a book of Laws that take care of all the possibilities of injustices that could happen. For example, by praying 5 times a day for and humbling itself by putting the forehead in the ground it is a reminder that it is only God who is the most powerful so we don't feel superior than anybody and is less likely to commit an injustice and any leader will feel nothing but as equal as the poorest or the weakest of the community.

Islam is absolutely not against progress, it is by enforcing Islam and submitting to God that Muslims, thru all the history of Islam, that achieved the best progress because they were living as equal, were only doing good and not evil, it is by submitting to GOD only that peace can be achieved. It is by spreading tolerance, forgiveness, and fear of nobody but GOD who is the most just that people can focus on other more responsible things and work hard for the better of everybody. It is by spreading and enjoying good deeds, avoiding bad deeds and fearing nobody in the society as long as the person is being just that the humanity will live in peace. Is it too hard for us to pray 5 times, to be humble and just in front of the Creator? Is it against any progress?

You have a wrong idea about Islam. If Islam was like what you think I would be the first to reject it. I am a Muslim, I don't fear anybody but GOD alone as long as I am just and fair and I am a scientist and can't live without Research and Islam have given me peace and encouragement to do better.



Michael
Intrepid,
J'ai appris le Francais en France. Est ce que vous etes francais ?
Ca fait tres plasir de connaitre qu'il y a des bilingues ici
Michael
Je voulais dire :

Ca fait tres plasir de savoir qu'il y a des bilingues mais pas "Connaitre" ... Des fois je traduit de l 'Anglais:)

Michael
How would christians react to a sign that said flush the new testament down the toilet because it is full of...
No doubt it wouldn't be friendly.
As usual religious tolerance is on display.
Wouldn't it be a much more peaceful world without the tolerance and understanding of religion
plaisir . . . the word is plaisir . . . sorry, but it gets on my last nerve when someone claims to be fluent in a language and repeatedly makes the same mistake . . . once might be a typo, even twice . . . so i suppose i should give you the benefit of the doubt . . .
Setanta,

Je ne l'ai pas fait expret. Cela fait trop longtemps que je n'ai pas pratique' le Francais. Mais sache que j'ai etudie' la litterature Francais en lyce'e Francais. Le vrai francais mais pas le quebecois lol parce que je pense que le quebecois a ete' influence' par l ' anglais. Ma me're est francaise en plus. JE peux meme parler le Cefran de Paris, le Verlan si tu connais.

Michael
Maintenant je vois pourquoi t'as dis ca. J'ai copie' colle' ma phrase originale ou j'ai accidentellement ecrit plasir sans 'i'

Desole'

Michael
Quote:
So if Christians don't care if the bible get flushed on toilet that means that they don't really care about its teachings.


So speaks another human who confuses the letter and the spirit.