Linkat wrote:
20 miles inland!?! Is this the entire east coast? I am about 1 - 2 miles from the ocean and less than that (in Boston) during work. But at work I am on the eighth floor think that is high enough?

The funny thing is I thought about this and if I had to get some where pretty fast, I know a very high hill (they actually have skiing on it), that is only a few miles from my house. I have scoped exactly how I would drive to the top. I thought I was paranoid, but after what you wrote, I guess not.

Prior to the tsunami, I have had nightmares of huge tidal waves while I was on a beach at a tropical resort. The nightmares were quite terrifying and not even close to pictures of the actual event.
Yes, this is the entire East Coast... along with every other body of land in on this side of La Palma. No, the 8th floor will help you not at all. This wave will travel at over 500 mph so don't go thinking climbing a 3,4 or 500ft hill is going to make you safe... It's not.
As Farmerman pointed out on another thread; there was a miniature version of this landslide/tsunami effect that hit Alaska in 1958:
Location: Lituya Bay, on the southern coast of Alaska, just north of Glacier Bay.
Stats: On July 9, 1958 a HUGE earthquake triggered a HUGE landslide at the head of Lituya Bay. The first (and biggest) wave was an incredible 1,720ft/524 m high!
This one was apparently about 450ft when it made landfall, traveled up the side of a mountain and tore every tree out by the roots to an altitude of 1,700 ft. Every living thing on the hill was ripped clean out as you can see in the photo below.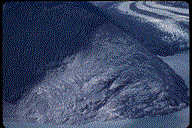 Source
No, I don't think your 8th floor vantage point (probably about a 100ft above sea level) would offer you any protection at all during such an event. Were I you, I'd be getting out of dodge as soon as you hear "Cumbre Vieja" has awakened.
Funny you should say that JP... I think it was in the story I linked above that told of fisherman who actually rode the wave out during the big Alaskan Tsunami... and lived to tell the tale. Talk about lucky.