Well my Dad was interned with some famous Australian artists in Camp Hay during the war. They were mostly jewish refugees.
Travis???

BTW, I've got a Calvin and Hobbes tattoo on my stomach, dancing, wearing sunglasses...
I like the George Watterson stuff, bigdice. "Where do we go when we die?" "Pittsburgh!"
Though the big Q really is if we're good or bad!
I'd be very interested to see examples of work by any political cartoonists from other countries. Oz has lots of really good ones.
As long as Calvin's not pissing on the Ford emblem Travis McGee
First prize is a weeks paid vacation in Pittsburgh.
Second prize is two weeks....just kidding Steeler fans...
...now I get it,<makes silly face to show himself how dumb he is>

Naaah, my Calvin would never do that! Unless it was a Kawasaki-sign, surfer!
I love cartoons!
One of my favorites is John Callahan:
I also like Lynda Berry's Ernie Pook Commik
But I really want a set of those "Bad Mom" trading cards!
Hey, that was interesting! Thanks for the info. on Oliphant, panzade. I hope people add to this collection, as they come across cartoons online thatthey like.
I'll be back to check.
But now, @ 1 am, it's bed time!
Good night all!
Giles
My local paper has a great cartoonist, Jack Ohman
more Giles
I'm really enjoying this thread msolga
one from the Guardian
Thank you for making this thread, probably the only drawing art that I can master, sort of....but here is one of my favorite cartoons from south-africa called Madam and Eve....
*you might have to look closely to read the words, but its worth it*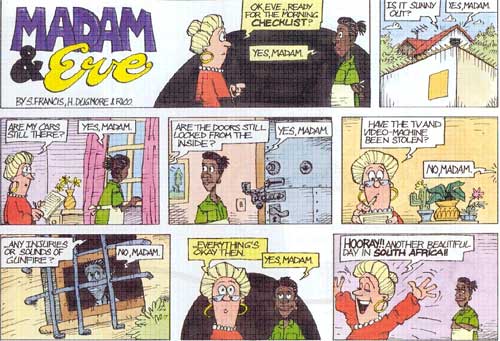 Here are some more......



from Private Eye
it's fascinating to see cartoons from US, Oz and South Africa
There are some good political "cartoonists" in the 'old times' as well, like e.g. William Hogarth
Soliciting Votes, 1754, Sir John Sloane's Museum, London [A phascinating museum, btw!]
It's fascinating to see what makes people in different cultures laugh. And how the cartoonists communicate their messages in different countries, how they make their political points .... In my opinion (here Oz, anyway) one astute political cartoon can say the same thing better than thousands of written words in articles, letters to the editor, etc ....I also observe that Oz's political cartoonists can get away with "statements" that writers wouldn't dare express in words. The best ones are very, very clever people! I love 'em!
Those Giles are wonderful