Sun 19 May, 2013 07:19 pm
85-Year-Old Graduates From College, Finds Job
www.nextavenue.org
Willadene Zedan, 85, leaves college this weekend with better grades, and a better job prospect, than many of her young classmates.
Quote:
May 22, 2013

Veteran climbers aged 80, 81 race to break older Everest climber record

By Binaj Gurubacharya, The Associated Press

KATMANDU, Nepal – An 80-year-old Japanese extreme skier who climbed Mount Everest five years ago, but just missed becoming the oldest man to reach the summit, was back on the mountain Wednesday to make another attempt at the title.

Unfortunately for Yuichiro Miura, the 81-year-old Nepalese man who nabbed the record just before he could in 2008 is fast on his heels.

Miura on Wednesday was already in the "death zone," the steep, icy, oxygen-deficient area close to the 8,850-meter (29,035-foot) summit. His rival, Min Bahadur Sherchan, from Nepal, was at the base camp preparing for his own attempt on the summit next week.

On his expedition's website, Miura explained his attempt to scale Everest at such an advanced age: "It is to challenge (my) own ultimate limit. It is to honour the great Mother Nature."

He said a successful climb would raise the bar for what is possible.

"And if the limit of age 80 is at the summit of Mt. Everest, the highest place on earth, one can never be happier," he said....

http://globalnews.ca/news/580487/octogenarians-race-to-be-oldest-everest-climber/
The beauty of old hands is created by hard work.
@firefly,

After the check up in the doctor´s office the doctor was very impressed by the old man´s health, hearing and eyes also blood pressure.
The doctor asked the old man if he could ask him a question out of private curiousity.
Of course he could and the question was:"Do you still look at the young and attractive women?
Oh sure" said the old man"........but I have forgotten why"
Will Rogers:

ABOUT GROWING OLDER............

First, Eventually you will reach a point when you stop lying about your age and start bragging about it.

Second, The older we get, the fewer things seem worth waiting in line for

Third, Some people try to turn back their odometers. Not me, I want people to know "why" I look this way. I've traveled a long way and some of the roads weren't paved.

Fourth, When you are dissatisfied and would like to go back to youth, think of Algebra.

Fifth, You know you are getting old when every thing either dries up or leaks.

Sixth, I don't know how I got over the hill without getting to the top.

Seventh, One of the many things no one tells you about aging is that it is such a nice change from being young.

Eighth, One must wait until evening to see how splendid the day has been.

Ninth, Being young is beautiful, but being old is comfortable.

Tenth, Long ago when men cursed and beat the ground with sticks, it was called witchcraft. Today it's called golf.

And finally, If you don't learn to laugh at trouble, you won't have anything to laugh at when you are old.
@edgarblythe,

I wish you'd re-post that on my Old Farts thread, Edgar. Vintage Will Rogers.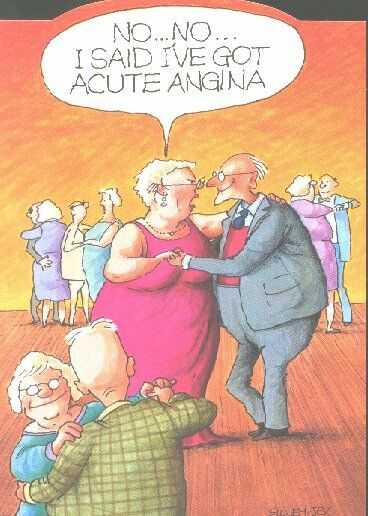 @firefly,

Love it, ff, just love it!