Sun 11 Apr, 2010 03:51 pm
The north end of my backyard is dominated by my neighbor's garage. There is a fence that goes right up to the wall -- they can't even see the wall. It isn't very pretty.

This weekend I was going to build a trellis and plant some wisteria and just let it take over to improve my view.

When I started digging I found a problem -- there is an old foundation about 4" below the soil. It takes up a huge chunk of my yard making it impossible to plant anything.

That leaves me with either raised beds (expensive) or container gardening. But containers change the scale of what I can do.

I'm thinking of asking them if I can paint the wall. Nothing too crazy but some kind of cool/funky color that would offset the containers and plants.

We have a really good relationship with these neighbors and I don't want to muck it up by asking if it would make them uncomfortable to say no.

If your neighbor proposed such a thing to you, what would you say?
@boomerang,

IDK, but If I were you I would present the idea as a shared design effort, with you doing the work and paying for it. They likely will sign off on what you want, or even say up front that that they dont care what you do, but no matter what your acting like you assume that this is a collective effort will be good for you.
@boomerang,

Would you have to go onto their property to paint the wall?
Excellent advice, hawkeye. I should probably present them with several colors and let them pick one. That would make it more collaborative.

No, ehBeth, I could paint the whole thing from my backyard.
@boomerang,

I'd go hawkeye's route of 'shared design'/100% your cost and effort.
You never know - they might decide to paint the whole thing once you get things started. Be prepared to offer to help with that if it goes that way. It'd be a good thing.
I'm not sure what you are describing - this is a block wall that divides your properties, on their side of the line but with the foundation going into your yard 4" below soil level (usual) and enter the yard, say, for 18" or so? At the least it sounds like a good foundation, but I would have designed it to go six inches into your yard, if at all, preferably not at all, and the rest of the required steel and concrete on their side, unless there was some reason not to, related to concerns of slope and varying grades. They were the ones who put the wall in?

My own neighbor in Venice put in a concrete block wall that he was very proud of, the single worst block wall I've ever seen. No concrete in the cells, much less any rebar, and lots of lopsidedness. Not long after that I learned a lot about construction and was dismayed, dismayed, to have to look at this wall. I eventually added another bunch of inches of planking/posts/lattice/plank up to code level, with a cut out where we could exchange pies or gossip, see each other's back doors re burglars.... and used stain on the blocks on our side Much better, though still rather rustic. Both sides remained pleased. Since dummy, er, neighbor, used little foundation, I didn't have your particular problem...

I am thinking it is legal in a lot of places to paint your side of a wall/fence, etc., but you should not do anything that could make the wall (there is confusion about what is a wall or fence in terminology) less structural. Check w/city.....
I would think it appropriate for you to ask your neighbor and them to say fine.

For you I'd suggest boxing in over the footing just one or maybe two built up beds of, say, 24" x 24" x 24", to hold an appropriate wall clinging vine. In my case, I wasn't worried that Ficus pumila might eventually eat the wall (that could only be good) but it didn't. Given a nice sturdy box, a couple of posts could be part of that box and hold a goodly trellis.

Alternately, you can drill concrete/mortar/concrete nails (asking permission) and hang bunches of pots or even a whole shelving system.
Here's a photo: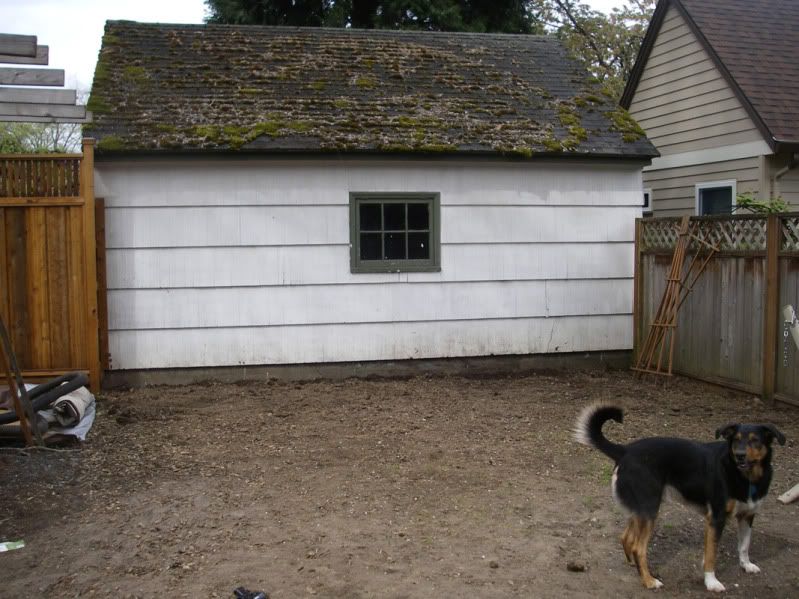 As you can see, I just completely gutted my yard in prepartion for new planting that it seems I won't be able to do. I guess we'll end up putting sod down.
The foundation I found isn't part of their garage at all.... it must be an old foundation for something that was there that nobody remembers anymore.
@boomerang,

Ha! that looks like a familiar project.
My neighbours' house is stuccoed/painted like the building to the right in that photo. My fence really stood out in a bad way against that. I mixed up some paint to almost match the stucco so it would all blend as I looked at it.
When I was nearly finished painting my side of the fence, Rosario asked if I'd do his side as well.
Oh - that's what I call a fence. The foundation is under the fence? Lazy contractors, or cost watchers. I would have wanted that out of there.

This brings up that you could jack a lot of that out. (I think.. I can't see anyway it is holding up the fence.) Or at least jack a part of that old useless foundation (if I understand it right) out. Why don't you call a local professional?
Yeah.... that building is part of my other neighbor's new addition. Beautifully done.

I neglected to mention:

I don't want to spend a lot on this project as it will probably only be in place for 2-3 years until we are able to build our new kitchen. We're going to tear down our garage and move it forward, building the new kitchen where the old garage/work shed is (you can see a bit of the shed in the far left of this photo). That's why I was just going to let the wisteria do it's thing for a few years.

Containers are temporary and I don't flinch at the investment since I'm finding really good deals right now.
@ossobuco,

Or, worse comes to worse, talk with the neighbor. If they put the fence in, they'd know they hit a big fat foundation and avoided removing it. They may not know how far it comes into your property.
My own present house has a totally mishuganah layout of concrete, all aiming toward my back door. (I saw this when I bought, thought I'd have more money). A fair part of that is the present neighbor's help to the past owner of my house. Total amateurville - grading to the back door from three directions. I include the original tract contractor among the amateurs.
Yeah... that is a fence alright but it is beautiful. It took the place of an ancient, ugly evergreen hedge. My neighbors took out the hedge and put in the fence last fall. I LOVE the fence.

The found foundation runs from about halfway between the window and the new fence to about where the dog is standing. Between the end of the foundation and the start of the fence there is a series of pipes that nobody knows about either.

It's a mess!
Sorry, I've been thinking you are talking about a fence wall. Hell, yes, ask the neighbors re painting the garage wall. Good grief!

If a no, plant some shrubs 4 to 5 feet from the wall, to get to, say, seven feet hight. I can think of many, but look locally.
I suspect your (very handsome) dog laughs at the idea of successfully planting anything in the ground.

Seems to me the problem with painting just the one side of the garage is that it's going to look funny at the corners, which are primarily visible (if barely) from the neighbor's property and not from yours. Unless they don't care, of course.

I'm not usually a fan of vines, but it's been mentioned as a possibility and might be the best bet here (unless it might damage the siding of the garage).


Wisteria is a nightmare. It's impossible to remove once established and it destroys buildings from the foundation up. Just had to say that. If you decide use a vine at least go with something like Dutchman's pipe or clematis.

Is it sunny or shady?
@boomerang,

I wouldn't consider the back of my neighbor's garage a "shared" wall exactly.
We have a similar situation, the side of our garage is right up against our neighbor's property. They had ivy growing on it and my husband asked them to cut back (they have ferns now instead) because ivy messes with the structural integrity (it's an old, wooden garage).
I'd be pretty surprised if they just up and painted that side without talking to us first.
On the other hand I'd probably talk to them before we painted the garage just to make sure they didn't hate the color since it'd be right in their faces. (Kind of a weird set-up but it all happened before either of us owned our houses.)
So I think asking is definitely called for, and the free labor/ responsibility angle sounds good.
@patiodog,

Easy fix, a post, say a 4x, with plant ons, thus getting to be an 8x...
Patiodog made me laugh. That appears to be exactly what your dog is saying, Boomer. "Do what you like, but don't expect it to last long if I have any say."

May not be true, but he has a certain grin...

Any chance of extending the new fence a couple more panels? Doesn't look like it would take much more than that, and would more distinctly draw the property lines.
@sozobe,

Quote:
...they have ferns now instead...
Many shade loving woodland plants are shallow rooted. Ferns often have matted roots and can happily grow in 4" of soil.
@sozobe,

I didn't take this the rest of the way -- if my neighbors asked me if they could paint it I wouldn't be uncomfortable I don't think. We do have a pretty good relationship though (in fact I'm expecting her to show up as I type). I might not want to
do
it, but I don't think the asking would be a problem.