Builder wrote:
fishin wrote:

Builder wrote:

Protests about the positioning of repeater towers like in your picture are justified. They are microwave send/receive units, and they should not be placed within cooee of anyone; the elderly included.

There isn't a single microwave antenna on that tower in the pic. Paranoia reigns supreme!

What is missing from that tower?

Here's another microwave send/receive tower. Looks the same to me. '

http://www.etu.asn.au/2006/hp_tower.html
What's missing ? Microwave antennas.
Unless the building in the pic Walter posted is actually a dog house they aren't microwave antennas. Microwave (SHF and EHF) antennas in that configuration don't come any larger than 36" in length and those pictured are significanly longer. Very few antennas on most towers are microwave. They are greatly outnumbered by UHF (including cellular), VHF, FM, etc.. antennas.
The antennas in your pic could be microwave but there isn't any proof that they are. The two lower antennas are VHF sidemounts and the length of those would be a multiple of 51". That is also an 2-meter cage at the top of the tower and the top antenna are less than half it's height so they'd be the right size to be microwave antennas but they's also be the right size to be cellular antennas.
The upper antennas are the type that would be used in microwave installations where high winds are a concern. But the VHF antennas below it are a type that is only suitable for low wind areas. It doesn't make sense that a company would spend extra money for high-wind micowave antennas in a low wind area or would mount low wind VHF antennas in a high wind area. From that I can deduce that they are much more likely, UHF antennas.
A typical microwave configuration for low wind areas would look like this: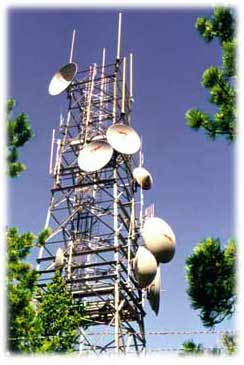 The round (dish) antennas are microwave.