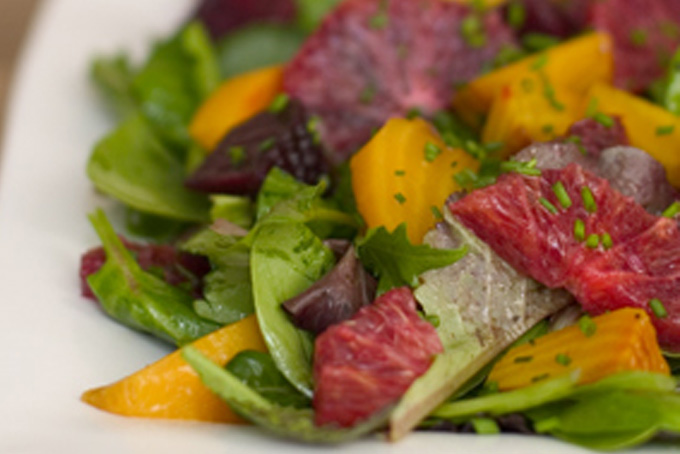 Roasted Beet and Blood Orange Salad with Spicy Greens
1 1/2 pounds medium gold beets
1 1/2 pounds medium red beets
Extra virgin olive oil
Salt
Freshly ground black pepper
6 small blood oranges
Blood Orange Sherry Vinaigrette (recipe follows)
1/4 pound baby arugula
1/4 pound baby spinach
1/4 cup sherry vinegar
1/4 cup finely chopped chives
Preheat the oven to 400F.
Trim the tops and roots from the beets and wash well. Place the red beets on a piece of foil large enough to fold over and seal. Drizzle with olive oil and season with salt and pepper. Seal the foil and repeat with the gold beets. place both foil pillows on a sheet tray and roast in the preheated oven for 1 to 1 1/2 hours until the beets are tender when pierced with a knife. Allow the beets to cool and then peel.
While the beets are roasting, peel the oranges with a serrated knife and remove all of the white pith. Slice into rounds 1/4-inch thick. Remove the pips and reserve the slices in the refrigerator unless you will be using them within 2 to 3 hours.
Prepare the Blood Orange Sherry Vinaigrette (below).
Wash the arugula and spinach well and spin dry. Mix the greens together and reserve covered with a damp towel in the refrigerator.
Cut each peeled beet into eight wedges. Keep the red and gold beets separate or their colors will bleed together. Toss each color with 2 tablespoons of sherry vinegar; season with salt and pepper. Allow the beets to marinate for at least 1 hour or overnight.
In a large bowl, toss the beets and their juices together with enough vinaigrette to coat; add the orange segments and toss gently so that they don't break up.
Drizzle the greens with vinaigrette to moisten and toss with the beets and blood oranges; season with salt and pepper to taste. Garnish with the chopped chives. You may also place the greens on a large platter and serve the beets and oranges on top.
Serves 8.
Blood Orange Sherry Vinaigrette
2 small blood oranges
1 medium shallot, peeled, trimmed, and minced
2 tablespoons sherry vinegar
Salt
Freshly ground black pepper
1/4 to 1/2 cup extra virgin olive oil
Juice and strain the blood oranges. Measure 1/4 cup of juice.
In a medium bowl, whisk the juice with the shallots and the sherry vinegar; season with salt and pepper to taste and let the mixture marinate for 10 minutes.
Whisk in the olive oil to taste. Add more olive oil if the vinaigrette is too acidic for your palette. Adjust the seasoning to taste.
Makes 1/2 to 3/4 cup.
~~~~~~~
one of verra verra many beet recipes over at Taunton