Wed 10 May, 2006 10:41 am
Who's going to apply? Who would you hire?
Quote:
Sharapova to pick model ball boys

Giles Tremlett in Madrid

Wednesday May 10, 2006

The Guardian

Russian tennis and merchandising phenomenon Maria Sharapova is due to take part tomorrow in what will be the world's first beauty contest for ball boys.

Sharapova, currently number three in the world tennis rankings, is to help at a casting session in Madrid for male models seeking jobs as ball boys at the city's WTA Women's Masters tournament in November. The auditions for catwalk-quality ball boys, who will be sponsored by a fashion company, are said by organisers to be an example of sexual equality in the world of Spanish tennis. There has been outrage in recent years over the hiring of female models as ball girls at the men's Masters tournaments in the city. [..]

Sharapova, who shot to fame when she won Wimbledon two years ago aged 17, will be joined by Argentinian actor Natalia Verbeke at the hotel casting session. The jury is said to be on the lookout for physical beauty, elegance, politeness and a rudimentary knowledge of tennis. [..]
But will they understand Mr. Bush's clear vision of the path to victory in Iraq?
Give the animals their shot, too, darn it all! Like this one -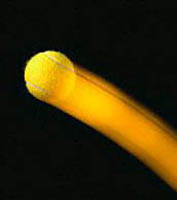 Nope. I just can't picture it.
I was wondering why "Sharapova" keeps showing up on my Caller ID. I guess I should answer next time...