@maxdancona,

Come on Max, use a dictionary:
Remorse: deep regret or guilt for a wrong committed.
Has Kyle acknowledged regret or guilt in any way?
@gingercookiegal,

gingercookiegal wrote:

Please explain where any of the facts that I've stated are incorrect.

Thank you

I hate it when you people do this. And especially from the politically right extreme, you do this all of the time. There are two problems here.
1. You are presenting
opinions
as facts. And of course, I can't show your opinions as incorrect, because you can never disprove someone's opinions.
2. You are ignoring any fact that doesn't fit your ideological point. Even looking at testable facts, if you only look at the ones that support your extreme viewpoint you aren't getting a rational picture.
Take an example. You state that Kyle "did nothing wrong". This is an opinion that I find ridiculous; a 17 year old with an assault rifle in a crowd of people is (in my opinion) very wrong. I can show you that it is
illegal
but I can get you to change your opinion that there is "nothing wrong" no matter how hard I try.
This "prove my facts wrong" is ridiculous. It is a cheap, stupid, rhetorical trick.
@neptuneblue,

neptuneblue wrote:

Come on Max, use a dictionary:

Remorse: deep regret or guilt for a wrong committed.

Has Kyle acknowledged regret or guilt in any way?

You said that he is "incapable of remorse". There is no trained doctor that would say this without having met this patient in person (and that after 12 years of medical training).
Yet outrage internet hacks with no knowledge can make a medical diagnosis with no problem.
@maxdancona,

You are mistaken. I said:
Quote:
Has Kyle acknowledged regret or guilt in any way?
@neptuneblue,

neptuneblue wrote:

He doesn't have the capacity for remorse. There's no redemptive measures other than incarceration at this point.

This is what you said Neptune. And it is an extreme statement.
There are two extremes. And they are perfectly reflected on this thread.

1) One side denies the humanity of Kyle Rittenhouse. He is 17 year old kid who clearly did not want to kill anyone. Yes, he acted in a stupid, immature way that lead to a loss of life. But turning him into a psychopathic demon with no chance of redemption is extreme.

2) The other side denies the stupidity and the loss of life. Kyle Rittenhouse was a 17 year old kid with a gun. He was not a hero. In fact, there was no logical reason for him to be there.

Kyle is not a soulless demon. Kyle is not a hero. The reality is much more complicated than either of the ideological narratives.
The political liberal extreme also conveniently ignores the situation. This was a political protest from the left. There was looting. There was violence. There were businesses burned and business owners physically assaulted.

And there was the matter of three people who decided to attack a 17 year old kid with a gun.

For Kyle to even be there was idiotic. For him to have a gun was madness. But, there was idiocy here all around.
@maxdancona,

This is ridiculous.
I am presenting facts based on widely available evidence. the other side is not.
Leftists have said that it should be a mistrial because the ring tone on the judge's phone was "proud to be an America'. There shouldn't be anything controversial about being proud to be an American. There's nothing 'political' about respecting constitutional rights. There's nothing politlcal about having good morals and and standing up to protect people when the police are told to stand down and allow rioters to destroy.
Only one side has used this a political cudgel, only one.
Vile messages sent to Rittenhouse judge include death threat against his children, call him a KKK member: report
https://thepostmillennial.com/rittenhouse-judge-vile-messages
Jurors have also been threatened, and George Floyd's nephew has appeared on video threatening them.
Very well written article about all this madness.
Tragedy & Hope in the Rittenhouse Trial
https://theamericansun.com/2021/11/15/tragedy-hope-in-the-rittenhouse-trial/
Timeline of that evening:

During the day, Rittenhouse helps clean graffiti off a school. That same day Joseph Rosenbaum, 36, is released from a Milwaukee hospital where he had been admitted after a suicide attempt.

Around 10 p.m. video shows Rittenhouse with a rifle standing with other armed men near a used-car dealership. Rittenhouse testified he was asked to help guard the business due to the threat of looting and arson. He brought a medical kit and says his objective was to provide aid to anyone injured.

Q: Why did he bring a medical kit AND a gun? Did he have any training in either?

Around 10:45 p.m., another video shows Rittenhouse asking police officers for water. One officer says: "We appreciate you guys. We really do."

Around 11:45 p.m. Rosenbaum chases Rittenhouse into a used-car lot as Rittenhouse yells "Friendly, friendly, friendly." Rosenbaum throws a plastic bag containing toiletries at Rittenhouse.

Q: Why did this Rosenbaum chase KR and throw the bag at him?
Point: KR ran from him and shouted "friendly"

Rittenhouse testified that Rosenbaum grabbed his gun. A journalist for the Daily Caller, a conservative website, testified that Rosenbaum lunged for the rifle. Rittenhouse fires his gun at Rosenbaum, hitting him four times and killing him.

Q: Do you think he was afraid Rosenbaum would shoot him if he got the gun?
Q: Why did he shoot 4 times? Adrenaline? Fear? Had I been carrying a gun, I would have aimed at his legs to stop him.

Video shows Rittenhouse fleeing the scene of the Rosenbaum shooting and being chased by a growing crowd, some yelling "Get him!"

Just minutes later, after stumbling to the ground, Rittenhouse fatally shoots Anthony Huber, a 26-year-old who swung a skateboard at him.

After Huber was shot, Gaige Grosskreutz, now 27, stops moving toward Rittenhouse and put his hands in the air. He was holding a handgun. When Grosskreutz resumes advancing, Rittenhouse shoots him, severing most of his bicep. Rittenhouse testified that Grosskreutz had his pistol pointed at his head.

Rittenhouse then walks toward the police with his hands up and the rifle slung across his body. Police order him to get out of the way and one officer pepper sprays Rittenhouse when he approaches the window of the patrol car. The police then drive off, believing the active shooter was elsewhere.

Point: Looks like he was trying to give himself up, doesn't it?

Around 1:30 a.m. on Aug. 26, Rittenhouse, accompanied by his mother, turns himself into a police station in his hometown of Antioch, Illinois.

Point: Looks like he was finally able to give himself up.
~~~

From all of this, it sounds like it was just a terrible set of circumstances, but if he hadn't had the gun in the first place, if Rosenbaum hadn't chased him and lunged at him, if the other guy hadn't thrown his skateboard at him, if the third guy hadn't come after him... none of this would have happened.
Ploitifact once again exposed for lying.
PolitiFact roasted for previous 'fact-check' claiming Kyle Rittenhouse's possession of weapon wasn't legal
https://www.foxnews.com/media/politifact-kyle-rittenhouse-fact-check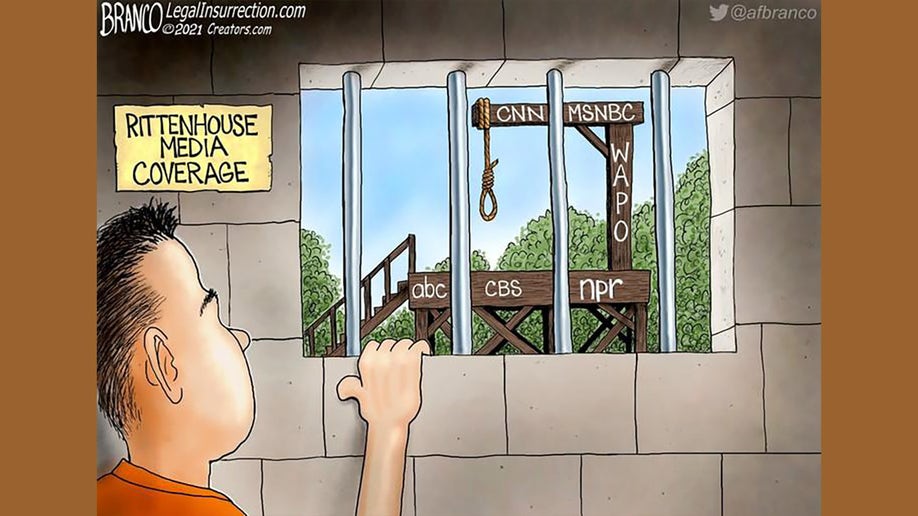 Interesting closing arguments with both sides painting a mirror image picture.

I have not really been following this case over the months, have not seen any video so I am only speculating and generating hypotheticals to clarify my thoughts. Where I am today:

- If you walk into a crowd "brandishing" an assault rifle, the crowd would be completely within its rights to try to disarm you in self defense. If I'm sitting in a restaurant and someone walks in brandishing an assault rifle, I would conclude immediately that my life is in danger and I need to take action, either fight or flight. I don't need to see the first shots fired and I'm pretty sure that in that situation if a bystander killed the person brandishing they would be considered a hero. That said, I'm not sure Rittenhouse was brandishing. He was clearly carrying the rifle, but was he carrying it in a way that suggested imminent use? If it was slung over his shoulder, that doesn't suggest imminent use to me. If he has it in his hands, that does.

- If Rittenhouse is found guilty of the first murder, there is no self defense claim anymore. Killing to facilitate fleeing from a violent crime is not self defense, a point the prosecution made in its closing arguments. Bystanders have the right to stop violent criminals and prevent them from killing again. Of course if you find Rittenhouse innocent of the first killing, subsequent killings could be self defense.
@engineer,

Nonsense!
If someone walks into a restaurant "brandishing an assault rifle" and your reaction is to rush them, you are an idiot!
My daughter and I were mugged at gunpoint by a guy with a handgun (it wasn't even an assault rifle). The though of "rushing him" maybe crossed my mind, but I am not insane. We handed over our wallets and our cellphones and walked away.
Maybe I had the "right" to try something. But that doesn't make it any less idiotic.
Quote:
PolitiFact roasted for previous 'fact-check' claiming Kyle Rittenhouse's possession of weapon wasn't legal
It's a bit more convoluted than Granny's biased link would lead you to believe:
Why did Judge Schroeder drop the gun charge against Kyle Rittenhouse?
@maxdancona,

It is clear from the testimony (and not in doubt). If the instead of being idiots and rushing an armed 17 year old, the vigilantes in the crowd had disengaged, there would have two fewer deaths.
Everyone who was shot was acting irrationally. Liberal vigilantism is no different than any other kind.
@maxdancona,

Quote:
If someone walks into a restaurant "brandishing an assault rifle" and your reaction is to rush them, you are an idiot!
Where did engineer mention anyone "rushing" an armed individual?
@hightor,

I don't see Kyle Rittenhouse as a hero. He was a pathetic 17 year old kid who did something stupid and was in way over his head. But the crowd, who were (by the way) in the process of attacking police, beating up store owners and burning businesses, are also not heroes.
The people who got shot were just as pathetic and irrational as Kyle Rittenhouse.
The political left wants to turn what was the very definition of "angry mob" into some sort of heroic stand against a 17 year old with a gun.
Everyone involved in this story was an idiot.
@maxdancona,

I only asked where engineer mentioned anyone "rushing" someone who represents an armed threat.
The prosecution made the argument that a crowd has a right to attack a bank robber fleeing from the scene of the crime.

Is there anyone where who would do anything to stop and armed bank robber as he was fleeing?

It is simply idiocy.