@coluber2001,

When I said Trump was a great orator, I was being totally sarcastic. The man is barely articulate and a bumbler, but for some reason is still adored by millions who are rapt at his every word. Joseph Goebbels, Hitler's propaganda minister, had the same power over German crowds despite the vile message he was proclaiming. But both Trump and Goebbels are the ultimate demagogues. I suppose that's why they are so often compared.
Both Joseph Goebbels and his lovely wife Magda-- whom some called the first lady of Nazi Germany-- and their six children, the oldest 12 years old, spent the last days of the war in Hitler's bunker. All six of their children we're given morphine injections and cyanide capsules. Then Joseph and Magda shot themselves.
Magda had written that the children would be better off dead than to be subjected to the scorn they would receive as the children of the Goebbels. Magda admitted that her husband had done some monstrous things, but wrote that life would not be worth living outside of the glory of Nazi Third Reich.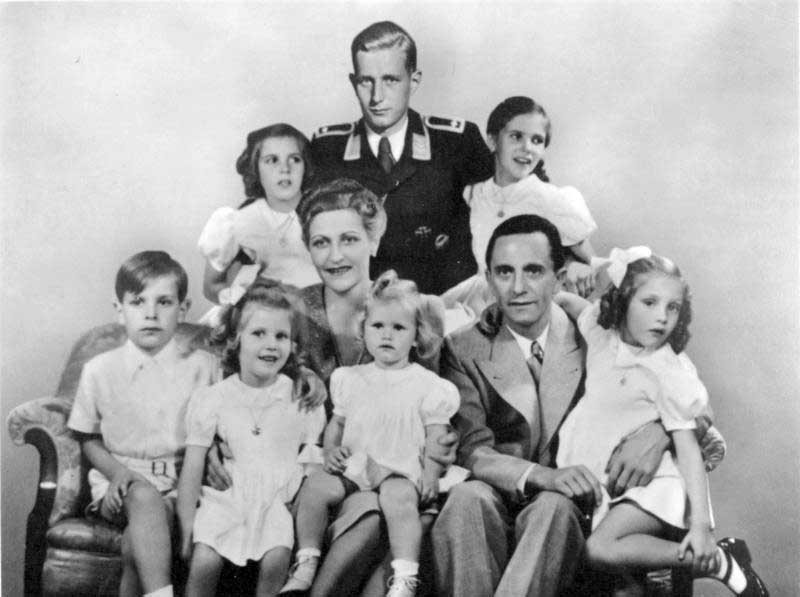 Joseph Goebbels and his wife Magda and their six children. Magda's son from her first marriage, Harald, uniformed in the back row, was an ardent Nazi and member of the luftwaffe, who survived the war to become a successful industrialist.