@panzade,

Does either of you need bifocals?
@ehBeth,

In addition to his monocle?
@ehBeth,

good question.
You're suggesting it's more romantic to share a pair of glasses while side by side and reading the menu?
@panzade,

that's one thing
the other thing is that I've noticed in the grocery store that after a certain age, people seem to need to stand across the aisle to look at items on the shelf - too close and everything gets fuzzy
soooooooooooooo if you don't want to see Flame too clearly, sit side by side. You'll get dizzy, she'll be fuzzy, and you'll both think you're high on love
@ehBeth,

I bow to your experience dear one.
Actually, side-sitting is a rather old tradition for a 68'er - did so on most anti- ... - demonstrations, but not in front of police horses and water cannon.
@Walter Hinteler,

68'er? I must admit I am not familiar with that position.
@maxdancona,

It has been more a movement than an acrobatic position like 69
@Walter Hinteler,

I must message Calamity Jane...I've seen the naughty side of Walter!
@panzade,

Well, it's the Eve of Destruction.
I know an old joke about that.

Him: Fancy a 68er?
Her: What's a 68er?
Him: You go down on me and I'll owe you one.
@Lordyaswas,

Did that ever work?
@maxdancona,

Quote:
To each his own. Sitting next to a lover, rather than across from them, is far more affectionate. I sit across from friends. I sit next to people I am intimate with.
I'd rather sit across from a lover, so I can look at him, and play footsie with him under the table, at the same time.
I had a date that tried to sit on my side of the booth with me (3rd date). There are few booths or even tables that dont make it way too crowded for me to eat under this condition. But that reason, while true, sounded petty for me to say at the time, so instead I said, 'You know like this I cant stare into those deep blue eyes I fell for when first we met." She never sat next to me again. Problem solved.
I guess it's a matter of taste, but I don't think there's anything more intimate about "side sitting" than "cross sitting". Actually, I think eye contact is more intimate than body contact -- in the context of sitting in a booth out in public.

In cross sitting you have more freedom of movement as well, and you can easily reach across the table to hold the hand of your mate/date if you are moved to make physical contact.

I don't consider it a "no-no" but it is kind of overtly lovey-dovey, and I can understand why Brady's teammates or other players might kid him about it. Again, a matter of taste.

As for advice for Pan:

It depends on what your expectations are for the evening.

While casual physical contact with someone with whom you have an existing romantic relationship seems perfectly natural and barely noticeable, for most people who don't share that relationship, any contact is very noticeable and especially so if there is nervousness or sexual tension.

If your bodies come in contact and the woman doesn't move away, that's a pretty good sign (providing you're into her), but if the relationship is still in it's infancy and the woman isn't quite sure how she feels about you, or is simply to some degree reserved, making the sort of body contact you could sitting side by side in a booth might not be well received and could create an awkward moment. At some point people who care for each other a lot eliminate the polite no-touch buffer zone and can fully share each other's space, but make that move to quickly and you're liable to create a problem.

Since you've already had a relationship with this woman, there's far less of a chance of her being startled or offended by lingering body contact, but you never know.

If you're looking to rekindle a romance, I would sit across from here, make constant (but not creepy) eye contact and at some point take her hand. If you're looking to ignite a sexual affair, sit next to her, make body contact and see what happens. If she exerts any pressure back, or moves closer...you're probably in like Flynn.


@maxdancona,

maxdancona wrote:

Did that ever work?


Once, nearly twice.
@Finn dAbuzz,

Quote:
but I don't think there's anything more intimate about "side sitting" than "cross sitting"
Did you miss all of the kissing and mutual fondling that goes on? My wife and I have done a long list of kinky things side sitting in restaurants.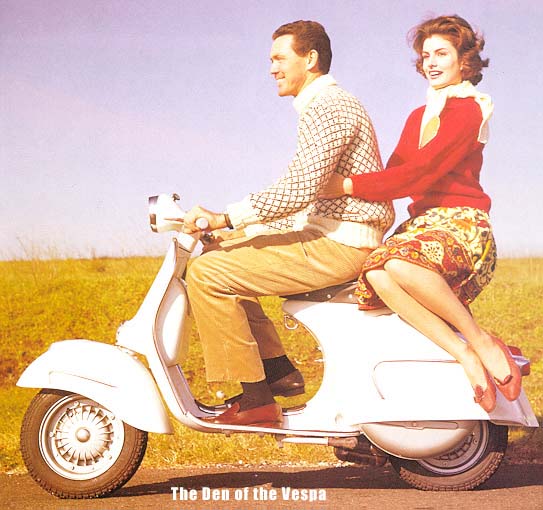 At least side-sitting used to be perfectly ok
Even my old Grandmama went sidesaddle.
She was a model, y'know.
@hawkeye10,

I'm not inclined to do kinky things in public. I can wait until I get home.