Airplane Pilot Averts Passenger Mutiny by Buying Everyone Pizza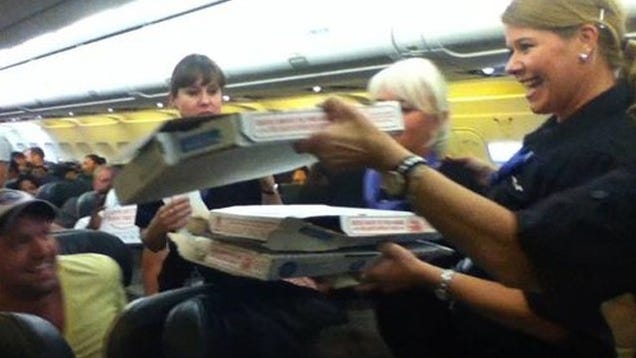 Storms Monday night forced a flight heading to Denver from Washington to make a pitstop in Wyoming
for several hours. Flight attendants had served all the food on the plane, so the pilot pulled the only
surefire trick to keep fussy passengers from revolting: ply them with pizza. He ordered Domino's, enough
for each row to have their own pie.
"Next thing you know, Domino's Pizza was rolling up to the plane," passenger Logan Torres told CNN.
Frontier Airlines confirms to KUSA that pilot Gerhard Bradner did indeed call the order in and paid for
the pizzas himself. KUSA also speculates that Bradner might have "decided it would be best to not have a
'hangry'
group of passengers, or maybe he was hungry himself."
Adam Ritchie, a Domino's Pizza manager in Cheyenne, Wyoming, took the call.
"I need to feed my whole plane," Ritchie recalled Bradner telling him. "Lucky me, I hear 160 people. It ended
up being like 38 pizzas."
After having their pizza and the storms clearing, the plane was finally able to complete the final leg of its
flight and land in Denver.