My wife recently purchased some kind of battery-operated, backyard, "
fountain
" from the folks at QVC (despite my frequent urgings for her
not
to engage in this kind of "risky" behavior . . .). After assembly, and upon charging the battery, the little immersible water pump seems not to be working.
Rather than try to pack-up the entire thing for return (which would be quite a hassle), I tried to isolate where the problem is, in the hopes that just a replacement component could be sent to us – which had to be either: the battery, the pump, or the "control panel" that operates the fountain.
The problem is that, while I'm pretty competent on DC and electrical components, I'm having difficulty running any kind of diagnostic on
any
of these components, so I could use some help.
I completed the charging of the battery (a red light blinks initially, but lights continuously when the battery is fully charged). In know that the battery is charged, because I'm able to actuate the LED lights. However, actually testing the battery itself for level of voltage output has already been harder than I would have guessed, using my handy voltmeter. Mostly I'm having trouble gauging where the positive and negative leads for the battery are, given the odd "access port" set-up on the battery.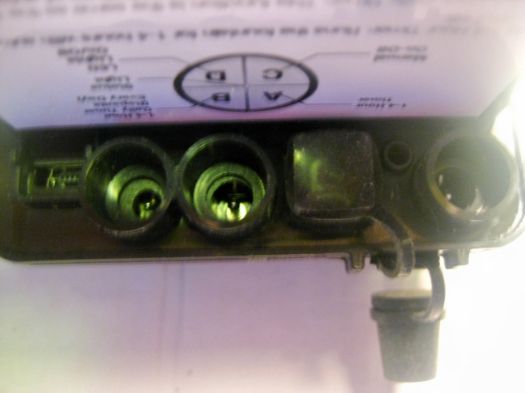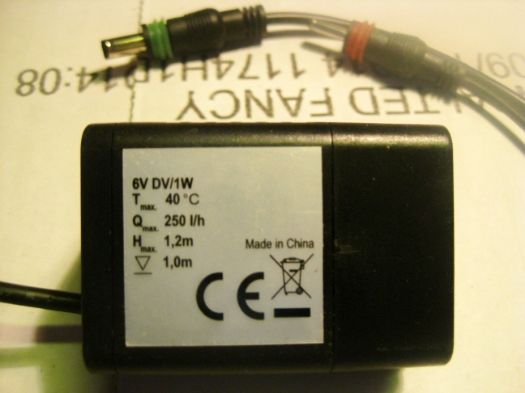 In the pictures, the battery charger plug is inserted into the black-colored port. And the output red and green leads are plugged into the corresponding color-coded ports shown. The green lead runs to the small immersible pump, and the red lead runs to a set of small LED lights. The green lead plug is obviously one of those dual pole, barrel plugs, with inner and outer contact surfaces. First, given that the LED lights will light, we'll assume that the battery is properly charged. Second, how to check the immersible pump, possibly using some direct wired, alternate DC power source? And last (probably the hardest) how to check the "control panel", which runs various timings, On/Off, etc. – which I do not think is the source of any of this problem. I've included as many pictures as I thought might be helpful, but if there are other questions, or other pictures that would be helpful – let me know. Oh yeah, the user manual is noteworthy in its "un-helpful-ness", as it has nearly nothing on specifications or trouble-shooting.