Tue 18 Feb, 2014 07:59 pm
Not her real name.
Mary Grace Canfield, Ralph Monroe On 'Green Acres,' Dies At 89
@edgarblythe,

aww
my nickname in Grade 5 was Eb.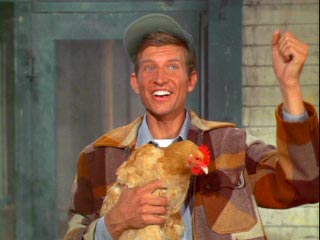 Not because I was a farmery kind of kid. Because I wasn't.
I loved Green Acres.
it's big and I don't care
Mr Haney was the kind of flimflam man I could like and not like at the same time.
Green Acres was the first surrealistic TV comedy, I know it was supposed to be just a 'fish out of water' story but the characters dreamed up by the writers were over the foggy edge. Arnold, The PIG, Haney the flim-flam man, Ralph the Handy Woman....

The next best show like it was Northern Exposure which never got as zany as the Wall Street Executive with a pitchfork.

Fare well, Ralph.....

Joe(R.I.P.)Nation
@edgarblythe,

Heres a Green Acres Quiz. Take it if you dare!!
http://www.maggiore.net/greenacres/gatrivia.asp
@farmerman,

Ah, the old hotcake head gasket trick -
@farmerman,

I didn't get one right and I've watched the show (ok, it was 35 yrs ago). I do recall Oliver climbing the telephone pole outside his farm in order to make a call. That show still cracks me up.
Mary-Grace/Ralph, you were OK!