Just recently I've started having a problem with getting my browser to render a .pdf file/page within my browser. I'm running FireFox 18.0.1 and Adobe Reader XI, but the problem also occurs if I try using Internet Explorer.
When I invoke a .pdf file or document I get the following dialog box on the browser page: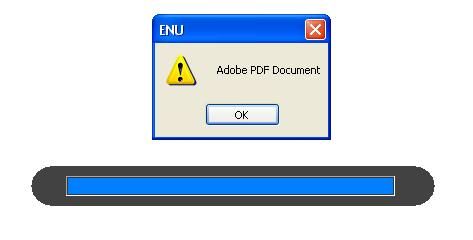 I've tried uninstalling and re-installing Adobe Reader and using a different browser - and the result is the same. The Adobe Acrobat plug-in for FireFox is also Enabled. All three checkboxes under Internet preferences in Adobe Reader are checked (Display in Read Mode, Allow fast web view, and Allow speculative downloading) are checked (and have been tried "unchecked" in various combinations). Adobe Reader will open a .pdf file normally from the laptop - so the Reader application itself is working okay. And I just don't see anything on-line that resembles this problem, to tackle it any further from a self-help perspective. I think that addresses most of the background and standard "usual suspects" that folks would likely suggest as fixes, right off the bat. What else is there that I've missed?