@tsarstepan,

Something to digest while we await (
anxiously await
) Tuesday!!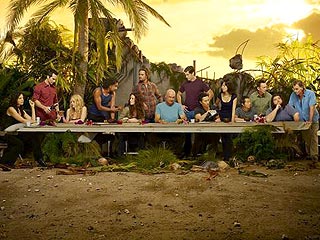 LOST: Six Juicy Secrets from the Set
Details on the sixth and final season of ABC's Lost " which premieres (finally!) on Feb. 2 " have been harder to come by than a smooth landing on Oceanic Airlines. Did Juliet succeed in detonating the hydrogen bomb " and blasting the show's beloved characters to an island-free existence? If Locke is dead, who's taken over his body? Can Sayid survive his nasty gunshot wound? Will we ever fully understand what's really going on with this show?
PEOPLE found answers to those pressing questions " plus 4, 8, 15, 16, 23 or 42 more " during a visit to the drama's top-secret set in Oahu, Hawaii.
1. Under Pressure: "I don't think 'panic' is the right word," says Damon Lindelof of co-writing the highly anticipated premiere with fellow executive producer Carlton Cuse, "but it was like, 'How do we do this?'" The producers have said that time traveling through the '70s is history, as are the show's traditional flashback/flash-forward narrative structures. "We haven't [told the story] like this before," Lindelof says. "It's like, 'Are we gonna be able to pull it off?'" Daniel Dae Kim, who plays Jin, believes they have. "I knew it would be something inventive because that's how this show rolls," he says. "But we've definitely increased our scope." His three words to describe his reaction to the first episode? "Intrigued. Excited. Curious."
2. All About Character: For all of Lost's elaborate and feverishly dissected mythology, the series has always been, at its core, a character drama " and that won't change. "The final season is really when you're going to learn what these characters' destinies are," says Cuse. Expect man of faith Locke (Terry O'Quinn) " or whoever he is now " to prove a central figure, along with man of science Dr. Jack Shephard. "About midway through [the season], Jack will absolutely know, beyond a shadow of a doubt, that his whole life has brought him to this point in time," Matthew Fox says of his tortured character, "and that he is meant to do something very, very important."
3. About That Mythology:
SPOILER ALERT!
In the two-hour premiere, one of Lost's biggest mysteries " one that's been rattling around since the pilot no less " is fleshed out. (Got goosebumps yet?) How about this? "We might be seeing Hurley's guitar case in some way again," says Jorge Garcia, who plays the lottery winner. What's more, one character's first line of dialogue in the season-opener was actually handed to fans way back in July at Comic-Con. Let the theorizing begin!
4. Sun's Safe House: Lost quickly earned a reputation for a willingness to kill off main characters, including Boone, Charlie, Mr. Eko, and Michael. This season, it doesn't take long to realize that more names will be added to the list. Yunjin Kim, who plays subservient wife-turned-revenge-seeker Sun, may be the only one who's not worried. "Back at the end of season two, I said, 'I bought a condo [in Hawaii] and if I get killed off, you're going to have to buy it from me,'" Kim says of a conversation with producers. "Carlton was like, 'Well, we're never going kill you off.' I was joking but it didn't seem like he was."
5. Lost Stars Are Still Lost: "No actor has been given the full blueprint of what the ending of the show is," Cuse says. "And no one's asked us either." That doesn't mean the actors don't have ideas about their character's fates. Dae Kim hopes his is integral to the show's final conflict " whatever it may be " while his onscreen wife hopes Sun doesn't get her happy ending: "I would be really disappointed if we wound up being a happily married couple," she says. She's not the only one who thinks love is overrated. After five seasons of love triangle-ing over Kate (Evangeline Lilly), neither Sawyer or Jack seems sold on winding up with the feisty fugitive. "Jack and Kate have always cared deeply for each other but [their] circumstances may be too much for that relationship to ever really have a chance," says Fox. Josh Holloway is more blunt: "Sawyer and Kate have a love that is undeniable but maybe it must be denied."
6. She's Back: That would be Emilie de Ravin, who returns full-time playing baby Aaron's (dead?) mama Claire after being M.I.A. in season 5. "I didn't watch the show at all while I was gone," she says. She has a good excuse: de Ravin was busy shooting last July's Public Enemies with Johnny Depp and the upcoming Remember Me with Robert Pattinson. But what can she tell us about Claire's hiatus? "It's in a very unexpected scenario," she says, choosing her words carefully, "and she's not quite the same." Does that also apply to Charlie (Dominic Monaghan) and Boone (Ian Somerhalder), both of whom return for guest shots? Lips are sealed! But one thing is certain: off-screen, Holloway is a changed man. "I have become quite the lightweight [since becoming Dad to daughter Java Kumala last April]," Holloway reports. "Three beers and I'm, like, gone. It's ridiculous! But it's wonderful. Just being with the little one " that makes me feel intoxicated."