Chai wrote:

You mentioned "other people" thinking you're the bad guy when she accuses you of acting cold...or that "someone else" will interject and ease the situation.

I take these others are siblings, or other family members.

Yes, you've got it.
Chai wrote:

Does this attitude have term for it?
Yes, it's called "being an adult"....and it entails "not living your life for someone that you don't even like very much."

No, I meant - what the mothers are doing to their children... the mothers attitude and personality-disorder... that was what I was asking about. The only phrase I know is "Jewish Mother" but that is only in regards to guilt, not all the emotional manipulation.
The psychological term for disparity between what you're "supposed" to see and what you actually see is "cognitive dissonance".

A less scholarly way to say it is "crazy-making".
Noddy, I looked that up and I suppose that would be the closest term for it. The mother may love her children, but is cruel to them... constantly having to convince themselves that they're doing the right thing.

I wonder if there's a solution or treatment.
I'm just musing here Emily, getting off your specific situation, so please don't think I'm talking about your mother in particular...



I'm sure this will sound like blasphemy to some, but I'm not convinced that becoming a mother automatically produces a feeling of love toward the child.

Oh sure, it happens the majority of the time (I guess), and it's real. However, every mother is led to believe that she will hold love for this person, and I personally don't see how this could be possible in every case.

I'm sure this produces great conflict inside a mother, who has been, through years of conditioning, and will probably be unable to ever admit, even to themselves that "I really don't love this person"

On the flip side, when I see or hear of people who are the adult child of a relationship, and there's discord, there's almost always this statement of "but I love still love her...she's my mother"....I think that's deep conditioning too.

I think we all put too much believe in how we are "supposed" to feel, instead of just acknowleding our true feelings. Honestly? I neither liked or loved either of my parents, and I'm fine with that. What I wasn't fine with for a long time was this feeling of "waiting for the other shoe to drop", which is imposed by society....These comments one hears of "one day you'll realize you loved/miss him/her" "Oh, but they loved you as best they could" etc. The truth is, if I live another 75 years, I'm never going to miss or realize I loved these people, because I don't miss them, and there's nothing to realize, since I already realized the truth, i.e. they meant very little to me, and I never owed them anything, or cared much about them.
Chai, you are frighteningly realistic, and I think I'm going to have to agree with you. Reading your post made me think of how I truely feel about my mom... its pretty grim. The situation makes me sad, but simply because I'd imagine that it would be nice to get along and have a mom I look up to and look forward to spending time with. I don't think I love her. I don't trust her, I don't respect her, I don't like her, she is deliberately hurtful and has expressed jealousy of people in my situation (basically I get along with my husband and have a degree, and am genuinely content), .... and the only thing that has kept me in touch is that feeling that "she's my mom and I have to accept that"...

I always said, "You can love a person and not like them." talking about family. As if you automatically love your family because they're your family, but you may not like them. Now I have decided that the statement I was so proud of is total BS.

Wow, Chai, you've really opened my eyes. I'd say thank you, but I'm not necessarily happy about it. Just know you've changed things for me, and that's a good thing.

*sigh* I need to go watch something funny, like MST3K and get my mind off of this.
uh oh.....I hope I didn't open Pandora's box.
Chai wrote:
uh oh.....I hope I didn't open Pandora's box.
No, not at all. You just rubbed the denial out of my eyes for me. I guess I really should say thank you... so Thank You!
Emily, I have stood where you are, as the fog pulls away. It is breathtaking and scary at the same time. Don't get in a hurry about your family situation, just enjoy the new clarity with which you see. None of this messy situation just happened over night, and change should happen as it is right for you and yours. A new confidence in the proper course of action almost makes up for the hurt.

Good luck.
Thank you, rockhead. I hope others on here have benefitted from this thread as much as I have.
Emily (and rockhead) I'd like to share a little story with you.

A few years back, I went through therapy for about a year. The therapist helped me decide to go on Zoloft (for panic attacks), so, I had to see a pyhciatrist to perscribe. The doc had a general picture of why I had been in therapy, of course part of it because of family.

I had to go back for some follow-up visits to see how I was taking to the drug, so, she would spend a brief time asking how I was, anything new, etc.

Anyway, she asked me if anything knew had happened in my life since I last saw her, maybe 4 or 6 weeks before, and I was telling her about some larger event going on at the moment, feeling really good....she asked "anything else?"

I thought for a moment........hmmmmm.........Oh! Yeah, my mother died a few days ago!

Her: Oh.....?

"Yeah, sorry, I forgot....Wow, that sounds really bad, doesn't it? Well, I'd told you before she was sick"
Then, I told her that I wasn't going to go up for the funeral (I'm in Texas, she was in NJ), but that the only thing that was Bothering me was the fact I wasn't Bothered.

I said "I don't know, I feel...confused, because I know I'm supposed to feel, at least a little upset, but I don't. And I can't help that, because I can't manufacture feelings that aren't there....I heard people always saying, even if there were problem relationships, that they were, at least upset or something when this happens"

Doctor: Well yes, that IS what people say....

For me, that was a revelation...."You mean sometimes people are just SAYING they're sad when someone dies, but they don't mean it as many times as I think they do"???!!!

Doctor: People say a lot of things because they're expected to say them.

Emily, I gained a huge amount of freedom that day. I had always thought I was, maybe not alone, but among a small group of people that just couldn't muster up the appropriate emotions.

That day, I learned I have a lot of company.

Believe me, there are MANY things I feel very strongly about, and I feel deep love. But, not necessarily on demand.
This may sound flip, but is not intended that way.
Love is a funny word. I don't really know if we understand all the various levels or variations there are, but everyone is seeking it.
I love my Mom (in a sad pitying way more than anything)
I love Chocolate
I love my cat.
All three very different loves.
Who do I love most? The cat, cuz he loves me back, of course.
You can't make anyone care about you if they don't want to.
You gotta figure out what makes you tick, check your back side to see that you are not hurting someone else, then go enjoy life.
This week's New Yorker: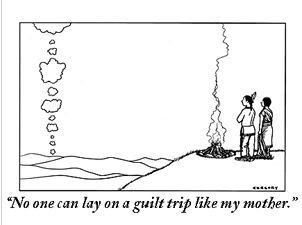 rockpile, of course you love your cat the most.

Your dog, cat, bird, whatever, never tells you you're wrong, is always happy to see you, is thrilled when you make it a part of what's going on, always thinks you look great, never mentions the fact you've gained weight, and thinks you're the most wonderful person in the world.

How can you not return those feelings?
You know how mothers say, "When YOU have children, you'll understand what I'm going through." So, I finally became a mother, rather late in life.

I wanted to see if I started to understand my mother better, or have some sympathy for her. No, it didn't happen. What did happen - I had a frightening realization how she was installing my buttons. How incredibly easy it is to do that to a tiny person for whom you are the sun in the sky and God.
redpickle, I'm having the exact same revelation currently. Children are so easily influenced, its hard to understand how she could do such a thing to me when I was a child. It just reinforces my decision to keep my daughter away from my mom.

Chai, thank you for that story. I actually thought recently about how when my mother dies, I will only feel sadness about her not using her time with us more wisely.
I'm working on it...

guiltosis
guilteremia
guiltreadiness
guiltoscopy
guiltjections
I fully agree that some are not cut out to be mothers, and it is a MYTH that we are supposed to love each other just because one came out of another's "bum" (my dd describes it that way). My mother herself said multiple times that she had not wanted to have children whatsoever (huh? saying this to a child?) but that was the way back in the 60s - you were supposed to marry, and you were supposed to have children.

I'm a bit torn because there ARE some mitigating factors that may possibly explain her behavior (like she was young, she had her unresolved insecurities which she was getting off on a child, those were the times of not too much of parenting analysis etc etc) yet still, still - there were plenty of good mothers alongside her.

She was / is just not cut out.
One of the goals of the Woman's Liberation Movement was to "free" unmaternal women from the expectations of society.

Would that every baby born was a planned baby.
Maybe not so much planned, but considered and wanted.


ok, I've come back to edit....

You know, I am really enjoying this thread. For those who can understand it, it's really uplifting.

It's nice for a change to really say what is on your mind, and how you've chosen to deal with life, without all this PC talk thrown in....the "well, you've got to understand", and the trying to "resolve" this relationship. Frankly, it's nothing I ever wanted to resolve, and for those years I said I did, I was lying, even to myself, because to admit you didn't care would do nothing but bring redoubled efforts from "well meaning" (I put well meaning in quotes, as I'm not so sure they really are, many times they just want you to get with the program) people who "think it's a shame you feel that way"

I think it's akin to the way an atheist, who has given lip service your years to believing in God, finally says "I Don't believe any of this", feeling better about it, but still having to deal with those who really really want you to believe in God.
Chai--

I think most people want a picture-book world full of Happy Families. The trouble comes in when someone confounds Tolstoy and announces "All families are happy, each in its own way."

Genetic overlap doesn't mean automatically sharing neuroses.