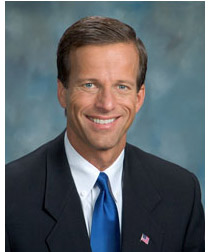 That is John Thune, Republican senator from South Dakota. I was doing a little research on the various Republican senators from around the nation and was caught by the opening line in this guy's bio.
John Thune grew up in Murdo, South Dakota. His interest in politics was sparked at a young age after making five of six free throws during a freshman basketball game. He was greeted by a spectator who said, "I noticed you missed one." That spectator happened to be well-known sports enthusiast and U.S. Representative Jim Abdnor. The introduction was the start of a friendship that ignited John's career in public service.
I found this quite fascinating, as I am sure most of you will.