Blackbeard
Blackbeard's career as a pirate captain lasted only a little more than two years, but he indelibly burned his image into the minds of contemporaries, and has lived on, larger than life ever since. Contemporary images all show him with his beard braided, and slow matches (a type of slow burning fuse which gunners use to fire a cannon) shoved up under his hat. His habit of keeping the burning slow matches under his hat in combat meant that his head would be wreathed in smoke. He also wore a crimson coat, opened over his naked, hairy chest, with two swords at his waist, and bandoleers with powder and single-shot pistols crossed on his chest--and he seemed the very Devil to those whom he attacked. Among all of the "great" pirates, Blackbeard seemed to truly "live the life." In truth, however, none of his contemporaries ever positively accused him of murder. If those whom he attacked surrendered, he'd take their money and goods, any navigational instruments, all the alcohol, and leaving enough food for the crew, allow them to sail off. If they fought, he fought back with a will. He would then take everything of value, maroon the crew, and burn their vessel to the water line, making sure to see it sink before sailing off. He very obviously understood the value of image and reputation.
He took the sloop
Revenge
from Stede Bonnet (whom i will profile later), and when he was killed, a sheet from what appears to have been his log was found, which reads as follows:
(quoted from
A General History of the Robberies and Murders of the Most Notorious Pirates
, Captain Charles Johnson, London, 1724)
Another poor boy from England, born about 1680, there are contradictory accounts about his origins. One of the earliest sources states that his name was Edward Drummond, and that he was born in London. Other accounts say he was born in Bristol--the most outrageous sources say Jamaica or Philadelphia. For the last two centuries, he has been commonly known as Edward or John Teach, or John Thach (also, Thatch or Thache). Many, perhaps most, modern students consider John Thach to have been most likely, but that could have been an alias, as John Teach has been suggested to be; that name would lead one to believe that he or his father were at one time thatchers, before the boy ran off to sea. I will use the more familiar name, Teach.
Teach found his way to sea, and arrived in 1716 at New Providence in the Bahamas, off the coast of Florida. There he encountered Benjamin Hornigold, and joined his crew. In the 17th century, pirates and privateers were so thick in the Carribean that Governors of the islands of the European nations hired them as private armies to attack the Spanish and whomever they were at war with at the time. But by the beginning of the 18th century, piracy was waning, as the French, English and Dutch began to think better of letters of marque (most privateers were indistinguishable from pirates, and even those, like William Kidd, who tried to "play by the rules," often found themselves at the mercy of crews with little to no scruples about the source of their booty). The French had, in fact, started on Hispaniola (the island which is comprised of Haiti and the Dominican Republic today) and in the Florida Keys by establishing bases for smugglers and privateers--France began the 17th century at war with Spain, and it was convenient to get rid of the French Protestants by sending them off to the Carribean to prey upon the hapless Spaniard. The English "venture capitalists" made a similar haven for themselves in the Bahamas, literally thousands of islands with plenty of shoal water and shallows where a small vessel like a pinnace or a sloop could escape the heavy royal sloops and war galleons of the
Costa Garda
sent to destroy them. It was here that Teach learned the trade under Hornigold, and he proved to be a very quick study, indeed.
Teach was so promising that Hornigold, sailing in a captured Spanish royal sloop, gave Teach a smaller sloop with six guns, to accompany him in his raids. At some time late in 1717, in the Saint Vincent passage south of Martinique, Hornigold and Teach encountered a large, heavily built Dutch trading vessel, a
fluyt
, which was the ancestor of the frigate. Although not very fast or maneouverable, they are extremely sturdy and capacious ships, with a shallow draft--originally designed to trade in the rivers of northern Europe. Hornigold and Teach each sailed to a different tack (these islands are known as the Windward Islands, because they lie to the east of the Spanish Main, and the prevailing wind in the Carribean is from the east), and both fired across the bow of the Dutchman, named
Concorde
, at the same time, killing several crew members. Teach then begged Hornigold to let him keep
Concorde
, and Hornigold, sensing what was in the wind for pirates, agreed. He had become sufficiently wealthy to retire in modest comfort in New Providence, and he basically handed his business over to Teach.
The ship captured had changed hands before, which was fairly typical of piracy in those waters in those days. When Teach took her for his own, she was in the possession of a Frenchman from St. Malo (a heavily Protestant French seaport which was a fertile recruiting ground for French privateers). The cargo was rich and varied, which suggests that the Frenchman may have been practicing some piracy of his own--but he was killed, and his crew marooned, so there is no comtemporary account to verify this. Teach promptly paid off crew whom he considered slack or trepidacious, and with a select company (his ship was not built for a large crew) and trailing his sloop, he went to work to perfect his theatrical skills. He flew the flag you see at top of the page, and he required his men to go heavily armed when approaching a victim. He would fire across the bow of the intended victim, and while keeping his guns at the ready (and a burning slow match in his hat), he would cautiously approach, giving them time to strike (haul down their flag to indicate surrender)--which they usually did. What makes this very interesting is that the ship, which he named
Queen Anne's Revenge
, has been found:
Queen Anne's Revenge Project
Teach attacked larger and larger vessels. He sold off the small sloop, and kept his men in a state of drunkenness as much as possible. Early in 1718, he fell in with Stede Bonnet, sailing his sturdy, custom built sloop
Revenge
. He quickly grew comtemptuous of Bonnet, and made him a "guest" on board
Queen Anne's Revenge
, putting
Revenge
in command of one of his trusted lieutenants. At this point, Teach seems to have been overcome by hubris. In May, 1718, he blockaded the harbor at Charleston, South Carolina. Using his and Bonnet's ships, he denied entry to any ships who attempted the passage, taking their goods if they were foolish enough to fall into his clutches. He demanded money, food and rum, and medicine. The proud planters of Charlestown (as it was then known) at first refused. Most of South Carolina's plantation owners did not actually live on their lands, but preferred to live in high style in Charlestown. But Teach held the blockade for weeks, and the citizens of the town finally caved in and paid a ransom. Teach's crews had become restless, so he allowed a division of the plunder, and the ships each sailed off on their own. The people of Charlestown were enraged, and determined to put piracy to an end. They paid to outfit pirate hunters, and sent them to clean up the Bahamas. There actually wasn't much left to "clean up," but they did manage to take Stede Bonnet, and in September of 1718, he was hanged in Charlestown.
Beaufort, or Topsail inlet on a moonlit night.
Before the pirate hunters set out, though, Blackbeard sailed into Beaufort Inlet, then known as Topsail inlet, and at the end of June, 1718, he grounded
Queen Anne's Revenge
and a sloop,
Adventure
, telling the crews that they would careen them. Careening means grounding a ship in shoal water, draggin her higher as the tide rises, and then rolling her on her side at low tide, to clean and repair the hull. Teach and selected crew members then grabbed the booty while Bonnet and the others slept, took sail north in Bonnet's sloop
Revenge
, and entered Pamlico Sound near the town of Bath in North Carolina. Using influence and liberal bribes, as well as the known hostility of the small farmers of North Carolina for the planters of South Carolina, Teach obtained a pardon from the Royal Governor, Charles Eden, and settled down to retire. It is said that he and Eden were friends--it is also said that Eden lived a life of ostentatious wealth after the pardon. But retirement palled on him, and he soon fitted out another sloop, set up a haven on Ockracoke Island near Cape Hatteras, and began to prey on the local shipping of Virginia and North Carolina.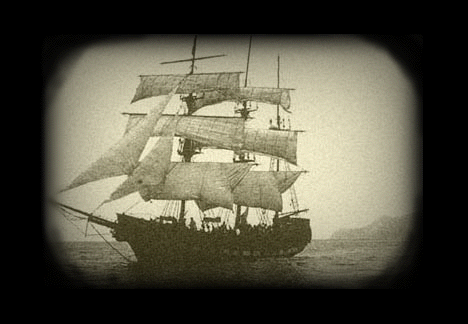 Blackbeard had honed his image too well, however. Although no outright murder has ever been reliably attributed to him, and although he was extremely lenient by "piratical" standards, his name struck such fear that a public outcry arose. The English colonists complained to Governor Spotswood of Virginia, who sent a squadron lead by a frigate, which finally cornerd Blackbeard near Ockracoke. Lieutenant Robert Maynard, in command of the frigate, trapped Blackbeard's sloop on a lee shore (putting his frigate between the sloop and the wind), but in dodging a broadside from the pirates, he grouned his own ship, and so decided to board the sloop. The fighting was very bloody, and Lieutenant Maynard attested that when he found Blackbeard's body, there were four bullets in him, and more than twenty slashes from the cutlass. Blackbeard at least lived up to his image in the act of dying.