We have all heard both our own children and other people's children say funny things. Since it is the Christmas season, what sort of strange, funny and unusual items have you heard children ask Santa for? Were you able to find them and did you get them for your children?
I remember when my niece was very small her most longed for Christmas wish was for a screwdriver.

Yes, she got one and it was her favorite toy for a long time.
I love that a screwdriver!

Both my children went to see Santa this weekend. Even the 2 year old was excited for the visit. I asked her what she would tell Santa what see wanted for Christmas - she said a lollipop. Her older sister trying to be helpful said how about an Elmo doll. The 2 year old then insisted she wanted an Elmo lollipop. She did understand that Santa brought toys since when questioned what her older sister wanted she said toys. But even several days later she still is insisting she wants an Elmo lollipop. Now where am I going to find it!?!
One year my older daughter at 3 wanted drawers-meaning drawers like in a small chest. I kept thinking where the h*ll am I going to get something like drawers. After meeting with Santa she told me she thought about it and decided against the drawers.
I work at Williams Sonoma and, last year, a father bought the traditional, three minute egg timer because his young daughter wanted an hour glass and that was the least expensive one he could find.
I think you might find an Elmo lollipop -- here in New England, there are beautiful lollipops known as Barley Pops or Barley Sugar Pops. They're large and glossy and generally in fanciful shapes. If you have an independent candy maker near you or a classy farm stand, they just might sell Elmo pops. However, since she is only 2, if no one talks about an Elmo lolli again, she just might forget about it.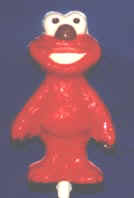 It looks like the molds are out there if you want to mess with that, Linkat.
Oh, plainold me you don't know my two year old do you? I do live in the Boston area so I will look around.

Mac I have seen the molds, and have made candy by hand before, but with a full time job and two little ones - I would have to do this at midnight.
I never let anyone know about the Elmo lollipop and Christmas.

Yes - she did get an Elmo lollipop. I could not find one any where and I could not find those Elmo molds (I waited too long) - but I did find those candy things you put on cakes and cupcakes that was an Elmo. I had a regular round candy mold - melted some white chocolate and put the Elmo Candy in the middle of it.

Yeah since she is graduating high school in a couple of weeks and was able to get through school - it was wonderful that I did not scar her for life and was able to come up with a solution.