Wed 13 Apr, 2016 05:15 pm
I was looking on Photobucket for a picture of Rascal, our loved cat, her photo apparently gone, and saw a photo of the Milan cathedral when I was there in the duomo piazza for an hour or two. Poor photo but still dear to me. I took it when just going to the subway to go north.
When I say dear, I mean re my experience of seeing the piazza, which is primarily architectural, but also just plain awe re the cathedral - I didn't go in, have been in many many many churches. Instead, I went into the Galleria.

I think of it as fuzzy as a photo, but nice to me.

And you? Add your photos too, I hope.
@ossobuco,

Lost it, back in a minute..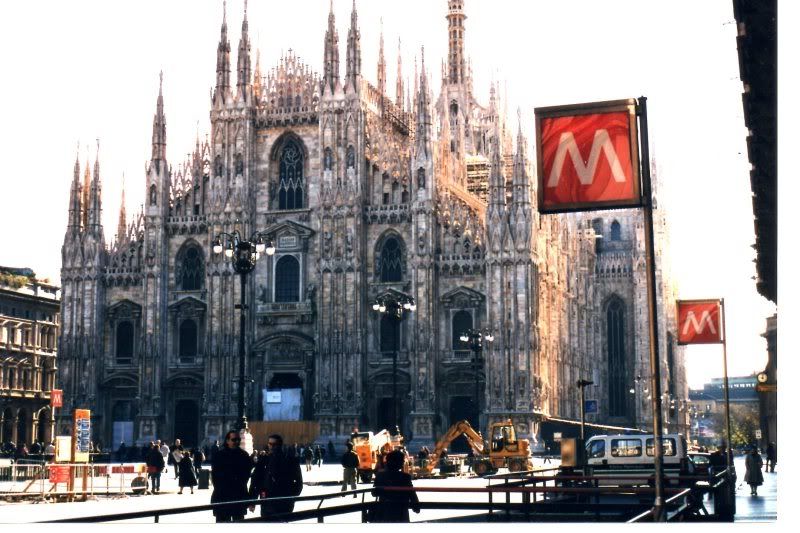 HINT This is for not magazine perfect photos.
@ossobuco,

Beautiful!
Hmmm.... Travel photos. Surely I have some somewhere.
CI should be along shortly.
I'm talking re mediocre photos that most wouldn't post on a photo thread - there is a world of those/us.

Imperfect photo takers get to post here ..if they love the photo.
@boomerang,

That one of mine was unclear.. which was the point. Some loved photos can be a photography problem... and still worth looking at.
@ossobuco,

Check Point Charlie, Berlin, on a very rainy day:
@ossobuco,

good idea
I'll have to figure out a way to pop some of my favourite, not-so-great travel pix in here. There's one in particular I really like, even though it's kind of murky.
@ehBeth,

I will be back too. I'm sure I have several wonderful while technically a mess photos..
or not -
I am experiencing site difficulties. maybe it's just me, but also it seems weirder. I somehow can't just get to A2k as a site.
Ah, well, I did get back to a2k as a site at some point. That may have been when I had a ten days' absence with the now dreaded misformed threads, which I didn't know how to deal with at the time. Jespah has a good thread on it.

I'm still interested in others' travel photos that still matter to them while not being technically terrific.

Some of us have had better cameras than others and know well how to use them; some are ok at it part of the time; some let the newer cameras decide. Some of us might get eye problems over time. Some of us clicked a button.

I started out with my father's Argus, alas stolen from my first gallery, in the seventies. Waaah.

Come back, little shebas, and tell us what photos you've liked that you took where you have been. Perfection not required. Interest is.
@ossobuco,

Found the link to Jespah's thread -
http://able2know.org/topic/304399-1
very worth reading
@timur,

I was there many decades ago, but still remember the very creative ways the East Germans escaped - such as the suitcase on the train rack, the dummy car seat.....and, also a virtuoso playing a string instrument.
@cicerone imposter,

Interesting, re me, in Cremona. He and I talked at length, no idea by me if anyone was watching. La Stupida!
It's also possible this stuff had faded. Me, I liked his music.