It should be noted that May Day, as an international holiday dedicated to labor, has its origins in Chicago. In May, 1886, mass protests were staged in support of the eight-hour day and other pro-labor legislation. Many of the more militant workers, as is apparent from this handbill, were Germans: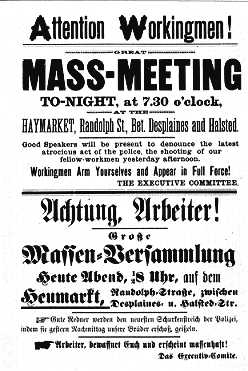 A march was held on May 1, and a rally, scheduled for the Haymarket Square on the near west side of Chicago, for May 4. And the rest, as they say, is
history
.
Internationally, the Marxists picked up the tradition of May Day from the anarchists, who set May 1 to commemorate the first march by the Chicago labor protesters. The United States, however, celebrates Labor Day in September, no doubt to distance its own celebration from that of the dreaded commies.
As a side note: for many years there was a statue of a policeman at the site of the Haymarket "massacre," which was the constant target of vandals (as explained in the foregoing link). Ultimately, the statue was dismantled (it is now at Chicago's police academy). A new monument is to be erected at the site, which will be dedicated to the ideals of the labor movement and, it is hoped, it will be less of a political target.