Death toll reduced to 24, including 9 children.

You don't normally see those numbers go down. Hope that's really the case.
Kansas and Oklahoma I knew about. Alabama surprises me.
Having seen the footage, all I can say is I'm in amazement when one of my American friends marvels at Australians' ability to put up with cyclones, bushfires, droughts, floods, and poisonous everythings. Seems like a piece of cake in comparison.
@Ticomaya,

what the hell is Nebraska doing that we aren't...?
my guess is that tornadoes don't like the smell of them pigs along I-80 any better'n we do...
Alabama has been coming on strong since Al Gore invented global warming.
Eek.
NWS says it was an EF-5 tornado.
http://www.cnn.com/2013/05/21/us/severe-weather/index.html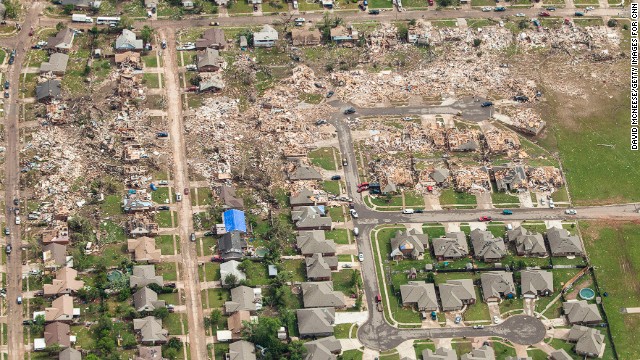 It's like matchsticks.
All accounted for.
(Whew!)
@Ticomaya,

Texas is now pink for 2013. F-4 hit Granbury (less than 50 miles from Finn Town) last week and left 6 dead.
Very scary but fatalism seems to be the only reasonable response.
@jespah,

Kinda looks like what you would see if you looked at aerials of the US bombing of, say, Cambodia. The only difference is that Mother Nature shows a much much larger measure of compassion.
http://www.yale.edu/cgp/Walrus_CambodiaBombing_OCT06.pdf