I am wanting to buy one of these little guys, but i am not sure which one is the better choice, ie. the healther one. They both look a little unkept and maybe i can resuce one of them and give them a good home. I have done my research on shih tzu and i have decided on it instead of many other breeds. Can anyone give me any suggestions on the better choice. Maybe some one that knows the breed a little better than myself. I would like to upload both photos of each puppy but i am not sure how, as i am new to this site....can anyone help....Can i even attach photos?[img][/img][img][/img]
@logle1974,

If you're buying from a breeder I suggest you bring both dogs to a vet first and have them checked out. When you say "unkept" it makes me think they are coming from a puppy mill and that usually means health and temperament problems in the long run. Personally, I would never buy an a puppy if I did not fully investigate the breeder, the breeding conditions (how their breeding dogs live daily) and the history of other litters they have created.
Thank you for your good advise. I know she is a breeder and that the puppies were born and have been raised in her house, and I am definaltley going to see them but they are 2 hours away from me which means i can not go until at least next tuesday to inspect them for myself. She claims that they have been very well taken care of, although i am new to this puppy business, i want to be informed when i go there. I would like to check her out but she has no website to look into. How would I go about checking into her. Before I put all of this time and effort of a 4 hour drive and investigation, I was wondering if someone with a better trained eye than me could at least tell me if it would be worth my effort. I am looking for a life companion and best friend so i need to really take this matter seriously. Do you know of anyone i could just fwd the pics to, to see if anything really jumps out before i start on this journey? Would it be possible to post them in this forum? Again, thank you so much for your response.
@Green Witch,

PS.....let me clarify, I am not sure they are unkept, it could be that they are just bad photos. She told me that they were playing around and really needed a bath. That could be all there is to it, but im not to sure.
@logle1974,

You should not buy a puppy unless you meet with a breeder in their home and have the puppy inspected by a vet. I think her excuse about the unkept puppies is a typical puppy mill excuse, those puppies are probably being kept in a dirty cage and taken out for photo purposes only. For references, I suggest you ask her who her vet is and call them. Ask what they think of her as a dog owner. You can also ask her for contacts to speak with other people who have bought puppies from her. Isn't there a breeder closer to you? It's not a very unusual breed. I think you should listen to your gut - if you smell a rat, there is probably a rat nearby.
@logle1974,

if the photos are already on the internet, use the IMG tags:
Code:
[img]http://blah.com/image.jpg[/img]
if not, you can upload them to a free hosting site such as
http://imageshack.us/
http://photobucket.com/
Preview your post to make sure images post correctly...
@Region Philbis,

The first 2 pics are of a puppy named spike. The last 2 are of sammy jr. Any and all advise would be wonderful!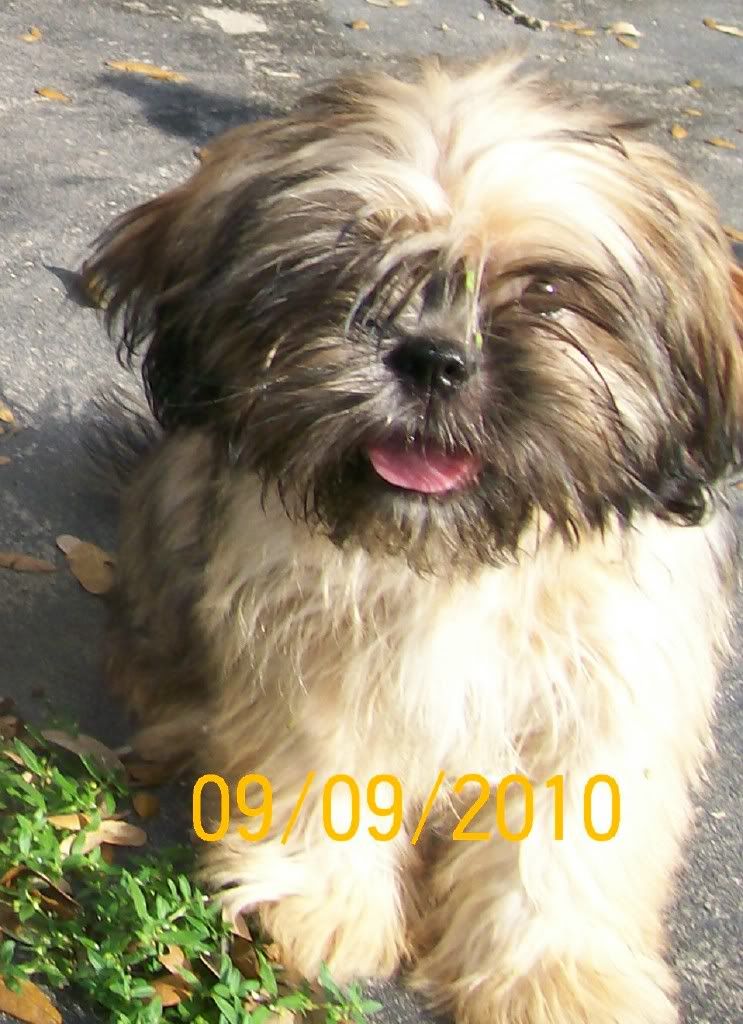 I have taken all advise so far, and all of you have been so awsome with your advise. I am going to ask her for her vet information, and call them. You may be right. The only reason I was going this route, is that these puppys are 4 months old, and she claims they are pretty well housebroken. Again, it all could be misrepresentation. I have always had a very hard time getting my puppies housebroken, even a little. I am not sure why, as i am very patient, and always kept to a routine. I know most all puppies/dogs will have accidents, which is totally ok, but I would prefer to have one at least partially housebroken, as this is going to be a totally inside companion.
@logle1974,

They both need baths and a good trimming. Check their claws too, and ears. If they have been kept poorly, they should be given the complete mite and worm and earmite check . I see some medium level maintenance with a vet and groomer to get em back in shape. Both are cute little mdudes, why break em up? two shitzus are as easy to keep as one. Just make a "package deal" and youll have two great fun guys there.
A vet visit and a date with a groomer would be the best thing to start. Look into proper crate training to continue the housebreaking issue. All dogs do better when properly crate trained. Good luck. let us know what you decide.