Mon 18 Aug, 2008 02:58 pm
http://www.mr-lee-catcam.de/pe_catcam1.htm
That's an interesting photo tour of the cat's travels during the day. At the bottom of the page you can browse to the next page of photos.
Would you strap a camera to your cat to find out where it goes? If mine ever left the house I'd sure be interested.
@Robert Gentel,

Interesting. I wonder how the cat felt schlepping that around.
@DrewDad,

Here's the camera on the cat: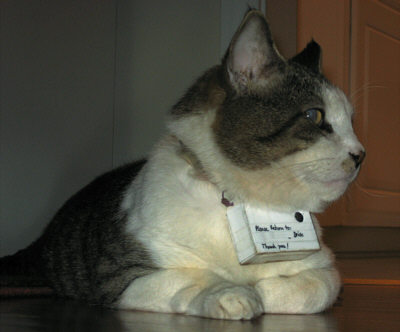 Not sure if it's uncomfortable or not. I suppose it depends on the cat. Some cats go nuts with anything on them (put a piece of tape on a cat's butt and you may see something very funny).
@Robert Gentel,

I love that website. I think it's a brilliant idea. i'm sorry i haven't done that with my pup Krispin, he used to roam about for hours in my parents' neighborhood. Would love to see what he was up to.
@dagmaraka,

That site's user gallery has a picture of a dog wearing the camera, but no pictures of the dog's travels.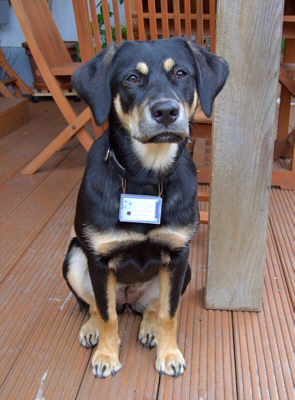 @DrewDad,

My biggest concern would be if people thought the camera was valuable and tried to harm the cat to steal it.
Kinda like how I'd feel about giving a kid an iphone in a bad neighborhood.
@Robert Gentel,

I'd like to try this...with my
wife.
Hiyoooooooo!
<rim shot>
@Robert Gentel,

That looks like a sensible arrangement.
I was thinking more of a night-goggles kinda contraption....
@Robert Gentel,

I love it
Oh cool...I haven't looked at that catcam for ages.



that is just extremely cool....
If my cat was an outdoor cat, that series of pix would make me think twice about keeping him inside (my cat is an inside cat now-a-days).
@littlek,

Actually, it all makes me very sad for my indoor cat.....these cats are LIVING!
Of course, they may die a lot sooner...but still...
Fascinating!

I wonder if the Possum-cat is amenable to this. I'd love to know what he gets up to during the day, inside or out.

I suspect he just sleeps, so he can race around and open the wardrobe doors at night!
@littlek,

Lou says: "All that and he didn't kill anything? What a pussy."
@Robert Gentel,

The cat likes cars. Thanks for sharing.
I missed out on this thread. Got to check it out later.
@Robert Gentel,

Someone needs to run an updated version of this catcam. Higher pixel rate in a probably smaller camera.
Still some great shots on a mystery feline tour.
What a cool idea...I had a cat till a few years ago that while we were in Arizona was known to roam at least a half mile from the house. Still, with current technology it would seem that GPS and cell phone technology would be the smarter way to go. Come to think of it, I have no idea why we cant right now by a product to track our pets location on the internet in real time. That should be doable I think.
@tsarstepan,

That's funny, some friends of mine just used this concept for a music video, with mixed results.