It's ridiculous to contend that a woman would be excluded from modern combat roles because of an alleged lack of upper body strength. Any woman large enough to meet army entrance requirements could develop sufficient upper body strength to fulfill any role. This is just that "weaker vessel" bullshit redux. As for carrying a wounded comrade out of a fire fight, that's Hollywood crap. No one with combat experience would dream of standing up in a firefight without a damned good reason, and unless one had suicidal tendencies, and wanted to dramatically increase the probability that their comrade would be killed before receiving medical attention, one wouldn't attempt to pick them up to carry them to "safety."
For those who like their history a little fresher than the 19th century, consider the example of women during what the Soviets called the Great Patriotic War. Nearly one million women served in the Soviet armies, and a great many of them in combat roles. Many were employed as snipers--Lyudmila Pavlichenko killed more than 300 German officers and private soldiers, including more than 30 German snipers, for which she recieved the order of Hero of the Soviet Union, the highest commendation available. Pulled from combat to assure her survival (about three in four Soviet snipers
did not
survive the war), she was sent on a tour of North America and became the first Soviet citizen to meet an American president in the White House.
Pavlichenko in a Soviet publicity still.
The woman pictured below, Rosa Shanina, had more than one hundred kills as a sniper:
Three all-female aviation regiments served in the Great Patriotic War. Two of them were re-designated as Guards regiments, the highest honor awarded to combat units, meaning they were considered elite units. The 588th Night Bomber Regiment, later designated a Guards unit, flew more than 24,000 missions by war's end. The two women pictured below flew 18 sorties in a single night:
The entire regiment was female, including the mechanics and ground support personnel. It was founded by Marina Raskova, who, in 1938, helped set the then world record endurance flight for women, when she and two companions flew more than 6000 km. The Night Witches, as the Germans called them, flew obsolete biplanes the top speed of which (about 90 mph) was slower than the stall speed of Me109s and FW190s, which meant the women could avoid German fighters by throwing their planes into a tight turn which would cause the Germans to overshoot them and lose them in the night sky. The regiment was the most highly decorated Soviet aviation regiment of the war.
Lilya Litvyak was known as "the White Rose of Stalingrad," flying five or six sorties a day. She was also awarded the order of Hero of the Soviet Union, posthumously, 47 years after she was shot down in combat. Lt. Litvyak had at least 11 kills (the number is in dispute). Below is a photo of Lt. Litvyak:
Ekaterina "Katya" Budanova also was credited with 11 kills.
Manshuk Mametova from Kazakhstan was the first Soviet "Asian" to be awarded the order of Hero of the Soviet Union. She was a machine gunner who was killed in action. A great many women served as drivers in armored units, apparently because it was thought that with a slighter stature, they would do better in the cramped conditions. Although few Soviet women were promoted to officer rank, other than the pilots, Alexandra Samusenko rose to command a tank battalion--she was killed in action in 1945. Her photo is below:
Many women served as partisans behind German lines. The numbers of them who fought the Germans in the role is not known. Below are some photos of female partisans in the Great Patriotic War: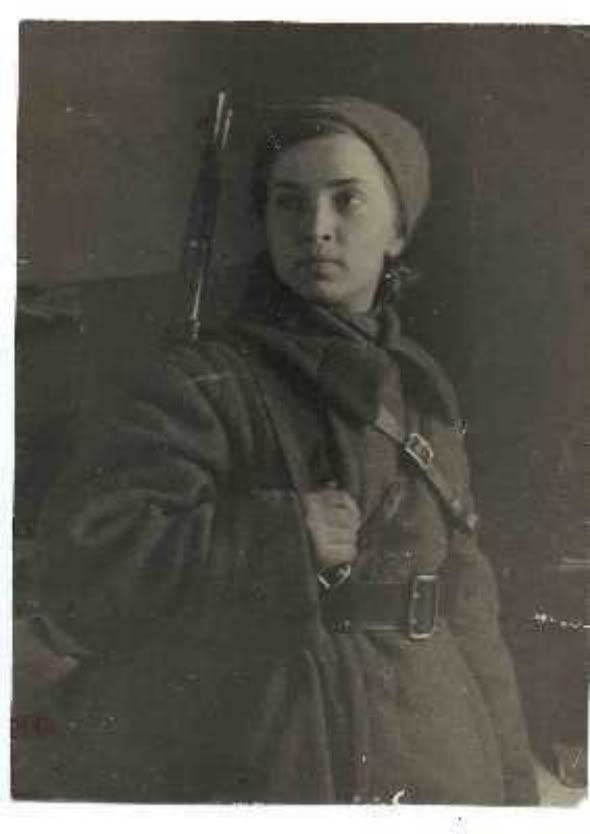 (That last one looks staged, i doubt if partisans went into combat wearing their medals.)
Certainly the majority of Soviet women filled roles in rear areas which released men to go to the front--about 40% of doctors in the Soviet armies were women. However, the example of Soviet women demonstrates clearly that if a woman wants to fight, there is no role a man can fill that a woman cannot fill.