As for the pictures, I'll have to do them in several portions. I'll have one batch of SanDiego pictures, one with Portland pictures, and at least one with New Mexico pictures.
Let's start with San Diego. As Calamity Jane already said, I did not bring my camera when we met up. I meant to, but just when I got ready to meet her in the hotel lobby, I noticed the battery was empty. How strange -- my old, mechanical celluloid film camera never had this problem! But
Calamity Jane's pictures give an excellent impression of the place
. And I did take quite a few at the place that made me fall in love with San Diego. It's called Balboa park.
Balboa Park is and sits pretty much in the center of the city. Entering the park from the West, you find the grass and the trees shining in a lush green. Even in march, the shade below the big trees is very welcome, like at this picnic site. (Incidentally, this is where I saw the first ground squirrels of my life. (Sadly, I didn't manage to capture them on a picture.))
Presiding over the trees and meadows is the Museum of Man and the California Tower.
As I walked towards California Tower, I ran into a superlative: the knobbiest-looking tree stems I had ever seen.
Here's a close-up of the museum and the tower.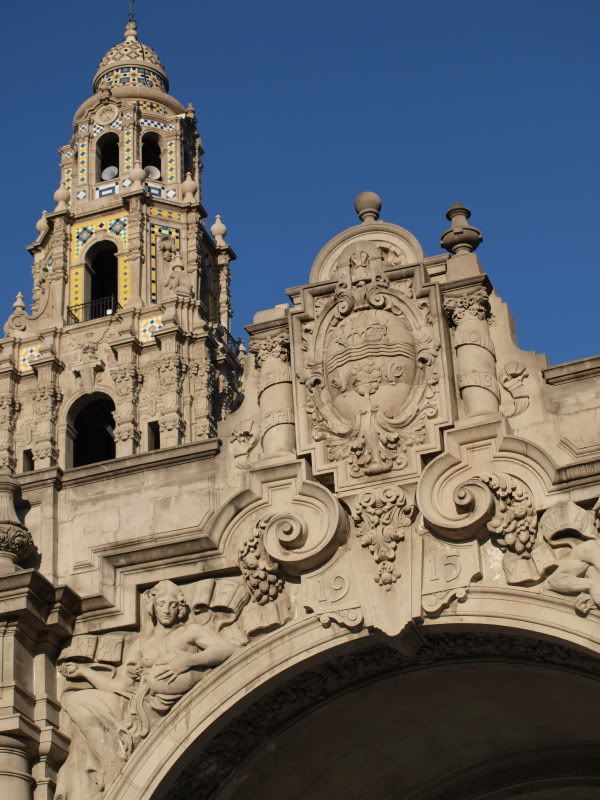 The whole complex made me feel right at home: It felt very much like the
Residenz
in Munich, one of the places I miss dearly about Germany. Of course the resemblance comes with a distinct Mexican twist, such as in these buildings: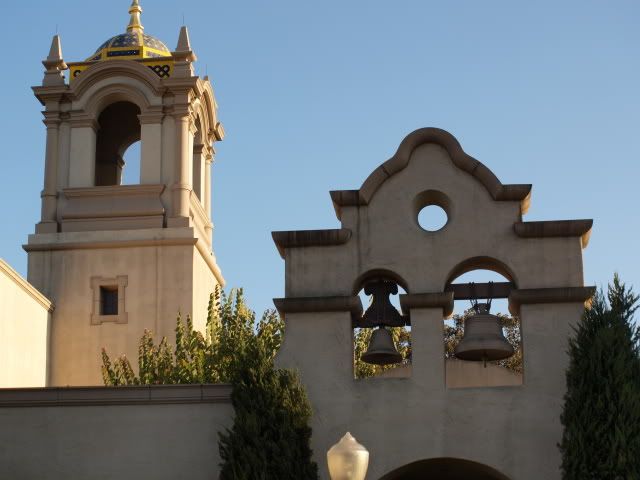 Walking farther East from the Museum complex, the vegetation becomes much more arid: There is no more grass, and all you see is cacti and other dry-climate plants. It's an interesting contrast. Here's a blooming cactus:
This blooming plant is not a cactus, but it's the only plant I recognize from Europe. I saw its fat, juicy leaves at the beaches in Barcelona, Spain.
Many of the cacti have characteristic, fascinating, and very odd shapes. Such as this one:
And that concludes the batch of my pictures from San Diego.