The Great War ended 90 years ago today. To me, it was always a very real and present event. I was raised by my grandparents, and my grandfather had served in that war. He had brought his helmet home, and his Springfield rifle (i suspect he purchased that, although, of course, small children don't question such things). He never spoke much of the war, hardly at all, really. I once asked him if he had been wounded, and he smiled at me, said nothing for a moment, and then told me he had been wounded for every day of the week. In his typically gentle sort of way, he communicated to us that it was not something which he would discuss with us.

During the Fourth of July parades, the Spanish War veterans were already too old to march, and the few still left when i was a small boy rode in the back of a convertible. But i was always so proud because my grandfather would be a part of the color guard with the other "First War" veterans, behind whom would march the veterans of the "Second War," of the generation of my parents.

Do you have any recollections of the veterans of the Great War? Do you have any associations which stick in your mind?

****************************************************

In Flanders' Fields



In Flanders fields the poppies blow
Between the crosses, row on row,
That mark our place; and in the sky
The larks, still bravely singing, fly
Scarce heard amid the guns below.

We are the dead. Short days ago
We lived, felt dawn, saw sunset glow,
Loved, and were loved, and now we lie
In Flanders fields.

Take up our quarrel with the foe:
To you from failing hands we throw
The torch; be yours to hold it high.
If ye break faith with us who die
We shall not sleep, though poppies grow
In Flanders fields.

That poem was written by a Canadian doctor, John McCrae, the day after the death of a friend. Below is a picture of John McCrae, sitting in one of Flanders' fields with another friend: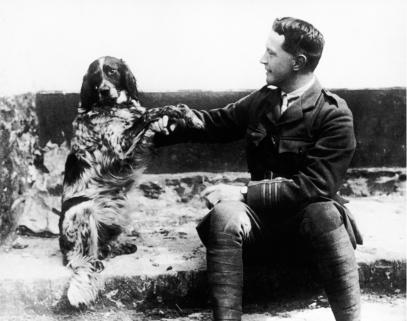 Dr. McCrae contracted a septic disease while treating his fellow countrymen, and died in 1917.