I was looking for something online and saw photos of cave paintings. They reminded me of my first encounter--in college in art class. I remember feeling overwhelmed at the beauty and the artistry. I loved how the artists used the contours of the cave walls to fit the shapes of the animals and give them an extra dimension.
I am still staggered at how special these works are. I've since learned that neither Lascaux nor Altamira is the only location for such works. They exist around the world.
From Lascaux: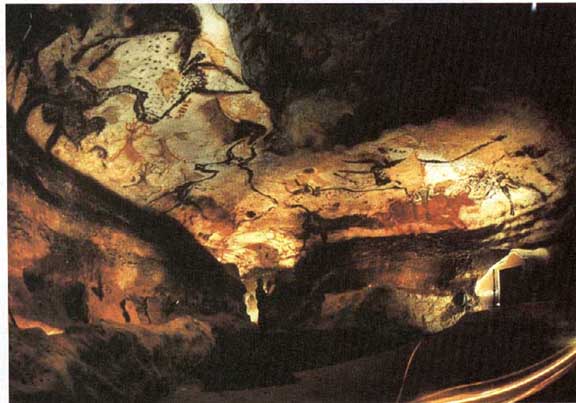 From Altamira:
Glorious stuff, isn't it?
Some Aboriginal Rock Art
More:
http://www.lonker.net/art_aboriginal_1.htm
Thanks, deb and dadpad. Yes, glorious stuff. Here's one from Algeria:
And one from India. I love this. Pregnant animals.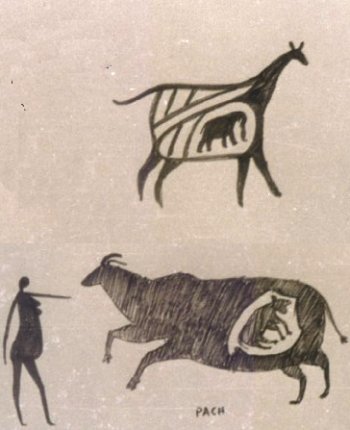 There was another thread on this a year or two ago, and we had a good discussion of the topic. The "pundits" with academic credentials almost all claim that such paintings would have had a "religious" or spiritual significance, and no other significance. But it occurs to me that those who like to draw and scribble, draw and scribble everywhere and everywhen they can. Note that in Europe, the paintings have been found in caverns. That is not any good reason to assume that they were only ever painted in caverns. In the antipodes, and in Algeria, you have dry, low precipitation climates in which "outdoor" paintings can easily survive over long periods of time. I suspect that in Europe, such paintings may well have, at one time or another, adorned every shelter bluff and "outside" rock face which was convenient for the exercise, but have not survived until the present time because of the climate.

It would also be interesting to know what the mineral nature of the surfaces on which the north African and Australian painting were done. Dadpad, can you find out what type of stone the paintings in Oz are done on? It would be interesting to know if the surfaces there would be less subject to erosion than those in Europe. I would tend to believe that, as with fossil remains of ancient animals, we only find a tiny, tiny fraction of all the rock paintings and carvings which were ever done.
Kokopelli was a favorite theme of Amerindians in the American southwest.
Kokopelli was a classic trickster, and a fertility symbol, always portrayed playing his nose flute, and often portrayed with a prominent phallus. The images linked above at Wikipedia are from Rio Arriba county in New Mexico, where i briefly lived almost 30 years ago. These images survive, undoubtedly, because of the relatively dry climate of the region.
One from Frijoles Canyon, Bandelier National Monument, NM
Two of my favorites from Petroglyph National Monument in Albuquerque
I've discovered there is not much online about canyon de chelle in Navajo country, NE arizona. This is one of my favorite paintings. Made over 200 years ago, it depicts a spanish - native war. The area was home to Anasazi and later Navajo.
Set, I hunted down the other thread. 2004. The discussion about the initial purpose of the paintings, carvings, etc., is interesting. I'm inclined to believe that some of them are related to religious or sacred rituals and that some are just the artistic aspect of humans expressing itself. I'm not especially knowledgable on the subject. But both theories make sense.
What fascinates me is that people were making drawings or carvings all over the world. I often think about the first person to do something. How did it come into his or her head. Now I wonder about many firsts. What is in us that makes this kind of expression univeral. This fascinates me.
ul, Thanks for those wonderful carvings. They make me smile.
My interest in cave paintings, rock drawings, whatevers is simple. I like them because they're beautiful or because they tell me something about me and about us.
From California:
Another from Altamira:
(in my post from last page, the name of the canyon should be de chelly, not de chelle.)
littlek, I'm glad you got the spelling wrong. I mighthave missed your post. Thanks for adding it. That's a fairly recent one. And it is beautiful.
By way of a bookmark: I've visited both the Frijoles Canyon and Chaco Canyon (both on the Big Rez as the locals call it, i.e. the Four Corners Navajo and Pueblo reservation). The petroglyphs are magnificent, expecially if you have the patience (and stamina) to hike a ways into the back country.

That the impulse to doodle is universal is attested to by the fact that you'll also find ancient petroglyphs on the Big Island of Hawaii, some quite near to the active volcano of Kiluea. Who knows what works of art have been buried by lava flows.
Correction. Frijoles Canyon is not on the Big Rez. It's much further east, NE of Santa Fe.
In re the canyon de chelly painting: I was intrigued by its recentness. I dismissed it at first as new and therefor false (indeed, I didn't give it much notice when I was there). Then I realized that 200 years ago was a long time ago for the remote areas of the four corners.
Hey, Andy, Why dontcha dig around and see if you can find photos of what you saw.

littlek, 200 years certainly doesn't compare to the thousands of years of other cave paintings and scrapings. But if there's no paper, then they're just as genuine as something 10,000 years old.

It seems to me that something inside of people compels them to paint a picture, sculpt something from stone, scratch a picture into a rock.
Merry Andrew,
Frijoles Canyon is just outside of Los Alamos.
It is difficult to post - so I am giving a link to rock art in Bhimbetka, India.
http://www.bradshawfoundation.com/india/characteristics.html
From the same site pictures about a cave in France, deep under water.
http://www.bradshawfoundation.com/cosquer/
From the first site Ul suggested (India):
The interesting things Ive always dwelled on is how the cave painters discovered the various pigments and the coatings of chalk and travertine that act like a "polyurethane' coating. The cave paintings used common pigments (ochre mixed with blood and clay, well pulverized charcoal and berry juices) all mixed with some type of animal fats. Chalk was also used like an "airbrush" .

The original discoverer of Altimira, a Spanish nobleman who had a hunting dog descend into a rock cleft, was reviled as a fraud for most of his life after he announced the discoveries. He had an artist in his employ and the scientists of the late 1800's thought it quite a coincidence that the artist was able to render pastoral landscapes. The artist was deposed and stated that he was never in the cave to do the drawings , and the nobleman, Don Marcello de Sautola was on his own and was ignored and ridiculed for the rest of his life.
Then in the early 1900's a whole bunch of caves in Spain and France were uncovered, mostly by accident, excavation for buildings, or just kids playing. In the 14 year period till before WWI, almost all the caves that we know contain art were discovered. (Les Eysies, Font de Gaume Les Comtarelles,Pair-non-Pair,Marsoulas, La Mouthe, Tuc,d Ardulent,, Les Trois Freres, El Castillo and about 20 lesser deposits) All were found to be in various "stages" of artistic accomplishment and later dating showed that these cave art galleries spanned the periods between the Solutrean and magdellanean ages (an archaic dating terminology used in Europe and since replaced by absolute ages, ) But these ages were somewhere between the last 2 glacialtions and the Sangamon interglacial. The sad part is that there are probably plenty more shore side caves of Magdellenian ages that are under the sea near the shorelines.

15000 to 50000 years BP is the span of time that Ive been able to dig up from ages taken from some of the cleaner samples of red pigments. The problem with direct dating was that nobody had come up with a perfect way to extract the mix ratios of the animal fats and blood from the ground chalks(which add older Carbon to the mix). So many of the artifacts were dated using alpha track methods which can result in some dubious dates also.

The common thing was that all the caves where artifacts were found, all had the same implement cultures (Fluted points and hand axes and spray tubes) Ivealways found this fascinating because in the post Sangamon there appears some evidence of xcultures in tge AMericas that , save for cave paintings, showed similar cultural features. This means that from sites like Shoop, Meadowcroft, Channel Isles, Sandia NM and Virginia, we may have to "push back" when humans first came to the New World. There is stronger evidence that people were travelling the edges of the Arctic Ice pack from Europe to the NEw world as early as 30000 BP.
This aint anywhere near my area but I try to keep up with what other colleagues are doing .