@neko nomad,

thank you
your pix always take the edge off of being a bit homesick
@neko nomad,

Thank you!
( I always click through
)
Theview from the back door this morning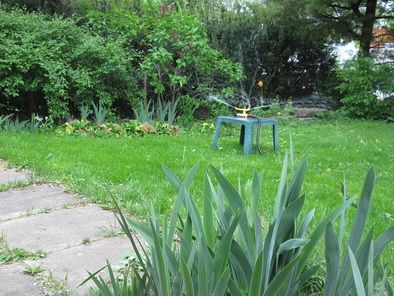 : primulas in bloom alongside the new irises, which are about a year away from blooming. A few flowers can be seen on the lilac bush,though.
Every couple of years the shrubbery gets sheared to within an inch of its life; otherwise it'll easily become overgrown.
@NetAddict,

If you've downsized your home or simply have no garden space on your property, your days of growing food are far from over. If you can grow a vegetable in the garden, there's a way to grow it on a balcony. Container gardens need a bit more attention than ground plots because they dry out faster, but they need less weeding because the soil mix you use doesn't naturally contain any weed seeds.
A free and fairly easy compost pile. Dig a hole about 3 feet in diameter and 1 1/2 feet deep in an out-of-the-way place. Put in kitchen scraps, napkins, paper towels, leaves and yard weeds, etc. Every now and then throw in some soil on top to inoculate the pile with soil bacteria. In about 6 months or so it will be filled. Dig another identical hole next to it. After 6 months the first hole will be composted. Dig out the rich soil and add to garden, and fill again. So, every 6 months or so you will have nearly 1/2 cubic yard of humus.
The border out back: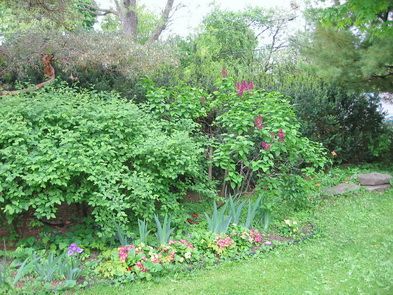 .. go ahead-click for an enlargement..
lilac and primulas shown here. Irises need another year before they bloom.
We'll be getting pine pollen soon.
@neko nomad,

Gorgeous.
I purchased more perennial pollen yesterday in the form of a Buddleia, and Butterfly weed. Residences close to being finalized. The rocks have preference.
@alex240101,

My irises up front show promise for next year. the ones shown are newly rooted home grown divisions.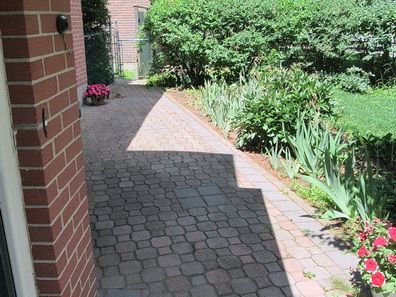 @neko nomad,

Getting waaay off topic, neko, but remember the furminator you once recommended to me? My guys don't appreciate it, probably because they don't get handled enough, but I found an alternate use. I keep a bath towel on the bed for my long haired black cat because he's a heavy shedder except in winter. It cleans it of cat hair better than any lint brush or roller. Darn expensive for what it does, but at least I get some use from it.
@Thinkzinc,

It's looking pretty superior
@adamserisier,

Today I planted my garlic bulbs for a crop of bulbs next May.
gardens are all about anticipation and optimism.
Since Ive gone 100% raised bed veggie gardening (I dont raise stuff like sweet corn or pumkins, too many veggie farms around us that do).
@farmerman,

AND, since all my raised beds are made of 4'X8' cypress boards (all 12" high), I have each bed prepared with a roll of snow fence that tucks neatly to the ends. This keeps out barn cats from using the raised beds as..., you know.
My irises up front appear to have survived the yard guy's efforts at wiping them out.
taken today-
My garden has to much water at times. Does yours?