Mon 11 Sep, 2006 08:37 pm
and what should I stop for, on the way?

I'll be heading that way next week, mostly to visit family, but would hate to miss out on meeting some of those unmet friends. Before you ask, I already checked in with Amigo. He works an erratic schedule, and often out of town, but he'll let me know.
lightwizard is there and blaise daley/joppaave is there as well.
And my heart just skipped a beat, but I knew you were really up around Boston, somewhere.
Ah, maybe I'll get out to NM some day. I could visit a slew of you and my past too.
I'm guessing Nick Fun is somewhere around there. Yitwail is nearer San Diego, as is CJane. Blacksmithn is probably to the south but maybe not by much... (guessing again). Same with Lightwizard, south, but not all that far.
Pantalones and El Pohl are in TJ...

Trying to think of any a2kers in Malibu, or Santa Barbara, or Santa Inez valley, pretty ride to any of those.
What should you stop for? Puts on thinking cap. Back later.
Calamity, and I believe, Craven are both in San Diego. Boomerang and Pifka are both way to the north. Too darn bad California is so cotten picking long. Don't know where Nick Fun is from. I wouldn't hesitate to go out of my way for the seldom seen El Pohl, but TJ is even farther than San Diego, though not by much.
littlek wrote:
Ah, maybe I'll get out to NM some day. I could visit a slew of you and my past too.
The guest room includes Dante the Siamese but requires episodes of weeding in the garden.
If you have the time, I couldn't recommend more a trip up Pacific Coast Highway from Santa Monica to highway 101 going up along the western part of California (and beyond).
Most people want to do highway 1, and it's gorgeous, but more timesoaking. And you'll still get a lot of ocean along the lower part of PCH & 101.

Yosemite - I haven't been there in years and it's been overrun, but I bet it's still gorgeous and the main tourist gaggle will be going off to school.
The sierra nevadas on the west side... not touristy by the usual definitions. East of Visalia into the mountains, there are some major Sequois giganteas...
I've a friend who lives in one of the Kern River valleys with a view of Lake Isabella, he's always sending me lots of nature stuff about the area.

Toward the ocean, which I now crave beyond description, having nearly always lived by it - Santa Barbara, beautiful city.

The area around Vandenburg AFB used to be interesting. There's a mission there, the only one run by the state, forget the name of it. Perhaps La Purissima. Signage fairly truth telling the time I was there. Flower fields..
I suppose by now the flower fields are a housing tract.

I've always liked Pismo Beach - that whole area is more built up now but I still kind of like it. San Luis Obispo, nice town, beautiful area. Oh, the dunes by Guadalupe, Montana de Oro camp ground (not sure of facilities) by Morro Bay (eucalyptus grove, small beach, ocean), Morro Bay and Cayucos being west of 101.

Best bisquits and gravy, at Mission Cafe in San Juan Battista, just off of Hollister, my view on this recently tested.
Monterey, Carmel, San Francisco and points north, don't get me started.

South again, Death Valley may be cooling down at this time, not sure.
There used to be just two places to stay - I don't know about camp grounds - one the rather interesting Furnace Creek Inn, and then its offshoot, a lesser motel type place. Motel stayers can used the FCInn pool.. or at least they told us we could. FCInn was closed for the summer when we stayed at the motel, but there were still people at the desk and so on.

So, that's all (mostly) north of LA if you've thought of that direction.
If you don't go any further north, I'd still suggest driving up PCH, maybe to Oxnard, and turn around, heading back the same way and NOT over 101 through the San Fernando and other valleys.
roger, you will be passing within one thousand miles of my house. If you don't stop in I will be very pissed.
Outstanding, Gus. Don't suppose you could be a taddy bit more specific in the directions? I knew you'd come through for me.

I've always wanted to see Yosemite, osso. Maybe if it's not overrun till it's snowed in, I might be able to make it. I bet it's not really all black and white, is it?
Will you be traveling alone, Roger? Or will Slappy be with you?
Alone, so far as I know right now. And not to worry. I'll be traveling with my own bedding. The rear seat cushions in the Focus fold forward, the backs lay down to give an extended trunk, and it's just right for a small pallet. You gotta see the expressions in the rest stops when you use the child release and climb innocently out of the trunk. You do it slowly, like the opening of Dracula's coffin.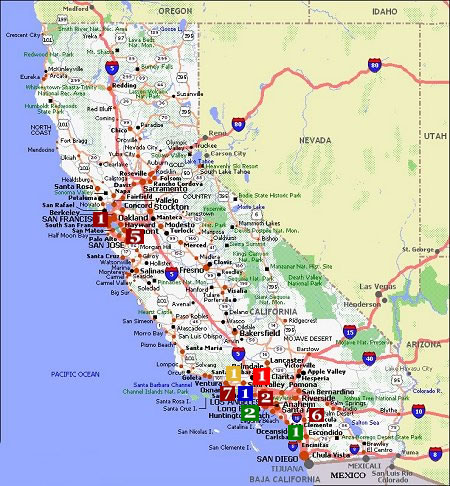 Should you decide on Yosemite, the fastest way is highway 5. Yawn. 99 could work also. Or if you haven't been up the coast, you could take 101 to Salinas and then cross over, longer route.
My old business partner and husband drive from Eureka to Camarillo (North of LA, south of Ventura) via highway 5 in 10.5 hours. (They catch it in the Bay area.) Well, crazy making to me, but speedy.
Edit, I think I/we have always taken 99 to Yosemite - hard to remember since I've gone to it from San Francisco as well as LA.
What do you mean black and white? Talking about Adams' photos?
Yes. He was supposed to be pretty good, but I had always visualized it as being a bit more colorful.

Wow, that looks like a long drive after getting to the Los Angeles area in the first place.
True. And time consuming if you make stops, which is pretty much the point, ain't it?
Good point. I'll see if the family is interested. It seems somehow impolite to drop in for lunch and a nap, and then take off for parts unknow, on my own.

I need to get out the directions for the old slr and see if they still make film or the darn thing. Getting old. I still yearn for the days when every K-mart carried film and a line of lenses and filters for just about any 35mm you could think of. Boomerang would croak if she read that, but that's the way it was. Now, you can probably get on the internet and order a 2x neutral density filter for $5.00 and pay 7.95 shipping and handling.
Santa Barbara takes about two hours, maybe a little more, from Santa Monica. But then I usually stop at Malibu Colony for coffee - there's a gas station and shopping center there with a good coffee place. (Highway 10, the Santa Monica Freeway, runs into Pacific Coast Highway at the ocean in S. Monica. Or one can go down to it from California St. off of Ocean Avenue).

On the other hand, you may be going south, another whole story..

Sorry if I'm saying stuff you know already.
Boy, did I screw up in buying film before going to Chicago - got something labelled b + w that was really C35 (is it?) - anyway, junk. I figured this out later after much expense. I could just spit...
Know what you mean. When I first got the current camera, I stocked up on some kind of film that only worked in cameras that were designed for it. Some kind of cartridge type thing, I think.