In Pakistan -
A suicide truck bomb struck Pakistan's main intelligence agency in the north-west of the country this morning, killing at least 10 people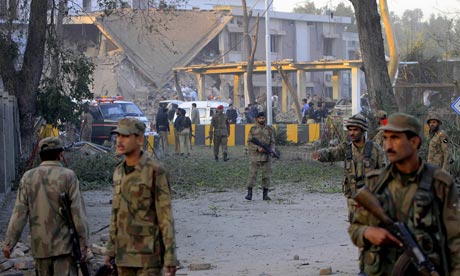 http://www.guardian.co.uk/world/2009/nov/13/sucide-bombing-on-isi-building
I have looked back at the time-line of escalating violence in Pakistan.
Here it is:
Feb. 5, 2009 - At least 24 people are killed in a suicide bombing near a Shi'ite mosque in Dera Ghazi Khan, central Pakistan.
Feb. 20 - Suicide bomber kills 27 people and wounds 65 in an attack on a funeral procession for a Shi'ite Muslim killed a day earlier in Dera Ismail Khan town.
March 3 - Gunmen attack a bus carrying Sri Lanka's cricket team outside a Lahore stadium, killing seven people, including six policemen and a driver, and wounding six of the cricketers and a British coach.
March 27 - A suicide bomber kills 37 people in a crowded mosque near the Afghan border.
March 30 - Militants armed with guns and grenades storm a police training centre in Lahore killing eight recruits, wounding scores and holding off police and troops for eight hours. The attack is claimed by Pakistani Taliban leader Baitullah Mehsud. Four militants are killed and three arrested.
April 5 - A suicide bomber blows himself up in a religious centre for minority Shi'ite Muslims in Chakwal in central Pakistan, killing 22 people.
April 18 - A suicide car-bomber rams a military convoy, killing 25 soldiers and police and two passers-by near Kohat, 190 km (120 miles) west of Islamabad.
May 27 - Gunmen attack a police headquarters in the Pakistani city of Lahore, setting off a car-bomb that killed at least 24 people.
June 5 - A bomb blast kills around 40 worshippers attending Friday prayers at a mosque in a remote area of northwest Pakistan.
June 9 - Militants attack the Pearl Continental Hotel, which is popular with foreigners, in Peshawar with guns and a truck bomb killing seven people including a U.N. worker.
Aug 27 - A suicide bomber kills 22 Pakistani border guards in an attack at the main crossing point into Afghanistan.
Sept 2 - Unidentified gunmen shoot and wound Pakistan's religious affairs minister, Hamid Saeed Kazmi, in a brazen attack in the capital that killed his driver.
Sept 18 - A suicide car-bomber kills 33 people on a main road near the city of Kohat in northwest Pakistan.
Oct 5 - A suicide bomber dressed as a paramilitary soldier attacks an office of the U.N. World Food Programme (WFP) in the Islamabad, killing five staff.
Oct 9 - A suspected suicide car-bomber kills 49 people in the city of Peshawar. About 100 people are wounded.
Oct 10 - Gunmen in army uniforms attack Pakistani army's headquarters in Rawalpindi. The next day Pakistani commandos storm the building and rescue 39 hostages. Nine militants, three hostages and 11 soldiers are killed.
Oct 12 - A suicide bomber hits a military vehicle in Shangla district, near the Swat valley. Forty-one people are killed, including 35 civilians and 6 soldiers, and 45 wounded.
Oct 15 - Militants launch a string of attacks in Lahore, capital of Punjab province, Peshawar and Kohat in the northwest killing at least 31 people.
Oct. 16: Three suicide attackers hit a police station in Peshawar, killing 13.
Oct. 20: Suicide bomb attack at the International Islamic University in Islamabad, kills six people - including three girls.
Oct. 22: Militants shoot and kill a senior army officer and a soldier in a residential part of the capital, Islamabad.
Oct. 23: A suicide bomber kills seven people close to a major air force complex in northwestern Pakistan.
Oct 28 - More than 80 people are killed and around 100 injured when a bomb explodes in the busy Peepal Mandi market street in Peshawar's old city.
Image from the Peepal Mandi market bombing
*
Dotted throughout this time line, are the US drone attacks that have killed hundreds of Pakistani civilians " plus the added complication of the suspected presence in Pakistan of the secretive
Blackwater
(now Xe) company.
UPDATE: November 02
At least 30 people have been killed and 45 others wounded after a suicide bomber targeted workers queuing for their salaries outside a bank and hotel in the Pakistani city of Rawalpindi, near the capital Islamabad.
http://english.aljazeera.net/news/asia/2009/11/200911274944627440.html
"When this blast took place, the noise was so loud, one witness said she felt as if her whole world had ended. Another said she saw a woman lying on the street missing half her body."
Al Jazeera's Imran Khan, reporting from Rawalpindi
Yet more:
November 02, 2009
A bomber has attacked a police checkpoint on the outskirts of the Pakistani city of Lahore.
The incident in the east of the country on Monday wounded at least eight people, a senior police official said.
http://english.aljazeera.net/news/asia/2009/11/200911214352915249.html
Pakistanis Seek Blame for Bombing
http://www.nytimes.com/2009/11/04/world/asia/04pstan.html?_r=1&ref=world
*
Pakistan On The Edge
I tell myself that
Lostnsearching
is okay. That she was no where near the University bombings or any of the other bombings " that she didn't know anyone who was killed.
But really, what does 'okay' mean?
The truth is that no one in Pakistan is okay. The majority, those who have been lucky enough to escape (for now) the carnage, are probably left confused as to what the real situation is.
With the splintered (and multiplying) insurgency at their backs, the Taliban in their faces and the US/UK suddenly making it very plain that they are eyeing their once-ally as a potential threat - I would hazard a guess that the average Pakistani feels helpless and perhaps as vulnerable as the Iraqi people once felt, facing in-coming war.
But there must also be anger. When I read Hilary Clinton's speech, given to the Pakistani press just hours after the Peshawar bombing, which killed mostly impoverished women and children, I was dismayed to hear her accuse Pakistan's government of harbouring Bin Laden and his cohorts.
"I find it hard to believe that nobody in your government knows where they are and couldn't get them if they really wanted to," She said.
Wow. From their point of view, her choice of words must seem ominous.
As well as wondering yet again, what the hell we are really doing in
Afghanistan
if Bin Laden has moved on, I was also reminded of an article I read recently by an American politician, (I think it was Ralph Nader) who asked readers to imagine how they would feel, if China was dropping bombs from drones on them in the dark of night, while simultaneously offering monetary aid, and lessons in communism...
But what about looking at it from the Pakistani side,
in reality?
I had to wonder how the hundreds of bereaved and injured people from the Peepal Mandi bombing found Hilary Clinton's words that day. Or the Pakistani army, engaged in fighting her enemies as she spoke.
Can a person be so oblivious to the irony?
Accusing Pakistan of not doing all in its power to 'find' Bin Laden " seems a little... bizarre, when America has failed to capture the bastard in eight long years of bloodshed and destruction, despite their space-age Empire and despite the starting line of the chase being inside their own country.
But wait. It get's worse.
When addressing a gathering of female students a short while later, Hilary Clinton said that she had been fighting George Bush's policies for
eight years
" which apparently got a huge laugh from her audience ( and no doubt a chuckle out of George Bush himself, when he heard.)
One student asked her why Pakistan should trust America.
Hilary Clinton, after acknowledging there had been past troubles, said, ' When you are driving forward, it doesn't help to keep looking in the wing mirror.'
?
Is that meant to reassure people? I mean, it doesn't help to be eating a baloney sandwich either.
Seriously, somehow that sentence (implying 'don't look back') worries me, when building up behind us, are hundreds of thousands of dead people, including the 600 civilians executed unceremoniously by drones. And further back, lessons to be learned from history, that we all seem to have conveniently forgotten.
But it's just a game, isn't it?
In his article, 'Hillary's Ill Will Tour' Justin Raimondo slowly comes to the conclusion that Hilary Clinton is John Bolton in a dress " but I think she is better described as 'window dressing' myself, and if Afghanistan is anything to go by... if the rich, corporate, oil robbers, who now seem to dictate America's foreign policy, get their way, the next move in Pakistan will be, 'Hand him over, or pay the price.'
And what will that price be?
More widows, more orphans, more traumatised, more bereaved and more betrayed.
Pakistan (wherein lies the tap end of the trans-Afghanistan pipeline) is being sucked into the black hole that is 'The War on Territories for Resources'. We can go on denying that it is all about resources, but eventually, we will have to face the facts.
Meanwhile, Pakistan are on the edge of a widening catastrophe and as it spirals outward " from Afghanistan, Iraq, now Pakistan, and next (perhaps) Iran " who really is surprised?
I remember Lostnsearching telling me that she was 'safe' in Islamabad, doing her education. I remember wondering how long that would be true.
This whole saga of insanity is getting out of control. Greed and fear are driving humanity to extremes of corruption and fascism. Someone needs to start talking some sense, before events run away with us all.
Exactly who that could be, I have no idea.
Endymion 2009
*
Pakistan: targeting civilians is the ultimate denial of humanitarian law
Islamabad/Geneva (ICRC)
" In the wake of Wednesday's bombing in Peshawar " the latest and bloodiest in a string of attacks targeting civilians " the International Committee of the Red Cross (ICRC) is alarmed at the severe and intensifying impact of violence on Pakistan's civilian population.
"Targeting civilians is the ultimate denial of humanity," said Jacques de Maio, the ICRC's head of operations for South Asia. "Its only conceivable aim can be to spread terror among the population. It violates the fundamental principles of international humanitarian law."
http://www.icrc.org/web/eng/siteeng0.nsf/html/pakistan-news-301009
!OpenDocument
*
Hillary's Ill Will Tour
by Justin Raimondo, November 02, 2009
http://original.antiwar.com/justin/2009/11/01/hillarys-ill-will-tour/
Arrogant US Misses the Message From Pakistan's People
http://original.antiwar.com/pfaff/2009/10/27/arrogant-us-misses-the-message-from-pakistans-people/
Drone Race to a Known Future
by Tom Engelhardt, November 11, 2009
http://original.antiwar.com/engelhardt/2009/11/10/drone-race-to-a-known-future/
*
For a Friend and Poet
In Pakistan
She is the land
She is a flower
Her heart beats strange retreat
As the ghosts fly over
Spitting murder
Blasting smile from face
In Pakistan
Somewhere, some place
She is the sky
War fills her eyes
She is the price
The loss is laughter
In Pakistan
Some far away, forgotten land
Where savage plans to hell expand
She is the sun
She is a bird
She is every perfect word
Whispered and unheard
In Pakistan
Endymion 2009
I think of you every day, Lostnsearching. I tell myself you are safe. I hope that is true.