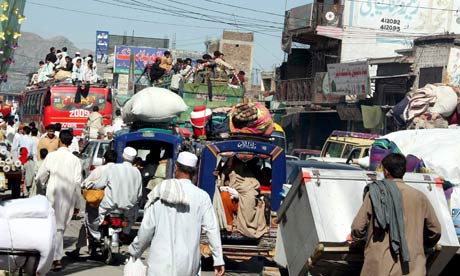 PAKISTAN:
In Mardan and Swabi districts, a humanitarian nightmare is brewing. More than 200,000 people have fled, another 300,000 are on the move or about to leave, according to the UN, adding to another 550,000 people displaced by earlier fighting in the tribal belt and North West Frontier province.
As aid workers rush to erect camps, supplies are limited and tempers quickly fray. Yesterday afternoon a riot briefly erupted in Sheikh Shahzad camp, near Mardan, as angry villagers looted UN supplies. Gilani has appealed for international help with the ballooning humanitarian crisis that affects up to one million people, according to the UN. He promised the army would strive to end the crisis quickly " an outcome that appeared highly unlikely.
Not everyone has escaped. An unknown number of besieged residents remain trapped, unwilling or unable to leave their homes. Hunkered behind thin walls they survive with no electricity, dwindling water supplies and in fear of stray bombs and gunfire.
Those left behind fear what lies ahead. Reached by phone Khaista Bibi, 55, a resident, said she had hardly eaten in two days. "The situation seems impossible."
more
http://www.guardian.co.uk/world/2009/may/10/pakistan-mingora-taliban-swat-fortress
http://www.guardian.co.uk/world/2009/may/10/pakistan-taliban-fighting-swat-valley
PAKISTAN ARMY BEGINS BATTLE:
Pakistani army troops have entered Taliban-held areas in the northwest of the country, hours after thousands of people were ordered to evacuate the area.
Major General Athar Abbas told Al Jazeera that ground forces had gone in on Sunday after fighter aircraft bombed suspected Taliban positions.
"It has already started from the two directions these [Pakistani] armed forces are operating," he said.
Pakistan's military had earlier appealed for residents in the Swat valley, a region in the North West Frontier Province (NWFP) where Taliban fighters are based, to "declare war" on their opponents.
The military's call came as hundreds of thousands of people fled Swat valley.
"The military is making a passionate and fervent appeal to the brave and patriotic citizens of Swat that they should stand up and declare a war against the miscreants who have undermined the peace and stability of the valley," read a military statement passed to Al Jazeera.
'Shoot on sight'
The military earlier lifted a curfew in Swat to allow residents to leave, before reimposing it at 3pm local time (09:00 GMT).
Some residents feared they could be caught in the fighting after the military went back on a decision to extend the period of time residents had to leave, and issued a "shoot on sight" order for anyone found violating the curfew.
About half a million people are believed to be leaving the region, in addition to more than 550,000 people displaced from Swat and nearby areas since August because of the fighting.
"They're leaving in huge numbers," Al Jazeera's Kamal Hyder, reporting from Peshawar, the provincial capital, said.
"They're taking what belongings they can, selling their cars for a pittance to get some money. Even respectable families who lived in big houses have become IDPs [internally displaced people] - refugees in their own land."
Chris Lockyear, the head of Doctors Without Borders' Pakistan operations, said: "Hundreds of thousands of people who have moved out of their homes are now seeking shelter and water.
"If they don't get these basic essentials, then their health is going to be seriously at risk," he told Al Jazeera.
"We know there are a number of casualties who desperately need treatment in a very short space of time."
Civilian flight
While the roads out of Swat have been packed with refugees, the military has locked down roads leading into the valley.
"The government wants to ensure that the Taliban cannot re-enforce their positions," Hyder reported.
Helicopters and warplanes targeted Taliban hideouts in Mingora, Swat's main town, and other areas in the valley, Nasir Khan, a military spokesmen in the area, said.
"It's a tough battle. They're operating in small groups. They don't fight a pitched battle, but we're closing in on them, squeezing them and have cut their supply lines," he said.
A statement on the military's website said between 180 to 200 fighters had been killed in the last 24 hours of operations.
In recent days, the military has battled the Taliban in the area, often imposing curfews on residents without notice.
"You can't put a time line on [an attack], but the movement of people [from the area] would clear the path for the military to bring in the boots on the ground," Hyder said.
Yousuf Raza Gilani, Pakistan's prime minister, has called the military's operations against local Taliban members a "war of the country's survival".
While Washington has been enthusiastic about Pakistan's offensive on Taliban positions, the fighting has caused a humanitarian crisis in the NWFP - one that the local government has been unprepared to deal with.
'War of survival'
Despite the huge influx of refugees to IDP camps in nearby Mardan, there has been little evidence of the local government's presence.
Many local government officials are thought to have gone into hiding since the collapse of a recent peace pact between the government and Taliban forces, fearing that they could become targets for the Taliban.
"The only people who have really responded to this crisis have been the international aid agencies and the local population - volunteering in the camps and opening their homes," Hyder reported.
Sitara Ayaz, the minister for social welfare in the NWFP, said: "We are providing [people with] the first basic necessities. Eighty per cent of these people are not in the camps - only 20 per cent are in the camps.
"In all the camps all the UN agencies they are there and the local government are there. Nobody is going on leave, all of the government people are in the field."
There are fears that the fighting may spread closer to the camps, with reports of Taliban fighters being seen in parts of Mardan.
video
http://english.aljazeera.net/news/asia/2009/05/2009510133639519791.html
Lostnsearchng --- I'm thinking of you and your family.