I just read this -
Quote:
US vetoes UN vote on settlements

Washington blocks resolution condemning Israeli buildings on Palestinian land as illegal and calling for quick halt.

The United States vetoed a UN resolution Friday that would have condemned Israeli settlements as "illegal" and called for an immediate halt to all settlement building.

All 14 other Security Council members voted in favour of the resolution.

British Ambassador Mark Lyall Grant, speaking on behalf of his country, France and Germany, condemned Israeli settlements in the West Bank. "They are illegal under international law," he said.

http://english.aljazeera.net/news/middleeast/2011/02/2011218201653970232.html
** ** ** ** ** ** ** ** ** ** ** ** ** ** **
Something I just want to draw attention to
The Fight to Save Antiwar.com

Our battle for survival
http://original.antiwar.com/justin/2011/02/15/the-fight-to-save-antiwar-com/
** ** ** ** ** ** ** ** ** ** ** ** ** ** **
SOME GOOD NEWS
With the regional unrest and people's uprisings across the Middle East – the small victories here in Britain, other parts of Europe and even America are hardly noticed, but the importance of what is at stake, deserves to be recognised.
In Britain
First – a great and comfortable victory here in Britain as the government do a complete U-turn on their proposals to sell off vast areas of our forestry. Thanks to everyone who signed the petitions, wrote to MP s – or just passed the word.
Our government were told NO! in no uncertain terms.
We got it wrong on forests, says Spelman

The Government was forced into a humiliating U-turn today as it scrapped controversial plans to privatise England's public forests.
Environment Secretary Caroline Spelman told MPs "I am sorry, we got this one wrong" as she abandoned plans to offload England's public forest estate to companies, communities and charities.
http://www.independent.co.uk/news/uk/politics/we-got-it-wrong-on-forests-says-spelman-2217731.html
*
Forest farce:

Cameron to axe sell-off policy
The highly contentious plans for a £250m sale of England's forests will be abandoned because of the furious backlash that has hit the Government.
http://www.independent.co.uk/news/uk/politics/cameron-to-axe-selloff-policy-2217131.html
*
Steve Bell on David Cameron's forestry U-turn – cartoon
http://www.guardian.co.uk/commentisfree/cartoon/2011/feb/17/david-cameron-forests
** ** ** ** ** ** ** ** ** ** ** ** ** ** ** ** **
In Italy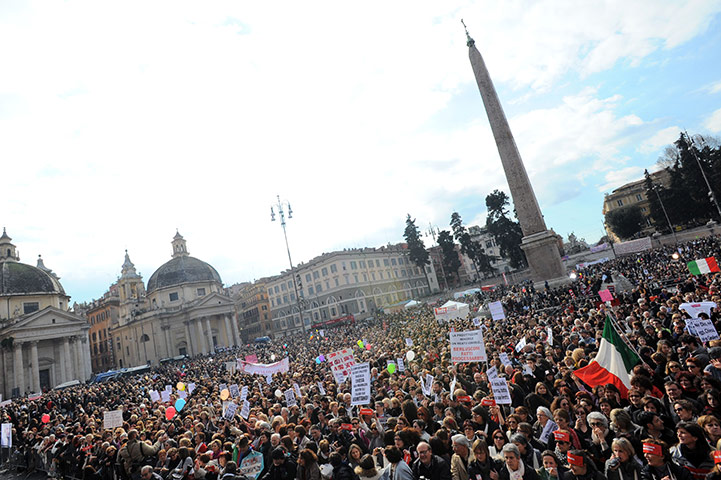 Thousands of Italy's Women Rally
(abridged)
Thousands of women took to the streets of Italian cities Sunday calling for "dignity" and greater rights.
"Berlusconi has long shown a violent contempt for women with his misogynist remarks," Francesca Comencini said.
The Italian leader is fighting off allegations that he paid for sex with a 17-year-old prostitute nicknamed Ruby the Heartstealer and then used the power of his office to try and cover up the crime.
Fabrizio Cicchitto, a member of Berlusconi's People of Freedom party, said participants "belong to the leftist anti-Berlusconi movement."
More than 50,000 women have signed the movement's manifesto in just a week.
It denounces "the indecent, repetitive representation of women as a naked object of sexual exchange" in newspapers, advertising and on television.
It also said that macho sentiment in Italy has become "intolerable".
And although those involved have been asked not to politicise the demonstration, several members of parliament who recently broke away from Berlusconi's center-right ruling party had said they would be attending.
© 2011 Agence France-Presse
** ** ** ** ** ** ** ** ** ** ** ** ** ** ** ** ** ** ** ** **
In the US
Anger in Madison: What's Disgusting? Union Busting!

http://www.commondreams.org/further/2011/02/16-1
Update
Wisconsin protests continue against 'union bashing'

Thousands stand up for collective bargaining rights as Republicans set to replicate move to cut union rights across US
http://www.guardian.co.uk/world/2011/feb/18/wisconsin-union-protests
** ** ** ** ** ** ** ** ** ** ** ** ** ** ** ** ** ** ** ** **
The Middle East Uprisings
Updates on events right across the region here

Middle East protests – live updates
(Guardian)
http://www.guardian.co.uk/world/blog/2011/feb/18/middle-east-protests-live-updates
or
Middle East (Al Jazeera)
http://english.aljazeera.net/news/middleeast/