Thu 10 Nov, 2005 02:37 am
How do you think, will there be a r e v o l u t i o n in A m e r i c a? A n y w a y , it's very likely, isn't it? B u s h's credibility is in s t e e p decline and American demonstrators make it unmistakable shouting "Get out Bush!" Besides, I heard from a few American journalists I know well that Soros Fund is preparing to issue a document that will disclose the abundant proof of Bush's frames up during elections in 2000 and 2004. Though there had been some people saying more or less openly that Bush had schemed his victory every time, but it all well came past. This time Soros will surely push the matter through. He is a quirky man and will never throw away money, I'm sure. His revelatory document will be a real burst of a bomb, indeed! And he also has chosen the right moment, when anti-Bush demonstrations are in full riot in America! Then it will be easy to trigger Bush resignation and a "velvet rev." Besides, the technology of regime shift had been green tested in the third world countries like Yugoslavia, Roumania, Georgia and Ukraine. Then, America is next in turn.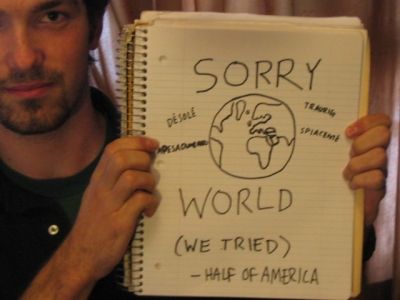 Yes Gloria, I agree that his days are indeed numbered. You can figure out the number by counting up the number of days between now and inaugeration day in January, 2009.

Oh, and welcome to a2k.
1,166 days and 13 hours.

... but who's counting
I do have hope we may all be saved by the rapture before that time.
The process will be peaceful, dont worry. We have a tried and true system of "Throw the bums out" in the US. You shall see that Bush's "pariah effect" will begin to cut deeply into his party with the 2006 Congressional Elections. Dont think that guys like my own Pa Senator Rick Santorum arent running for the hills to distance themselves from Bush right now.
Bush is trying to get some "progressive" points by being seen wit Sen Specter.
I hope GWB doesn't resign. I'd like to see him impeached.
It's all in the stars haha. Sooner or later all will be revealed. It's already been revealed even as it happened to so called conspiracy theorists. Open minded people who pay attention. From the PNAC paper Rebuilding America's Defenses in which the PNAC called for an invasion of Iraq whether Saddam was dead or alive and said a new Pearl Harbor would help them sell the war to Americans, to the seizure of the White House through the Rhenquist 5 by Bushie and such PNAC founders and members as Cheney, Rummy, Wolfie, Bolton, Feith and others in the administration, to Bushie's admitted lack of a sense of urgency about al qaeda and bin Laden before 911, to the new Pearl Harbor of 911, to the twisting of intelligence and lying us into war, and of course DIEBOLD, the Bushies have created humongous crimes and crimes against humanity. Truth be told and resignation and even worse could be Bushie's fate. Blair's too.
Oh yeah. 57% of Americans now believe Bushie deliberately lied us into war. That's severe. People did not come to that difficult conclusion lightly. I doubt once seeing that they'll be changing their minds and I think others will see also. It's no little thing. It's bigger than politics.
Where do you get your information, Gloria? "Anti-Bush demonstrations are in full riot in America"??? It's true that the polls say his popularity is at its lowest ebb, but this is the first time I've heard that there are major anti-Bush demonstrations going on anywhere. A revolution? Hardly likely or even imagineable. That ain't how we do things in this country. Along with Talk 72000, I'd like to see Bush impeached. Couldn't happen to a more deserving fella. But nobody's going to storm the White House or start a movement to forcibly overthrow the government. That is unthinkable. It would negate everything that the US Constitution stands for.

BTW, Sorros isn't God. In fact, he's not very well-known and certainly not very popular among most Americans who do know of him. Whatever revelations he comes up with will certainly be reported on by the American mendia, but probably with a palpable touch of scekpticism. So don't hold your breath waiting for the coming revolution.
We'll probably have a weeny riot (a peaceful one) against Rumsfeld here next week.

He's in Adelaide.

I will try to swell the riot briefly on my way to work.

Work sure cuts into one's rioting time.

I doubt there will be a regime shift of the sort described in the first post, velvet, twill or even gaberdine, any time soon, even if I do swell the Adelaide riotette by one!