Today, a gunman shot up a synagogue in Pittsburgh while people were praying. 11 people are dead. The shooter is in custody, and his social media is rife with antisemitic statements. In part, he apparently blamed Jews for the caravan of people coming in from Central America.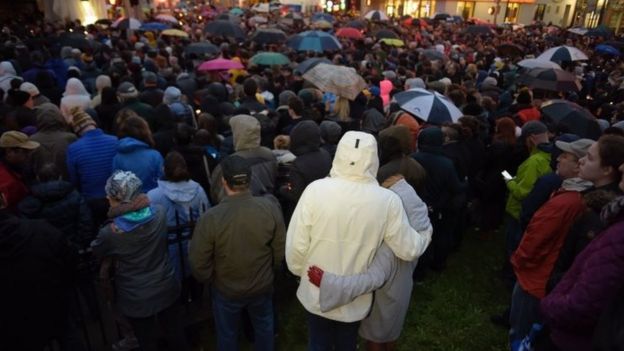 Above, a vigil to commemorate the victims of the attack.
It is considered a hate crime. See:
https://en.wikipedia.org/wiki/Hate_crime_laws_in_the_United_States
https://www.bbc.com/news/world-us-canada-46002549
Of course I am horrified. These are the kinds of services my family and I used to go to all the time. According to the
Anti-Defamation League
, "We believe this is the deadliest attack on the Jewish community in the history of the United States."
If you want to argue that there should have been guns in the synagogue, please take that argument elsewhere. The police of course
were
armed. And four of them were injured in this attack.
I don't want houses of worship to become armed camps. So if you simply
must
argue such things, open your own goddamned thread. Thank you for your anticipated cooperation.
I'm here to write about the victims, and the courageous first responders. Not the perpetrator. I don't want him to be any more famous because of what we write.
And here's a GoFundMe for the survivors and the victims' families:
https://www.gofundme.com/tree-of-life-synagogue-shooting